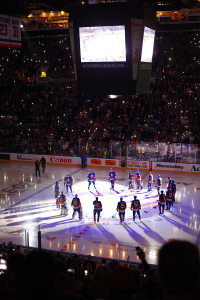 The sell-out crowd created an electric atmosphere at the team's last home opener at the Nassau Coliseum while the New York Islanders players went out and provided the fans with a 4-3 win over the Carolina Hurricanes.
John Tavares and Brock Nelson each had a goal and an assist while Johnny Boychuk added a pair of helpers to pace the Islanders to their second straight win of the new season before a sellout crowd of 16,170.
Fans gathered early in and around the old barn which was about to host its final season opener after serving as the home of the New York Islanders for 43 years.
They tailgated and swapped stories of years gone past and shared a definite excitement for the coming season after a productive summer that saw general manager Garth Snow go out and upgrade the team's lineup.
"It was crazy," said forward Josh Bailey, who scored what proved to be the game-winning goal and was named the game's third star for his efforts. "The last time we heard it like that was definitely in the playoffs [in 2013]. From the time we were getting ready in here [the locker room] you could hear it out there. You could hear it this morning. When we got here for our meetings, there were already people tailgating. You can't help but get fired up and it puts a smile on your face. It was insane all night out there and we definitely fed off it."
The Islanders did get off to a quick start when captain John Tavares scored a power play goal just 3:50 into the game. The crowd, which had been cheering throughout the pre-game introductions, went wild again.
"You could see the intensity even from puck drop, or warm-up or driving to the rink," Tavares said. "We just wanted to come out and play well and play hard and get the result we wanted."
There were several encouraging signs for the Islanders tonight. Tavares had a goal and an assist which gives him five points in two games. Boychuk added two helpers which gives him one goal and five points in the first two contests and Brock Nelson added a goal and an assist which gives him three goals and six points on the young season.
As an added plus, Bailey played sound positional hockey and scored his first goal of the new campaign. "He had a big game," Isles' coach Jack Capuano said. "He's working extremely hard, he's working at his game and the mental aspect of his game as well. The last couple of nights, he's been strong for us. When you work hard, good things happen."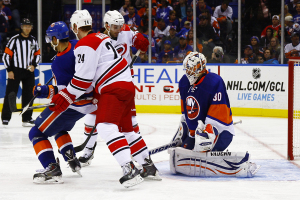 In addition, goalie Chad Johnson, making his first start in an Islanders uniform, played well, making 21 saves to earn the win.
"The fans were awesome tonight. It was one of the best crowds I've ever been in front of," Johnson said. "There was so much energy and so much emotion."
Another big positive is that for the second consecutive night, the Islanders held on after entering the third period with a lead, something that has been an issue for the team in recent seasons.
"It's just about our execution and competing for pucks and winning our battles and just staying composed," Tavares said. "Things aren't always going to go your way and you're going to get tough bounces, but it's how you respond and we responded. It's just doing your job and not trying to change a whole lot."
The Islanders look to make it three in a row to start the season when they return to action Tuesday night at Madison Square Garden when they face the Rangers.
NOTES:
Cal Clutterbuck and Cory Conacher tied for the team lead with four hits each while Boychuk led the team with four blocked shots.
The Islanders also won 55 percent of the faceoffs in this game led by Casey Cizikas who won 9-of-13.
Jiri Tlusty scored all three of the Carolina goals to earn his second career hat trick.