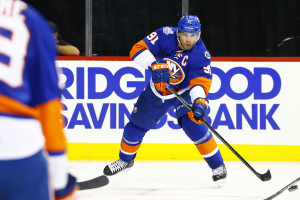 The Islanders returned home from their three-game California road trip with a solid 5-2 win over the Arizona Coyotes a Barclays Center Monday night. The top line led the way with John Tavares netting two goals and one assist, Brock Nelson scoring once and setting up another and Kyle Okposo assisting on three scores. Frans Nielsen also added a goal and an assist for the Islanders.
Jack Capuano was pleased with the play of his top line of Tavares centering Nelson and Okposo which he put together before the team's recent road trip to California.
"That line has been playing well," Capuano said. "You've got a little bit of speed and size with Brock on the wing. Kyle has played with Johnny in the past. Johnny does what he does best, he's got tremendous hockey sense, he moves the puck well. For me it's also how well he plays defensively…That line has helped the team in the last week since we put it together."
The Islanders captain noted that he was already familiar with his "new" linemates. "I've played with them before, especially Kyle. We've played a lot together," Tavares noted. "Brock, you can see when he's moving his feet, his size and creating space for himself. He's got a big shot and his game is continuing to grow. He's only in his third year and he's learning more and more about himself and is continuing to grow. He's such a talented player and he's fitting in really well with me and Kyle and we just want to keep getting better."
The Islanders took a 1-0 lead just 4:51 into the game on a power play goal by Nielsen. Tavares set the play up with a nice backhanded centering pass that Nielsen was able to put home. That lead held up until the third period when the Islanders added goals by Nelson and Tavares in the first five minutes to break the game open.
Steve Bernier added his first goal as an Islander midway through the third period to make it 4-0 before the Coyotes made it a game after tallies by Martin Hanzal and Mikkel Boedker before Tavares' empty-net goal iced the win for the home team.
The Islanders were pleased with the way they played after their three-game road trip."It's always tough your first game back," Capuano admitted. "I give credit to our guys, they stayed focused and determined for 60 minutes tonight."
Some of the players felt the recent road trip helped them find their game. "We were able to find our way and find the way we were able to play," Okposo said. "We got some jam. That was kind of missing from our game, a little bit of umph and a little bit of jam. I think we're starting to find it and play like the team that we know how."
The game was full of milestones for the Islanders. Veteran defenseman Marek Zidlicky played in his 800th career NHL game while Okposo earned his 200th career assist. Brock Nelson now has a three-game goal scoring streak and has at least a point in four consecutive contests. Most importantly, the Islanders picked up their third win in their last four games and seem to be back on track after hitting a rough patch earlier this month.
The Islanders return to action Friday night when they host the Montreal Canadiens at the Barclays Center.
NOTES:
Mikhail Gabrovski left the game in the second period due to an upper-body injury. He will be evaluated on Tuesday.
Attendance was 11,841.
The Islanders outhit the Coyotes 36-23. Matt Martin and Cal Clutterbuck each had five hits to tie for the team lead.
A moment of silence was observed before the game in honor of the victims of the recent terrorist attacks in Paris last week. The French national anthem was also performed before the Star Spangled Banner.
Mets pitcher Noah Syndergaard received a warm ovation from the crowd when he was shown on the scoreboard.