The NHL trade deadline is rapidly approaching and the New York Islanders and general manager Garth Snow have several difficult decisions to make before February 29 gets here..
The Islanders find themselves in the thick of the hunt for a playoff spot in the Metropolitan Division and the Eastern Conference. The race is very tight as the deadline approaches. If a team wins a few games in a row, they can go from out of playoff position to second place in the division. A club suffering a brief losing streak can easily find themselves going from a seemingly secure playoff position to being on the outside looking in.
As they are presently constituted, the Islanders are one of several good teams in the Eastern Conference race, but they are clearly not an elite team. Their 0-2-1 record against the Washington Capitals, the best team in the Eastern Conference, speaks volumes.
The front office has a fundamental choice to make. Does the team go all in and make short-term moves to try to compete with the elite teams this season, or do they stand pat and hope they got hot goaltending come April and May and therefore go on a long playoff run? They can also try to rebuild for next season and beyond knowing they may have to take a step back to take two steps forward. These are important questions for a team that has not won a playoff series since 1993 and has a fan base that is growing impatient and frustrated with the franchise's long-term playoff failures.
Complicating this choice are three key players who either have contracts that expire at the end of the season or have requested a trade in Kyle Okposo, Frans Nielsen and Travis Hamonic. Each of them are a big part of the Islanders on-ice success and they are all also considered leaders in the locker room.
The most prominent name with an expiring contract is Okposo. The veteran forward is in the final year of a deal that has an annual cap hit of $2.8 million, according to generalfanager.com. Okposo will turn 28 in April and this is clearly his best chance to land a big, multiyear deal to give him and his family security.
The St. Paul, Minnesota, native's value to the team is clear. He is currently second on the Islanders, with 45 points through 55 games. Okposo is also an important part of the Islanders power play. He is unquestionably a top-six forward right now and he wears an "A" as an alternate captain for a reason.
However, are the Islanders willing to pay to keep their former first-round pick in the fold beyond this season? His salary is likely to at least double if Okposo hits the free-agent market next summer. Statistically, he is past his prime and any team that wants his services will almost certainly be overpaying for the production he will provide, especially later, in the final years of the contract.
If the Islanders feel they can't or won't re-sign Okposo, do they make him available at the trade deadline, or do they keep him for the rest of this season and risk receiving nothing in return? Tough decisions like this are why GMs get paid the big bucks and the answer will largely depend on which strategy Snow decides to follow.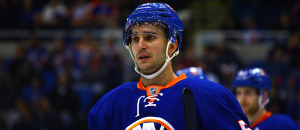 Nielsen is in a different situation. The "Great Dane" will turn 32 in April and has been an Islander longer than any player on the current roster. Nielsen is having a strong statistical season. In 57 games, Nielsen has 16 goals and 36 points.
Nielsen will not put up huge statistical numbers, but his biggest value is in his versatility. He plays on the power play and on the penalty kill, in addition to his regular shift. He is also a very smart player capable of filling in on any line for the short-term and making a valuable contribution to the team. Nielsen is also a favorite of the coaching staff because he works hard and does things the right way. He is a quiet leader in the locker room.
The Islanders are more likely to be able to sign Nielsen to another contract and of the three players in limbo, he is the most likely to remain an Islander next season. The veteran center's cap hit is presently $2.75 million. He will probably seek and receive a reasonable raise for next season. However, if the Islanders let Nielsen hit the open market, many teams should be interested in his services.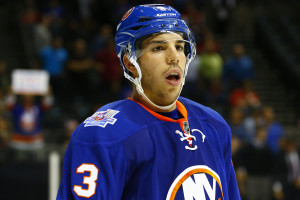 Hamonic is the player least likely to be dealt at the trade deadline. Newsday has already reported that Snow is in no hurry to trade the 25-year-old Manitoba native despite his request earlier this season to be traded to a team closer to his home in Western Canada. It is more likely that the Islanders will try to accommodate Hamonic's request over the off season.
Hamonic is in his prime and has been the team's most consistent defenseman over the past two campaigns. His absence in the playoffs last spring was a big reason the Isles fell to Washington in seven games. In 53 games this season, he has scored four goals and 14 points. He also leads the team in average minutes played per game with 23:41.
Hamonic has two qualities that make him even more valuable to the Islanders. First, he is under contract through 2020 at an average cap hit of just over $3.85 million per year, a great value for a reliable and consistent top-four defenseman.
He is also the most consistent player at a position that is presently where the Isles are thinnest right now. The Islanders have several highly regarded prospects on the blue line in the organization, but none that could easily step in and replace Hamonic if the Isles decided to trade him at the deadline. Any defenseman the Isles receive in a trade for Hamonic would likely be more expensive than Hamonic or not as reliable as Hammy is.
If Snow decides to go all in to win this season, the Islanders can use some additions to help them compete with the elite teams in the conference. Another goal-scoring forward would be helpful and certainly, the Islanders can use an upgrade on defense, particularly a stay-at-home defenseman with some size. Another thing the Isles could use is a veteran with some more Stanley Cup experience to go with Johnny Boychuk and Nick Leddy.
While many fans are clamoring for a big, bold move at the deadline and the Islanders technically have a lot of cap space available, the team is more likely to add a depth player or two, similar to last year. This may not be enough for the Islanders to compete with the Capitals in a seven-game series or to mollify a fan base hungry for a playoff win, but only time will tell if it's the right move for the team both this season and in the long run.