CHICAGO–Devils GM, Ray Shero says first overall pick Nico Hischier will have every opportunity to make the team out of training camp following his selection as the top pick at the 2017 NHL Entry Draft.
Not since St. Louis drafted Erik Johnson in 2006 has the first overall pick in the Entry Draft not gone on to play the next season in the NHL. Hischier, described by many scouts as a dynamic, scoring, natural center, put up 86 points in 57 games last season with Halifax. At 6-foot-1, 176 pounds, he leaves room to add to his frame and for all his success, has just one season of junior hockey under his belt. Camp will be a deciding factor for him, but he'll have a real shot.
"I think that's the direction we'd like to go," said Shero. "It will be apparent to us and probably him where his game is at then. But at the same time, he's a real good player and certainly he's got the smarts, he's got size to make it and that's where we want to go.
"Without pushing someone in a direction where they're not comfortable, we're going to do what's best for him and us."
New Jersey landed the chance to pick first overall for the first time since moving from Colorado to the Garden State in 1982. Ironically, they won the pick in the draft lottery, leapfrogging the Colorado Avalanche, who finished last season with the worst overall record.
The Devils' record wasn't much better and though he's just 18, Hischier is already a foundation piece to the new culture Shero and head coach, John Hynes have been piecing together since coming on the scene in 2015.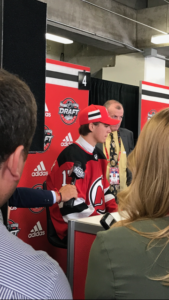 "Just a lot of emotions," said Hischier after becoming the first-ever Swiss player selected first overall. "I'm really happy to be apart of (the) organization. I'm really looking forward to it. They have good history there."
Nolan Patrick, who went one pick later to Philadelphia, was the consensus top pick for much of last season–ranked number 1 by Central Scouting at the start of the season. He remained atop the rankings despite missing significant time due to injury including missing all of the 2017 World Junior Championships. While Hischier may have gained some momentum to rise up the charts in the rankings, his emergence to first overall this season was hardly a coming out party, according to Shero.
"Nico's been on everyone's radar for awhile now," he said. "It was a coming out party, but people knew him. Even when we were picking fifth, before the lottery, we're not thinking we're getting (him) at five. This was a tremendous bounce for the organization."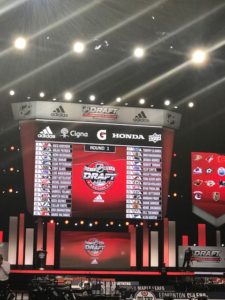 Shero also offered a scouting report on what the player can bring to an offense that has been among the league's worst for the last three seasons.
"He's certainly got the ability to score goals," said Shero. "He's a great playmaker, he sees the ice extremely well, very quick, very agile. He's pretty special."
For Shero, Friday's top pick was his first as a general manager. Though he spent seven seasons with a lottery-loaded Penguins team, he had arrived after the likes of Marc-Andre Fleury, Evgeni Malkin and Sidney Crosby were picked. Though he did have the second overall pick in his first year on the job, picking Jordan Staal second overall. Jonathan Toews was picked one spot later.
The pick wasn't taken lightly and Shero was prepared for the moment, highlighted by a five-hour lunch.
"More talking than eating," he said. "There's not a lot of room for error. It's an important thing and you want to be sure. At the end for us it was the best pick and for our franchise I'm honestly thrilled to have him."
Next up for Hischier and the Devils will be to see how his game carries over to the next level. He'll attend the club's development camp in July. The expectation is he'll be competing for a job and a big part of their success in the years to come.
"He'll be part of turning this around," said Shero. "When we do make it, he'll be part of it. Our fans can get around that, too. Because he's going to make us a better team, a better organization."