Grand Forks, ND – After Friday's 4-2 loss to the Colorado College Tigers, University of North Dakota head coach Brad Berry was unhappy with the way his team responded after they scored a goal.
"After you score a goal or after you give up a goal, you have to have an even harder shift," Berry said. "I don't think we had that and they took advantage of that."
Berry's team took those words to heart, and had a much better effort on Saturday.
Special Teams, Special Teams, Special Teams
On Friday night, UND went 0-6 against one of the worst penalty kills in Division I hockey. The Tigers entered Saturday's game ranked 60th out of 60 teams. One might suggest that it was the difference in the Friday's 4-2 loss.
Fast forward to Saturday night, the Fighting Hawks made adjustments to their power play and it paid off. The Fighting Hawks went 2-7 on the man advantage and beat the Tigers 5-1 in an important NCHC conference game.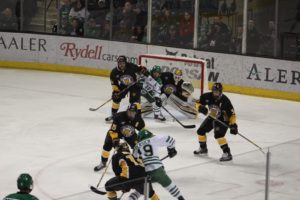 Three weeks ago, UND's penalty kill struggled against the Minnesota-Duluth Bulldogs. The Fighting Hawks were swept, going 5-for-11 on the penalty kill. Since that futile weekend, UND has been almost flawless killing 15 of the last 16 opponent power plays. Against the Tigers, the Fighting Hawks killed 9-of-9 power-play opportunities.
Furthermore, the Fighting Hawks went 2 for 13 on the power play. Looking for the silver lining, during the last two series, UND has gone 4-19 on the power play.
Defensively, UND's top line of Shane Gersich, Rhett Gardner and Austin Poganski held Nick Halloran, Mason Bergh, and Trey Bradley to a single goal all weekend long. This was the second series in a row that UND has shut down a high flying line. Two weeks ago, the injury-depleted Hawks held Denver's big three (Troy Terry, Dylan Gambrell, and Henrik Borgstrom) to (2g-2a—4pts). That's a big accomplishment for any team on any given weekend.
UND Breaks It Open in the Third Period
The Fighting Hawks have struggled to score goals. During their six-game winless streak, UND had scored a grand total of 11 goals. That's an average of 1.833 goals per game. On Saturday night, the Fighting Hawks put five goals in the twine, three in the third period.
Entering the opening minute of the third period, the Fighting Hawks had killed Rhett Gardner's two-minute minor for kneeing penalty. As time expired on the penalty, Poganski scored UND's third goal of the game.
Less than six minutes later, Tigers forward Nick Halloran scored his only point of the weekend to break freshman goalie Peter Thome's shutout bid. The Fighting Hawks didn't give, up. Two minutes and 59 seconds later junior forward Joel Janatuinen scored his second goal of the game to give UND a 4-1 lead. The Hawks weren't done yet. Grant Mismash put the icing on the cake to give UND a 5-1 lead.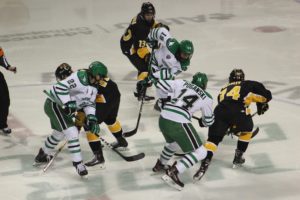 That was all the scoring the rest of the way. With the win, UND breaks a six-game winless streak and moves into a tie with the Western Michigan Broncos for third place.
After relieving senior goalie Cam Johnson on Friday night, Thome started the series finale. Thome was solid in net stopping 20-of-21 shot, improving his record to 5-3-3. It would appear that the Fighting Hawks have a goalie battle brewing. Based on Brad Berry's post-game comments it would appear that the starting job is Thome's to lose. At least for now.
"(On starting) Peter, it's the body of work that he had," Berry said. "First of all, going into Wisconsin and having his (first) career start there. Getting a result there. Playing against Omaha on a Saturday night here and getting a shutout. Working hard in practice. Earning and getting that opportunity.
"I was the first one to acknowledge Cam (Johnson) in the locker room at the end of the game for being a good teammate. That's what we do. Obviously, he came out of the lineup, but he was the first guy to congratulate him and he was right there to support Peter all the way through the game tonight. It's nothing personal, it's a way to make sure that there's accountability."
Moving forward, Johnson will get a chance to redeem himself, but it sounds like the net is Thome's for now.
"Obviously, I am not going to discount Cam as far as the game yesterday, but going forward here, I think you gotta give Peter an opportunity maybe going forward here," Berry said. "Going forward here, when Cam when he gets his opportunity, he's going to have to play like a championship goaltender coming back in. Cam is an outstanding person. He'll get his opportunity and make the most of it.
It has been almost a month since Thome had played in a game, but he was still sharp in the start.
"It was about a month, so, it had been a little while," Thome said. "Playing last night and playing my game well and sticking to my keys that kind of helped me be confident and be ready for tonight. That was big, I just kind of realized it had been a month, but hockey hasn't changed in a month. It's the same game. I just kind of realizing that I had to play my game and not do too much out there."