The reveal of the Vegas Golden Knights will be on Wednesday. There, we'll see the roster for the inaugural season of hockey in Sin City.
More interestingly, we'll see the side deals GM, George McPhee was able to pull off in exchange for staying off certain players. On Tuesday, I projected the first 15 players that would be taken in the expansion draft. Some picks including Sami Vatanen (Anaheim) or Matt Dumba (Minnesota) may be off the table as it turns out via trades.
One of the takeaways from the first 15 I picked on Tuesday were the serviceable defensemen and young goaltenders. Of those 15, just five forwards. Which means we should probably start to chip away up front and add some skill, but finding skill out of the lot available is no small task.
Montreal:
LW, Charles Hudon
I mentioned that we'll need to find some skill for Vegas and while he has just 6 NHL games to his name, Hudon could be a building block in that process. At 22, he's coming off two strong seasons in the AHL. It seems curious that during some of Montreal's offensive woes in the season, he wasn't called upon for a greater period of time. Nonetheless, he is under contract for two more years at $625,000 and in 2019 when his contract expires he'll be an RFA without arbitration rights. That's appealing.
Nashville:
LW, James Neal
In 2014, David Poile knew his club needed an upgrade offensively. That spawned the trade for Neal from Pittsburgh for Patric Hornqvist and Nick Spaling. Fresh off a run to the Stanley Cup Final, Poile's club looks to have a much better offensive attack. That being said, they'd hate to lose Neal. But, Vegas has to ice some kind of roster next year and score at least a little bit. He's not a consistent scoring threat, but he's the former 40-goal scorer available.
New Jersey:
LW, Mike Cammalleri
Skill has been a running theme and though he just turned 35, Cammalleri could be a good add for secondary offense. Compounded with some family emergencies, Cammalleri had a disappointing campaign with the Devils last season. In 61 games he scored 10 goals and 31 points. His scoring touch has declined steadily, but he's not all that far from a 27-goal campaign in 2014-15 when he was a focal point of New Jersey's offense. Certainly he'll be a central figure in that with Vegas if he's picked.
N.Y. Islanders:
D, Calvin de Haan
While the appeal of taking one of Josh Bailey, Casey Cizikas, Brock Nelson or Ryan Strome would overpower the team's defense, it appears that there is a deal in place between the Isles and Golden Knights to shift their focus to defense. With New York protecting five defensemen, that really only leaves the veteran of four seasons. He's coming off a season in which he scored 25 points in 82 games. He's 26 but he's starting to come into his own as a puck-moving blueliner.
N.Y. Rangers:
RW, Michael Grabner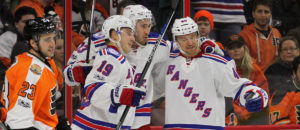 Like Florida, who presumably signed Jonathan Marchessault to a multi-year contract last July with expansion in mind, the Rangers seemed to do the same when they added Grabner last summer. The common theme? Neither team expected the player to have the season they did. At 29, Grabner enjoyed an unlikely 27-goal season, just one behind teammate Chris Kreider for the team lead. He's still fast, he kills penalties and while it's been inconsistent throughout his career, he has offensive upside. As Vegas goes through some growing pains early, he'll be a useful player.
Ottawa:
D, Marc Methot 
There may very well be some kind of trade in place between Ottawa and Vegas. Especially after Dion Phaneuf opted not to waive his No-Move clause and had to be protected. Methot is Erik Karlsson's preferable partner on the blue line and losing him will be a tough pill to swallow for the Senators. For the Golden Knights, who could come out of the draft with an above-average defense, Methot and his 19:49 TOI average doesn't hurt.
Philadelphia:
LW/C, Michael Raffl
The Flyers really don't offer much for expansion purposes. Raffl, who had 11 points in 52 games last season probably won't be much of a factor. But he's got a moderate $2.4 million cap hit for the next two seasons and needing to reach the floor, he'll do. He should also see an opportunity with the club as a specialist on the penalty kill.
Pittsburgh:
G, Marc-Andre Fleury
There's no surprise here. While Bryan Rust is ultra tempting, it's equally unrealistic. It seems like since before Fleury was pulled from the starter's cage en route to the Penguins' second-straight Stanley Cup, that he was Vegas-bound. The Golden Knights figure to struggle out of the gate but in Fleury, they have a goaltender able to steal games. That's important. He also figures to be an ambassador to hockey in Las Vegas. A unique opportunity for the three-time cup champion.
https://www.youtube.com/watch?v=A6a3QnfwlD8
San Jose:
D, Paul Martin
At 36 (yes, he can't believe he's that old either), Martin could be a Golden Knight and the veteran on the new squad. He scored 26 points in 81 games last season and still logged just under 20 minutes per game. He's on the wrong side of 30, but he's still effective and may be the favorite for first team captain if he's claimed.
St. Louis:
RW, David Perron
As we continue to look at the potential top-six of the Golden Knights, it's still lacking some NHL scoring threats. Though he's never been a consistent scoring threat, he may thrive in a top-six role with Vegas. Worst case scenario? He's a $3.8 million rental at next season's trade deadline.
Tampa Bay:
RW, J.T. Brown
The Lightning are pretty tight against the cap heading into the summer and Steve Yzerman is one of the best GM's in the business. So, Tampa screams side deal here. That probably means Brown and his affordable $1.3 million cap hit for one more season before unrestricted free agency isn't the way McPhee is persuaded to go. But, the Tampa forward has a nice combination of skating and defensive know-how. He's not much of a point-producer but there's a place for him on most NHL rosters, especially an expansion club.
Toronto:
RW, Seth Griffith
Nobody is more familiar with working the phone for side deals more than Lamoriello, the league's most senior GM. He's got something up his sleeves, but don't expect any leak involving the blue and white prior to Wednesday night. Griffith is one of the intriguing players from last season. He was claimed off waivers by the Maple Leafs from Boston; then later claimed by Florida before returning yet again to Toronto. That may have had some effect on his play–5 points in 24 games. He should be able to step in and at least challenge for a spot.
Vancouver:
C/LW: Brandon Gaunce
Like Griffith, Gaunce is a young forward who has put up some numbers in the AHL but is still waiting to make an impact in the NHL. He may have some untapped offensive potential that warrants a look in camp.
Washington:
C, Jay Beagle 
Beagle, 31, was charged with shutting down Crosby throughout the playoffs in the Caps' seven-game battle withe Pittsburgh. That's still a sore subject in the nation's capital, but Beagle has been an important component for one of the top team in the NHL in back-to-back seasons. He has a small scoring touch and has a grind game that will be needed some nights against stronger opposition. Like a lot of the players selected, he's also not a bad rental option at the deadline as Vegas stockpiles even more future.
Winnipeg:
D, Tobias Enstrom
Enstrom might have done the team a favor in waiving his No-Move clause to help the team with expansion, but as helpful as it was it could result in him being selected. What's not to like about a defenseman who averages 21 minutes/game with offensive instincts? He's a UFA at season's end but he'd help round out the Vegas defense–a position of strength early into the team's history.
Evaluating My Golden Knights:
Forwards (16):
Average Age: 27.4
Under contract: 13
Restricted free agents: 3 (Hudon, Gaunce, Griffith)
Estimated salary: $31,158,333 (per Cap Friendly)
Mike Cammalleri-Jonathan Marchessault-James Neal
Lee Stempniak-Jay Beagle-David Perron
Jamie McGinn-Joe Colborne-Michael Grabner
Jujhar Khaira-Michael Raffl-Alex Chiasson
Brendan Gaunce-Seth Griffith-J.T. Brown
Charles Hudon
Defensemen (10):
Average Age: 27.5
Under contract: 8
Restricted free agents: 2 (de Haan, Ouellet)
Estimated salary: $26,250,000 (per Cap Friendly)
Marc Methot-Sami Vatanen
Tobias Enstrom-Paul Martin
Brayden McNabb-Matt Dumba
de Haan-Trevor van Riemsdyk
Ouellet-Pateryn
Goaltenders (4):
 Average Age: 25.4
Under contract: 2
Restricted free agents: 2 (Forsberg, Subban)
Estimated salary: $6,500,000 (per Cap Friendly)
Marc-Andre Fleury / Anton Forsberg / Malcolm Subban / Linus Ullmark
The team's offense might be cause for concern particularly down the middle. Thirty-goal season aside, Marchessault might struggle as the top center on an NHL team. The top-six is largely filled with inconsistent point-producers which is also mildly concerning, but for what was available, it's OK. Already-signed Vadim Shipachyov isn't penciled in, but he may be one of the better forwards on the team.
The bottom-six leaves lots of room for competition which never hurts
On the back end, we'll take the top pair of Methot-Vatanen with a grain of salt. Both are rumored to be involved in trades (Methot a post-draft flip candidate), so we'll evaluate the rest of the blue line. Enstrom and van Riemsdyk highlight what will likely be a position of strength. It's mobile and big, though some of the players run the risk of being overused.
In net, it's Fleury. We know this and that's a good thing, but the likes of Forsberg, Subban and Ullmark are good assets to have.
All will be revealed on Wednesday as the Golden Knights selections will be announced in conjunction with the NHL Awards. But for what's available and the expected side deals, Vegas may enter the league in a better spot than any expansion franchise in NHL history.