Two days ago, it looked like Patric Hornqvist rejoining the Penguins' lineup meant that rookie Jake Guentzel might come out.
Head coach Mike Sullivan couldn't be blamed for contemplating that switch. Guentzel, 22, was still leading the league in playoff goals, but he had been stuck on the same number – nine – since May 8, which was Game 6 of the second round against the Washington Capitals.
Guentzel didn't score in the seven-game Eastern Conference Final against the Ottawa Senators, tallying just two assists in the series, both in Game 4. He was getting opportunities, but they were missing the net or clanking off the crossbar.
Realizing the first-year pro had played a lot more hockey than he was used to – he was playing last year at the University of Nebraska at Omaha, after all, followed by a stint with the Penguins' AHL affiliate – Sullivan started trying him on lines with less pressure than flanking Sidney Crosby. He scaled back his minutes.
"We just tried to shift the focus a little bit with him," Sullivan said. "This is his first year pro, coming out of college, where he's not used to playing the NHL schedule and the demands of that physically, not to mention a long playoff run. So we just thought if we cut his minutes, we'd get more productive minutes from him."
It seems to be working.
After scoring a dramatic game-winning goal in Game 1 – after the Penguins had gone for 37 minutes without a shot – Guentzel followed that act with two goals in Game 2. That included one just 10 seconds into the third period that launched Pittsburgh on a three-goal surge, chasing Predators goalie Pekka Rinne and shifting a previously tight, 1-1 contest firmly in the Penguins' direction.
No time wasted as Guentzel jumps all over goal #12 to start a wild third for the @penguins. #StanleyCup pic.twitter.com/VCQXmsMHLb

— NHL (@NHL) June 1, 2017
That, coincidentally, came after another prolonged stretch of more than nine minutes where the Penguins couldn't get a shot on goal.
"We went out there after playing two really solid periods, and they scored a goal on the first shift," said Nashville head coach Peter Laviolette. "I think that put us on our heels for a few minutes. After that, we made a couple mistakes [that] ended up going back in our net."
And Guentzel was the catalyst.
"I think he's had an opportunity to get a little bit of a second wind," Sullivan said. "He's getting his legs back; I think his confidence is there."
Well, confident as it applies to the soft-spoken Guentzel, anyway.
"I mean, just in the right spot at the right time," he said in his second postgame podium appearance in as many games. "Pretty thankful they're going in."
Guentzel can call his goals lucky, but they're the product of hard work combined with high-end skill. His first goal of the game, for instance, showed a willingness to camp out in front of the net, where he got Conor Sheary's rebound and backhanded it through about an inch of space between Rinne's arm and body.
Better look at how Guentzel's goal got through Rinne pic.twitter.com/zI2t6TZyQJ

— Pete Blackburn (@PeteBlackburn) June 1, 2017
"He's a conscientious kid [and] a pleasure to coach," Sullivan said. "If he just plays the game the right way, it's winning puck battles, it's the wall play, it's gaining lines, it's taking what the game gives you. When the plays are there, his instincts will take over. He's a real talented kid."
Talented enough that his 12 goals, five of them game-winners, and 19 points – most in a single postseason by an American-born rookie – have Guentzel's name in the Conn Smythe Trophy discussion as playoff MVP.
That's assuming the Penguins, now up 2-0 in the Final, find a way to get two more wins and claim their second Stanley Cup in as many years. That's far from a sure thing after they were thoroughly dominated yet escaped with a win in Game 1, then outshot, outpossessed and outchanced in Game 2, yet opportunistic enough to score three goals in a 3:18 span.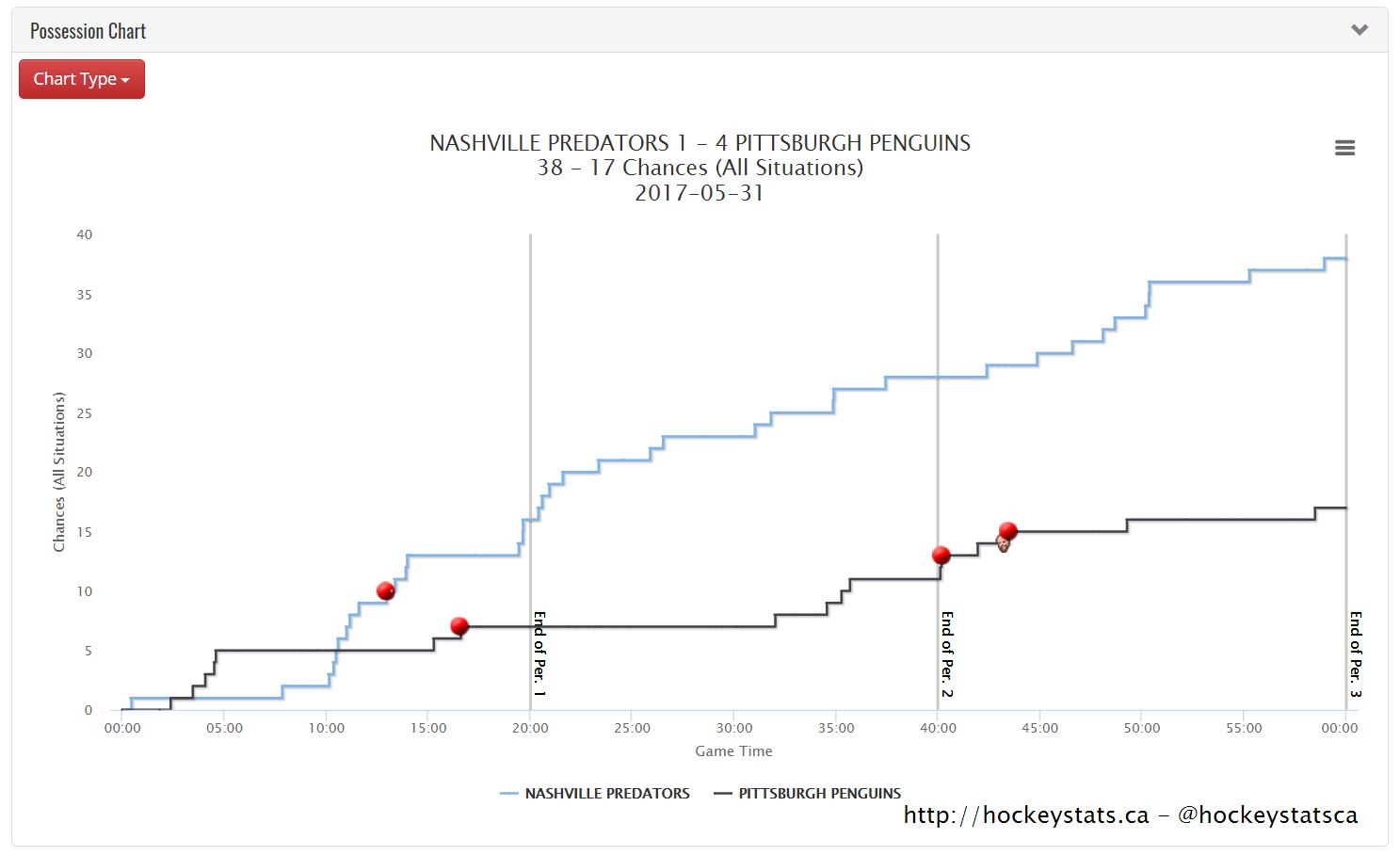 "I think it's an indication that we're a team that has shown an ability to find ways to compete and win," Sullivan said. He was talking about a blocked shot that center Nick Bonino took off his inside ankle bone, yet somehow managed to return.
Everyone please pray for Nick Bonino's ankle pic.twitter.com/flGAYnBUyH

— Cole Padawer (@HKY_Tweets) June 1, 2017
But Sullivan could have also been talking about goaltender Matt Murray, who stopped 37 of 38 Predators shots and kept the Penguins in the contest until their offense came. He could have been talking about his team's hard work and skating that frustrated Nashville into seven penalties on the night. And he could have been talking about the makeup of his entire team.
"I always use the phrase that I think we're a scrappy group," Sullivan said. "It's not always pretty, but this group is resilient. We're competitive. We just stay with it. It's a stick-to-itiveness that I think this group has, and I think they believe in one another."
"It's crazy. You can't even put into words what it feels like," Guentzel said. "We know the ultimate goal is two more wins. Obviously, they're going to be tough to get."