Thomas Greiss made 28 saves to help lead the New York Islanders to a 4-1 win over the Detroit Red Wings during a holiday matinee at the Barclays Center. Brock Nelson, Josh Bailey, Marek Zidlicky and Ryan Strome scored for the Islanders while Pavel Datsyuk tallied the only goal for Detroit.
"I liked our work ethic and compete level tonight," Isles head coach Jack Capuano said after the game. "I thought we checked very well tonight and I thought we had good sticks."
Datsyuk praised the Islanders defense. "They [the Islanders] came out a little faster today," the veteran forward said. "They're a tough team to play against when they get going. they block the pucks in front of their goalie and it's tough to get shots through. It's tough to get a quality chance."
Whatever the Islanders didn't prevent from getting through, Greiss stopped. The 30-year old native of Germany was sharp against Detroit in earning his 16th victory of the season.
Greiss was pleased with his personal play, but was quick to credit his teammates as well. "The team played very well…I felt pretty good today. Pucks were hitting me and sticking to me," he said. "It was a big comeback for us after the last game [a loss to Carolina]. We also lost twice against this team so it was a big win."
The Islanders took a 1-0 lead midway through the second period when Brock Nelson scored on his own rebound. It was Nelson's 100th career point which came in his 209th career game. The goal was also his 21st goal of the season which ties him with John Tavares for the team lead.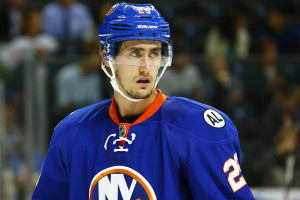 Nelson was happy to reach the milestone. "It's special," Nelson admitted. "It really brings [me] back. It's been about three years now. This is definitely something I'll remember. Hopefully, it's just the start of many more."
The Islanders struck for two goals in a 1:06 span late in the second period to give them a secure lead. First, Bailey pounced on a generous rebound allowed by Red Wings goalie Jimmy Howard and gave the Isles a 2-0 lead on the power play. Then, Zidlicky made a smart play, heading to the slot after a shot by Cal Clutterbuck bounced hard off the boards. He grabbed the loose puck and deposited it past Howard to make the score 3-0 Islanders.
The Red Wings got their only goal midway through the third period when Datsyuk put home a rebound and ended Greiss' shutout bid. But Ryan Strome took a pinpoint pass from Tavares and scored on a hard rising wrist shot to put the game away and give the Islanders a 4-1 win.
The Islanders players were very pleased with their bounce back performance, especially after a lackluster effort in their last game in Carolina. "We were pretty down on ourselves after the last game," admitted Ryan Strome. "The guys played well tonight though and Greiss was great. It's kind of good to get back on track."
The Islanders return to action Thursday night when they host the Washington Capitals at Barclays Center.
NOTES:
Defenseman Calvin de Haan did not play in the third period after suffering a lower-body injury. He will be evaluated further on Tuesday. de Haan has been one of the Islanders most consistent defensemen this season.
Official attendance was 15,795.
John Tavares extended his point-scoring streak to six games when he assisted on Strome's goal in the third period. He has scored 4 goals and 10 points during the streak.
Casey Cizikas also extended his scoring streak to three games when he assisted on Zidlicky's goal. Cizikas has a goal and 4 points. Johnny Boychuk and Nick Leddy also extended their personal point-scoring streaks to three games.