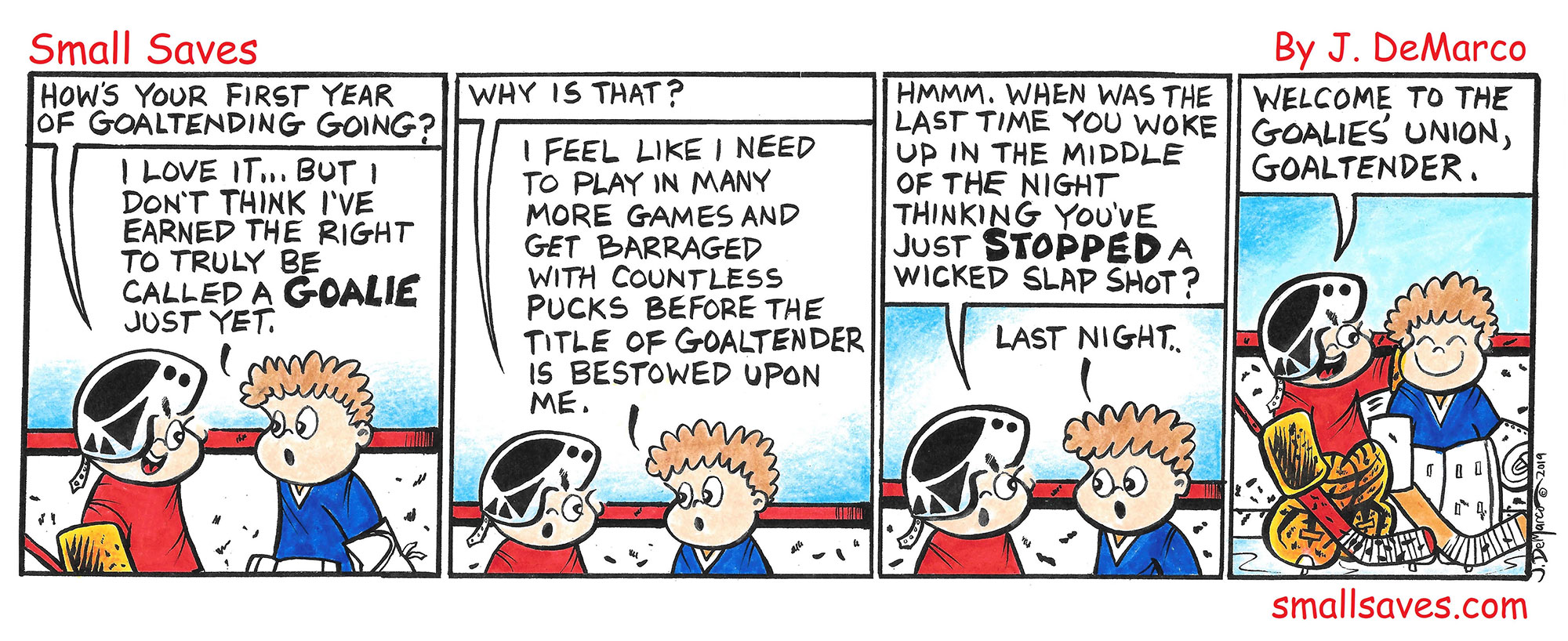 Hi, everyone.
Hope you all had a great week!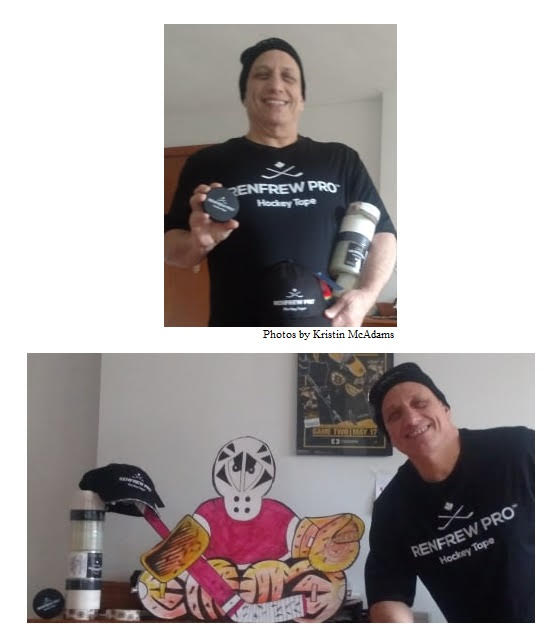 Thank you to Renfrew Pro
I'd like to start the newsletter with a special thank you to Renfrew Pro. They sent me a wonderful thank you package for the Small Saves cartoon I drew a few weeks back. From a great assortment of hockey tape (including custom Boston Bruins logo tape), hats, puck, shirt, I was very thankful! My goalie sticks will be well protected with their tape, and I will be going to the rink in style with their items! Thank you, Renfrew! Here is their link.
March 18, 2010
Today marks the eight-year anniversary passing of my friend and mentor, Chick DeAngelis. I'd like to share with everyone an article I wrote. It was published in InGoal Magazine.
To me and everyone he skated with, he was simply known as Chicky. A goaltender from the long ago. Maskless. Fearless. And that was just the first 20 years.
Many goaltenders can proudly (and rightfully so) claim that they have donned the pads and stood guard for this amount of time. For Chicky, that was just the beginning. Add another 40 plus years to that, and you'll get a pretty good idea at how long he guarded the net – donning the Plante three-quarter mask that he used that up until the '90's While wearing the now current combo mask right up until 2009, you could sense that he wanted to take it off and go back to tending the way he did as a youngster.
Chicky April 25, 1930~March 18, 2010
Sometimes the world gets very quiet. Too quiet. The silence comes out of nowhere… and when it does, it leaves a hush over all it encompasses. Funny how 79 years can be summed up in a blink of an eye. Although I haven't been on this earth for that long, I certainly knew someone who did.
I could list all his accomplishments, stats, recollections of unbelievable saves that I've been privileged to have seen. Instead, I seem to be drawn to the story of a goaltending journey that was written in his face. Along with the scars that an unforgiving puck will leave on an unprotected profile, there were also wrinkles of smile marks. I'd like to think that they formed from all the years of flashing the secret grin all us goalies do when we've just robbed someone of a sure goal. The lines around his eyes from the twinkle knowing he had something up his sleeve when a shooter broke in all alone on him.
When I was young, and he began showing me how to ply my trade of goaltending, I'd sometimes go over to his house. What struck me was in most of his rooms he'd have a little cross, along with a photo of someone. I'd say, 'you sure do have a lot of crosses'…he'd just say, "Ahhh" and shrug his famous stance that goalies eventually inherit from years of being hunched over, awaiting the next shot.
I never really understood why.
Sometimes the sands of an hourglass don't so much sift through the tiny opening as they explode the glass. A lifetime of memories all within a blink of an eye.
And, so, to say goodbye to a lifelong friend doesn't quite fit. He's a part of me now and forever. Whenever I make a save, a part of him has just helped me. In a sense, he's still there.
I pack my gear for another game and it finally dawns on me. I stop and smile. "Ahhh, so that's why…" I say to myself. I reach for my goalie stick but do it carefully so as not to disturb a small cross… and the picture of Chicky beside it.
Jay