The New York Islanders are just past the halfway mark of the 2015-16 season and are in the thick of the playoff race in the Metropolitan Division. The team is behind the brisk pace they set in the first half of last season although the Isles did slump a bit in the second half last year so there is room to make up some ground.
Here is a look at the five most important factors to the Isles' success in the second half of the season.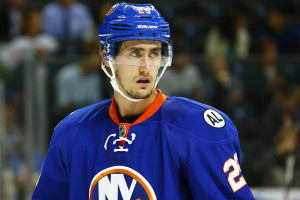 5. Add Some Goal Scoring
Somehow, the Islanders need to add some offense down the stretch. Whether it's due to a more defensive-oriented system this season or some of the present players not meeting expectations, offensive production is off from last season so the Islanders need to find a way to score some more goals in the second half of the season.
The most obvious way to do this is by trade. How the team performs between now and the February 29th trade deadline will have a lot to do with what GM Garth Snow decides to do. So will how much money the team is willing to spend and what kind of contracts they are willing to add.
While it is unlikely that the Isles will be acquiring big names like Steven Stamkos or Thomas Vanek, some second-tier scoring help would definitely be a smart addition to this lineup.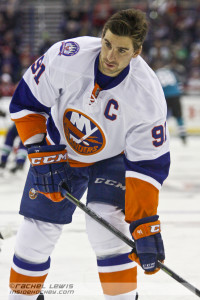 4. John Tavares needs to pick up his game.
The Islanders captain is still one of the team's leading scorers, but his offensive production has fallen off significantly from last year's impressive 38-goal, 86-point mark. As of now, Tavares is on pace for about 28 goals and 58 points.
Overall, his play has often lacked that spark or dynamic quality that often sets Tavares apart from other players.
Whether this is due to an undisclosed nagging injury, a lack of support from his linemates or just a subpar start to the season for Tavares, the Islanders need their leader to pick up his game in the second half. Tavares is the catalyst that makes this team go. If he raises his game, the Islanders offense will likely follow.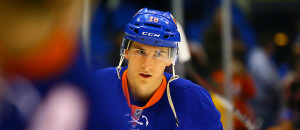 3. The Isles Young Guns Need to Return to Form
The Islanders expected their three young and talented forwards, Anders Lee, Brock Nelson and Ryan Strome, to each take steps forward in their development this season and increase their offensive production. While Nelson is on pace for about 27 goals, neither Lee nor Strome have gotten off to good starts.
Lee is on pace to score just 11 goals after tallying 25 last season, while Strome's play without the puck was so inconsistent, the Isles sent him down to Bridgeport to help him find his game and regain his confidence earlier this season. He has just three goals and 15 points in 31 NHL games so far although he has shown flashes of improved play of late.
The Islanders need their young players to pick up their offensive game and their play without the puck. If they do, the urgency to trade for an offensive player is greatly reduced. If they don't prove that they are the answer, changes could be coming to this roster sooner rather than later.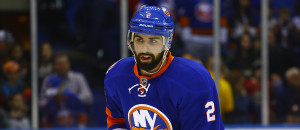 2. Increase Defensive Depth
The Islanders are in a tough situation right now on defense. They are without Johnny Boychuk and Travis Hamonic for an extended period of time. Defensive depth may be one of the Isles' biggest weaknesses. It will be a challenge to play solid defense for the next few weeks without two of the team's top four defensemen.
Asking players like Brian Strait, Marek Zidlicky, Adam Pelech and Scott Mayfield to play some top-four minutes will be a challenge. The Islanders have some talented young defensemen in their system, like Pelech, Mayfield and Ryan Pulock, but are they ready to play major minutes at the NHL level? Finding out would be a bit of a gamble and potentially cost the Islanders a year of control over their contracts. In the tight race for the playoffs, guessing wrong could be very costly.
The Islanders may need to bring in some stop-gap players here if their young players don't prove themselves ready for prime time. Either way the next few weeks will be a big challenge on defense for this team and may keep Jack Capuano playing a more conservative style until their top defensemen are ready to return.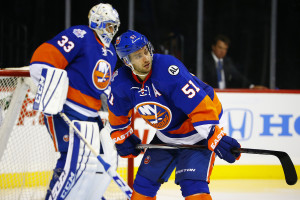 1. Settle the Status of Okposo, Nielsen and Hamonic
The Islanders have two key players whose contracts expire at the end of the season (Kyle Okposo and Frans Nielsen) and one key performer who has requested a trade (Hamonic) to be closer to his family in Western Canada.
Hamonic is injured right now and his questionable health and the injury to Boychuk make an immediate deal much less likely. Garth Snow has stressed that he will not trade Hamonic unless he gets fair value in return and that there is no rush here to make a deal. With the club hurting for depth on defense, a deal is even less likely before the summer.
Okposo is likely to get a sizeable offer from another team if he hits the open market this summer. He's on pace to score 20 goals and 60 points this season. His career bests are 27 goals and 69 points, both set back in 2013-14. Okposo will be 28 years old this April, which would put him just past the prime of his career according to most experts.
The Islanders need to figure out if Okposo is worth the $5-6 million or more a season he could command on the open market. It is not clear whether or not Okposo and his agent are willing to give the Islanders any kind of home team discount.
If the Isles feel they will lose Okposo for nothing, trading him at the deadline becomes a distinct possibility.
There is a similar situation with Nielsen who is enjoying a career year this season, although he will turn 32 in April. The veteran center may be more willing to stay with the Isles for slightly less money, but the Islanders have to figure out what to do with "The Great Dane" at some point before the trade deadline.
Nielsen's greatest value may be his versatility. He plays on the second line, the power play and the penalty kill. Nielsen can also fill in on any line over the short term without hurting the team in a major way. On the power play, he can be utilized on the point or at forward. He is a player who does the little things right and who has the confidence of the coaching staff and his teammates.
The bigger issue may be this. Nielsen, Okposo and Hamonic are three of the team's biggest leaders (outside of Tavares) in the locker room and they all play major roles on the ice. Trading one or more of them would certainly change the team's chemistry and makeup in a hurry. What Snow is able to get in return is vital. The Islanders would be more likely to look for immediate assets now rather than stockpiling prospects and picks as they've done in the past.
The way these five factors play out will reveal how the Islanders second half of the season goes. Fans can only hope for success down the stretch this season. Make no mistake about it, anything short reaching the second round this postseason would be considered a major disappointment for a franchise that hasn't won a playoff series since 1993.