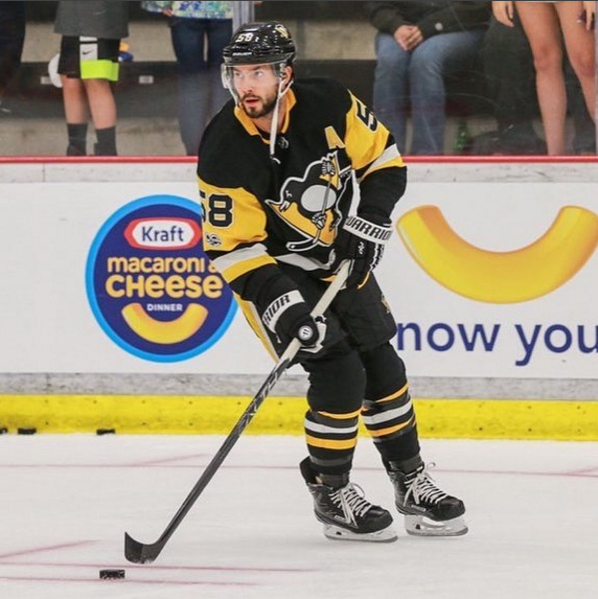 The Penguins lost a handful of key players from their back-to-back Stanley Cup runs this summer.  With less than a week to go before they raise another championship banner, their opening night roster is still a work in progress.
But this year's Penguins have already made one big upgrade to the roster that won the Cup back on June 11. That happened the moment defenseman Kris Letang stepped on the ice at training camp.
After not playing since Feb. 21 due to a herniated disk in his neck, Letang had surgery in April. That's a delicate, scary procedure. But if you thought it was going to keep Letang – the same guy who missed just 10 weeks after a stroke three years ago, at age 26 – down, think again.
After a summer spent working out, then progressing to running and skating, Letang hit the ice at the Kraft Hockeyville game earlier this week. And, for the first shift, he allowed himself a moment to reflect on the six months or so he was away from the game.
"Pretty fun," he said. "It's been a while, so I was just glad to be out there playing the game I love."
Then the game started to get a little tighter, a little more intense. And Letang, a fierce competitor, started focusing on getting his legs back.
"That first period was kind of like me putting my tippy toe in the water. But, after that, it started going well and I was able to start getting my timing back a little bit. I felt on my heels a little bit at times, but it got better pretty quickly."
The Penguins lost the game to the St. Louis Blues, 4-1. But seeing game action, even in a preseason contest, was significant for Letang.
"For the physical play, obviously, it's a big factor," he said. "Just the speed of the game. Everything is structure in practice so you know what to do; you know the drills. But, out there, there's a million things that happen that are not a script. So just to adjust, get the feel for the ice, get in good position."
Letang sported the alternate captain's A, a title he received with the departure of Chris Kunitz this summer. It's an outward sign of his importance to the Penguins, and the leadership role he's always had on the team.
"In my experience with Kris the last two years, he's already grown into that role," said head coach Mike Sullivan. "He takes so much ownership for his own game and helping the team win. He cares so much about this organization and his teammates. And he's very deserving of the letter on his sweater."
Letang cares, all right. And, with a long medical history that includes not only the herniated disk but multiple concussions, he cares enough to try to try to avoid unnecessary hits if that's what the team is asking of him.
Still, his game is built on jumping into the play, and that's not going to change.
"There's certain things to avoid, that's for sure, but I'm not going to change my game," he said.
He's also not going to shy away from his usual workload, which averages 25 minutes or more a night.
"That's part of my game, the way I play, so that's the goal," Letang said. "I'm just going to go like I always did. I'm healthy; that's the only thing I know. So I don't know why I would rest. The energy is going to be there, that's for sure."
As one of the game's most gifted offensive defensemen, Letang will also be relied upon to run the Penguins' first power-play unit. But he's got some competition at that spot in the person of Justin Schultz, who has more than lived up to the Penguins' hopes when they plucked him from Edmonton for a third-round draft pick in February 2016.
Since coming to Pittsburgh, Schultz has scored 59 points (13G, 46A) in 96 regular-season games, and 17 more (4G, 13A) in 36 playoff games. He's coming off a career year where he ranked seventh among NHL defensemen with 51 points (12G, 39A) in 78 games, and sixth with a plus-27. And, after betting on himself by accepting a one-year bridge deal last summer, the 26-year-old blueliner scored a three-year contract this year that will pay him an average of $5.5 million.
"They're both going to play" on the man-advantage, Sullivan said. "We have two guys that are capable of being part of that first unit, and we're exploring different situations and different opportunities to get them both in. You might see both of those guys out there in certain situations on the top unit.
"Both of these guys are very good power-play guys, and they will both get power-play time."
For Letang, just being back on the ice is a start.
"It's been a long time for him and you know he's anxious to get out there and play some games," said captain Sidney Crosby. "To get the first one under his belt, I'm sure it feels good. It's great to see him back out there."
"That first step is out of the way," Letang said. "I can focus on playing my game now."