Twenty-four hours earlier, University of North Dakota head coach Brad Berry was disgusted with his team's play. They lost most of the puck battles and were second to all the loose pucks. It wasn't a good game for the Fighting Hawks.
"Puck battles… second to all loose pucks," an agitated Berry said. "Pucks going on and off our tape. All of the execution things you don't want in the first period. Again, that's what happens when you're not sharp. The other team had a 2-0 lead and we had to chase the game."
On Saturday, it was a different story. The Fighting Hawks received the head coach's message and it was a much better team effort. At the 14:10 mark of the first period, sophomore defenseman Colton Poolman froze the Union defenders with a nifty move and scored a beautiful goal.
"It all started because of our better start tonight," Berry said. "I thought we had emotion, we had energy. We started the game the right way. The process was that we wanted to play a total 60-minute game. We were short of that about a minute where we gave up two goals. You know what? That's a good team over there. They're going to win a lot of games in their conference."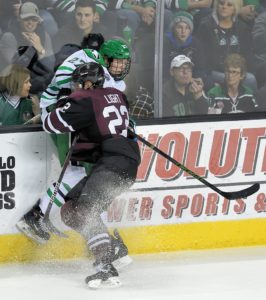 The game would remain 1-0 in until the 1:56 mark of the third period when forward Brett Supinski scored the Dutchmen's' first goal. The Dutchmen would waste little time scoring the follow-up goal 22 seconds later with a goal from forward Ryan Scarfo. And just like that, Union again had the lead.
Through 15 games, last year's leading scorer, Shane Gersich has struggled to put pucks in the net. Through 15 games he'd scored only four goals and eight points.
When his teammates need him the most, Gersich scored the game-tying goal at the 16:42 mark of the third period. After Gersich's timely marker, neither team would score the rest of the way. The game would end in a 2-2 tie.
"I thought that honestly, I thought we played good," Gersich said. "Besides the fact, you know two shifts there, a few minutes in the game. I thought we played really good for 58 minutes or so. That's the effort we need.  We had a good start we kind of built off that and kept it rolling. Obviously, it was kind of tough for those two shifts. For the most part, I thought we played good."
The Dutchmen are a heavy team and this series should prepare the Fighting Hawks for next weekend's crucial National Collegiate Hockey Conference series against the Western Michigan Broncos.
"You have to give credit to them," Gersich said. "They're a tight team, they play tight defensively and they're heavy and they don't give up much offensively. That's something that we need to learn from this weekend and be ready to go next weekend against Western. Obviously, we know their game from last year and years past. They're a big physical team as well and don't give up much. We have to learn from this weekend and be ready to go next weekend."
With the tie, the Fighting Hawks are 8-4-4 and return to conference play next weekend when they entertain the Western Michigan Broncos.