NEWARK–On a night to immortalize number 26, the owner of seemingly every offensive record in Devils history, there seemed to be room for reflection. Not only on the career of Patrik Elias, the Czech-born winger, that played his entire career in New Jersey, but also on the era that enclosed nearly two decades of team dominance. Though he was not there for the first Cup in 1995, Elias was an instrumental part of ones in 2000 and 2003, and runs at it in 2001 and 2012. On Saturday, he became the first forward to have his number retired joining former teammates, Ken Danyeko (3), Scott Stevens (4), Scott Niedermayer (27), and Martin Brodeur (30).
In a ceremony that shattered the four prior ones in length (including Brodeur's in 2016), the organization brought back many familiar faces–Jason Arnott, Sergei Brylin, Bobby Holik, Petr Sykora and Colin White, among others. In helping honor one of the organization's greatest players, it was an opportunity to provide closure on an era. An era defined by supreme excellence, discipline, and a no-nonsnse attitude that resonated from top to bottom. Saturday provided a kind of finality for fans, who've had reason to cling to the past in recent years. But in the hunt for a playoff spot on the backs of a young and talented core, the present looks bright. Elias certainly thinks so.
"I'm so excited to watch these guys," he said. "It's great to see these young talents coming in and making a difference for this organization. You're getting the sense here again that this team, organization and (Devils) fans are proud again on what's being displayed on the ice. It's a great start and these guys are on the way. We all believe we're going to be cheering for them by the middle of April and on."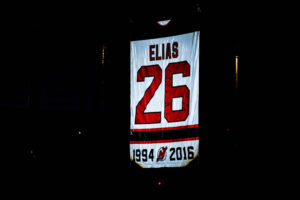 The Devils, who sit in the first wild card spot in the Eastern Conference, added more separation on Saturday, defeating the Islanders 2-1 behind a pair of third period goals from Kyle Palmieri for the comeback effort. In the contest, Taylor Hall notched two assists to reach points in 21-straight appearances, while Nico Hischier assisted on the equalizing goal 6:35 into the third. Elias noted how impressed he's been with Hischier, a player who he shares a common bond with. Both coming to the NHL as teenagers after having success in their home countries–a long way from New Jersey.
"The pressure is so high on these guys, especially when you've been drafted number one overall and you come from a different background," Elias said. "There's a lot going on in his life. The way he's handling it, which goes with the support of his family and coaching staff and organization. It just shows what a tremendous job everyone is doing. It's up to him at the end to perform. Hats off to him because he's been unreal and a big part of the success this organization's having. I hope we're going to be standing here in maybe 15-20 years and he'll be talking here."
Hischier, who has 41 points and is the only Devil to skate in all 62 games to this point, made the leap from junior hockey in Halifax to the NHL as an 18-year-old. Elias, turned professional at 19 and played in the American Hockey League, but wasn't a full-time NHLer until 1997, when the 21-year-old tallied 37 points in 74 games. He'd go on to add 988 more points playing in a defensive-oriented system, something that heightens the achievements of a career that deserves great consideration for the Hockey Hall of Fame.
Hall and Hischier along with Jesper Bratt, Miles Wood, and Pavel Zacha are among the New Jersey forwards that could carry the torch on the new era, with a newfound emphasis on skill and scoring, but a return to regular postseason success.
"It's a matter of these guys taking the next step and making the playoffs," Elias said when asked about the sustained success the present core can aspire for. "Hopefully with the success they can keep the core together. It's important for the fans to build a relationship with the guys and not just have guys here for 2-3 years."
And as the evening showed, for all the accomplishments in a 20-year career with one franchise, he did that too.