George McPhee said he will stop fielding calls from teams come Tuesday. Presumably, the veteran GM will begin shifting his undivided attention to deciding on the inaugural roster of the Vegas Golden Knights.
On Sunday, teams submitted their protection lists, the contents of which offered the first idea of how the league's 31st franchise could look.
Absent of course were the host of expected side deals in place as teams negotiate further protection in exchange for future assets. Most coveted? Draft Picks. And it certainly sounds as if the Knights should have by the end of the big reveal on Wednesday in conjunction with the NHL Awards.
There's wide speculation that both the Blue Jackets and Islanders have ponied up first rounders to McPhee to stay away from some select players. Ditto the Ducks. And, the Penguins, the reigning cup champions, seem to already know their fate as was noted from their protection decisions.
All of the in's and out's of this rare process make for a tough time in projecting who dons a Vegas sweater when the 2017-18 season begins. But, I'll give it a go. The following is a mock expansion draft roster, team-by-team. It takes in the consideration of side deals as well as contract status (pending UFA's need not apply). There is a multitude of restricted free agents, but it should be noted that Vegas has the unique opportunity, for this offseason only, to offer sheet any RFA without providing compensation.
Anaheim:
D, Sami Vatanen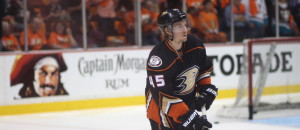 So, I'll start the mock expansion draft a bit rocky. Vatanen won't be ready when Vegas plays its first regular season game as he recovers from shoulder surgery. His return time isn't clear but could be more than five months, according to Ducks' GM, Bob Murray. We'll assume that might have made it trickier to deal the talented blueliner, who scored 24 points in 71 games last season. Anaheim has an abundance of good, young defense. In protecting Kevin Bieksa (NMC), the club exposed Josh Manson. By all accounts, the club has some deal in place to keep them from taking the 25-year-old. That could involve one or both of the second-round picks the Ducks hold at this year's draft. While there could be a larger package to keep them away from the entire defense, I'll throw Vegas a bone here. A good get once healthy.
UPDATED NOTE: Per Bob McKenzie, Anaheim and Vegas have a reported "side-deal" in place that would keep the Golden Knights away from Vatanen.
Arizona:
W, Jamie McGinn
I think George McPhee is a nice guy. So, he may have politely said "No Thank You" to John Chayka after he saw the Coyotes' list. Unable to abstain from selecting someone from their soon-to-be division foe, I opted for Jamie McGinn. A depth forward who can play all over the lineup in small spurts. He has two seasons remaining under contract with a $3.3 million cap hit per. That could mean he's an inexpensive rental to someone at the 2019 trade deadline.
Boston:
G, Malcolm Subban
Not every pick made on Wednesday will start the season in the NHL. Subban, 23, could continue to develop with the Chicago Wolves, the Golden Knights AHL affiliate. He'll also have the chance to prove he is NHL-ready in training camp. He's got one NHL start under his belt, albeit a rather forgettable outing. Part of the process, but there's still some upside here.
Buffalo:
G, Linus Ullmark
You'd think it would serve Vegas well to have some competition in net. Ullmark, 23, appears to be knocking at the NHL door. He's big (6-foot-4) and he's been an efficient goaltender throughout his professional career, which began with MODO of the SHL. He just recently inked a two-year extension and he's got an interesting Twitter persona, which could help as the Knights seek new fans.
Just to clarify things. We didn't wear my masks during our ceremony. We used them afterwards 4 our wedding pictures. https://t.co/LD9STBpoAl

— Linus Ullmark (@Icebeardude) June 17, 2017
Calgary:
RW, Alex Chiasson
At 6-foot-4, 208 pounds, Chiasson has a desirable package of size and depth scoring. He's coming off a 24-point season in a career-high 81 games. He could be a useful tool on an expansion team's power play, but of his 104 shots-on-goal last season, 95 came while 5-on-5. RFA with arbitration rights, he'll want more than the $800,000 he made a year ago, but he's worth a roster spot in what won't exactly be a glittering bottom-six.
Carolina:
RW, Lee Stempniak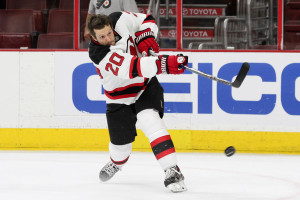 In a twisted turn of events, Stempniak was not dealt at the 2017 trade deadline. If he makes it to July 1 it'll be a full calendar year with the same team. Sounds too good to be true. Him being exposed had everything to do with the Hurricanes needing to meet the expansion guidelines. That being said, his 40 points in 82 games is only a slight drop from the 51 in 82 in 2015-16. He can and has played up and down the lineup and doesn't get discouraged by the seemingly annual changes in address.
Chicago:
D, Trevor van Riemsdyk
TvR to Vegas seemed to be the first leak before the NHL front office kindly requested teams to stay zipped on everything prior to the roster reveal. The expectation is that Marcus Kruger and his $3.1 million over the next two seasons will also be heading to Vegas, as again the Hawks look to shed salary. In the case of van Riemsdyk, it offers the 25-year-old another opportunity after an abbreviated via injury campaign.
Colorado:
C, Joe Colborne
Much like the Av's season, Colborne struggled. He notched a hat trick in his Colorado debut, but scored just one goal the rest of the season. That following a 44-point showing one season prior. He's got a respectable $2.5 million cap hit with just one year remaining, that's good enough for an expansion team center, playing in the bottom-six.
Columbus:
G, Anton Forsberg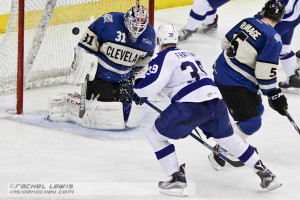 With much anticipation that the Jackets will send their first round pick (likely for this year) to Vegas to steer them away from the likes of forwards, Josh Anderson and William Karlsson or goaltender, Joonas Korpisalo, there's still something worthwhile to be had. Forsberg, 24, is coming off an impressive season with the Jackets' AHL affiliate in Cleveland. In 2015-16, he helped lead the minor league club to a Calder Cup championship. He seems ready to take the jump to the NHL as a capable netminder.
Dallas:
D, Greg Pateryn
Big D doesn't exactly offer an enormous range of possibilities for the Golden Knights. With much of its core protected, it seems likely that the Stars will offer an inexpensive depth player. Pateryn is a year away from unrestricted free agency but costs just $800,000. He missed significant time last season due to injury but averaged over 16 minutes/game when he returned. For one of the slimmest of pickings, it's not terrible.
Detroit:
D, Xavier Ouellet
Twenty-three year old, Ouellet was a bit of a surprise on the Red Wings' available list. He's continuing to come into his own as an NHL defenseman. He is coming off a 66-game season and was a regular in Detroit's lineup. He owns enough offensive upside to be part of a defense that might be somewhat formidable.
Edmonton:
LW/C, Jujhar Khaira
He's only just scraped the surface in the NHL, playing 25 games over parts of two years with the Oil. Fresh off signing a two-year, $1.35 million extension, he seems ready for a longer stint. Six-foot-four, 219 pounds doesn't hurt either for a winger that can also slot at center.
Florida:
C, Jonathan Marchessault
I'm guessing when the Panthers signed Marchessault to a two-year contract they had expansion on their mind. Not that the center making $750,000 per season would easily be the best buy in free agency. After stints in Columbus, Tampa and various AHL clubs, he exploded for 30 goals and 51 points in 75 games. It was especially needed in a trying season for Florida, who was barraged with injuries to its young forwards including Aleksander Barkov and Jonathan Huberdeau. The Panthers opted the 8-1 versus 7-3-1 protection route, thus Marchessault seems a lock to be a Golden Knight.
Los Angeles:
D, Brayden McNabb
If Vegas decides to go the direction I have them headed, they're going to be a big team. McNabb, 26, fits the bill at 6-foot-4, 212. What he lacks offensively (and there's not much at all), he brings in a physical game. His one year left at $1.7 million is a bargain compared to the big contracts left exposed by the Kings.
Minnesota:
D, Matt Dumba
Everyone was surprised with how quiet the 24 hours before Saturday's 3 p.m. EST. trade freeze was. Particularly when you consider the Wild, who protected the likes of Jonas Brodin, Jared Spurgeon and Ryan Suter. Leaving both Dumba and Marco Scandella exposed wasn't what GM, Chuck Fletcher had in mind. Seems likely that one of the two will exit the organization in the coming days. Dumba, 22, is coming off a season in which he tallied career-high's in goals, assists and points. He's well on his way to being a potential top-pairing defenseman. No side deals to our knowledge, but it almost seems too good to be true.
UPDATED NOTE: Per Bob McKenzie, Minnesota and Vegas have a reported "side-deal" in place that would keep the Golden Knights away from Dumba.