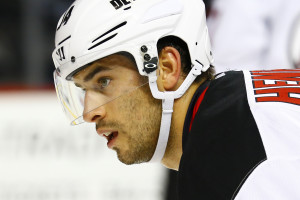 The Devils loss to Detroit on Monday, followed by their loss to Montreal on Wednesday, may have exposed a certain weakness.  With the Devils officially at the halfway mark, winning 20 of their 41 games or 49% of their games this season, they seem to be on par with most of the teams in the league. Winning half the games by the midway point is much better than what was expected of them this season.  They were predicted to end the season dead last in the league.
If the Devils stay the course, they won't get past that 50% win record and that is a bad thing.
For the teams doing 'just okay' right now, they're at that 50% win mark, just like the Devils.  In order to secure a playoff spot and have the potential for success, they need to be more than 'just okay' like the other teams.  If they don't up their game, they won't go deep into the playoffs.
Going into the final half, it is detrimental that they switch gears and up their ante.  It's about making themselves a better team than they were yesterday.  It is one thing to be on course like everyone else, but quite another to be a true playoff contender.  Currently, fighting to get ahead is proving to be difficult for the Devils when their leading goal scorers go on injured reserve.  Without those big playmakers, the Devils are finding it a challenge to generate goals from the other lines or even from the other top goal scorers.
That misnomer is upon every player on the team.  It is each player's responsibility to find a way for the team to win no matter which teammate is missing from the lineup.  They know this, but applying thought to action is not something that has been forthcoming for the Devils.  They went 100:10 without scoring a goal this week.  That goal 0:50 into the third period of the Montreal Canadiens game, ended Adam Henrique's 11-game goal drought.
Every team goes through some sort of goal drought, but for the Devils, it shows that there is something lacking beyond just not being able to generate a win.   There is something missing.  The question is what is it?
"I think we believe in ourselves," Travis Zajac said of where the team is now at the halfway point.  "We're a playoff team.  We were a little slow getting out of the gate, but once we started playing, our confidence started to grow and we realized that we could push and definitely be in the mix.
"To be one of those elite teams, always in the playoffs, going deep into the playoffs, they're consistent every night.  They find ways to pick up points throughout the year when they're not feeling good, not feeling their best in tight games.  I think that's where we're trying to get to, obviously.  I think consistently, we've had better games than not.  We're on our way there.  We're learning and just trying to get better and hope that we get there."
But how much longer until 'they get there?'  When will they get to that point where they can say this is not a rebuild year?  The Devils look as if they are building up to something.  They continue to grow to reach their stated goals and tasks, but is it enough to be a playoff contender this year?  Or should we just call this 'building up to something' what it really is…a rebuild year?
A rebuild year is what everyone expected of the Devils after Lou Lamoriello left and Ray Shero took over this past summer.  The Devils as a playoff contender for 2016 was easily put to the bottom of the rankings.  Basically, everyone believed the Devils had no chance in hell of being an actual contender.
But the truth is the Devils are faring far better than what was expected of them at the start of the season.  They are keeping pace with the teams at the top of the Eastern conference.  They currently hold a wild card spot.
Is it going to be enough by season end?  No one can predict their outcome this season.  It has been a huge question mark since the start of the season.  They have the potential to be something big, but will they be able to do it in time?  They remain the season's underdog.