NEWARK, N.J.–If Brian Gibbons or Jimmy Hayes are surprised by their individual success early on, they've done a good job at hiding it. But it would be understandable. Especially as the duo have become integral parts of the lineup. Called "identity players" by head coach John Hynes, the two players who clawed their way into the lineup during training camp are making an impact after a pair of down seasons.
"They've really played to the identity that we want to we want to play with," Hynes said. "They're tough players to play against. (Hayes) has an element on the power play where he does a good job with the net front. (Gibbons) has worked his way into one of our top penalty killers. Those guys have had those attributes in special teams and they're 5-on-5 play really is what we want for the identity of our team."
Both Gibbons and Hayes tallied in Friday's 5-4 shootout victory over the Senators. A late first period goal by Hayes helped start a Devils rally from behind 2-0. The carry-over momentum in the next two frames culminated in a Henrique tying goal mid-second followed by the go-ahead goal by Gibbons minutes later. After going up 4-2, it was New Jersey versus the clock as Ottawa tied it late in the third before falling in the shootout.
The win for the Devils, who had entered the contest after a lengthy, non-bye week break, was a reminder of one of the biggest improvements from the last place team in the Eastern Conference a year ago to a team with an impressive 7-2-0 start on the year: It's depth.
Gibbons, 29, spent all of the last two seasons in the American Hockey League, most recently playing for the Devils affiliate. His skating and speed combined with two-way abilities have helped him move up and down the lineup. He's also become one of the club's best penalty killers, highlighted by his rare 3-on-5 shorthanded goal earlier this month in Toronto. For for all that is one of the good stories on the team, Gibbons isn't too concerned with individual success.
"It's been good, but obviously the main thing is that we've been winning the games," he said. "Individual success kind of comes with that, but it doesn't matter if you're not winning. Happy to contribute in different ways and help the team win."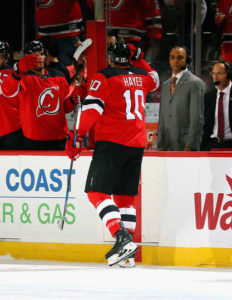 Hayes, 27, saw 58 games last season with the Bruins in his worst professional showing of his career. His two goals and three assists resulted in the team buying out the remaining season on his three-year, $6.9 million contract he inked in 2015. He, like Gibbons, earned his way on the team with a strong training camp, turning a professional tryout opportunity into a one-year, prove-it contract. Eight games into this season and he's already matched last season's goal total. So what's been the difference?
"You got to figure out a way to solidify yourself in the lineup," Hayes said. "(You) play hard and being a big guy, being heavy on pucks and playing the right way, you get rewarded. I've been trying to play that way all year. Sometimes you don't get the bounces but tonight I got some nice bounces."
Hayes was largely relegated to the fourth line last season amidst his struggles, but both he and Gibbons alongside Pavel Zacha has been an impressive looking line for the Devils, particularly on Friday. Zacha, New Jersey's first round pick from 2015, added a pari of primary assist on both of his linemate's goals. And just two weeks after he and Hayes were benched in New York,  the coach offered praise to their line.
"They were hard on the puck, they helped us get to our game in the offensive zone," Hynes said. "That line was a huge momentum changer with the goals and just in general of how they played. "That's what we need. It's nice to see those guys contribute on the scoreboard, but also in how they play. "
The Devils will play the winless Arizona Coyotes (0-9-1) on Saturday as part of a back-to-back. One interesting storyline will be goaltender Scott Wedgewood, who changed locker rooms following a trade to the Coyotes on Saturday afternoon. The Devils acquired a 2018 fifth round pick in exchange for the 25-year-old. Wedgewood is a career 2-1-1 goaltender with a shutout and an impressive .957 save percentage. He enters an organization that is considerably less crowded in net.