Jim Nill sounded like a man who was satisfied with what he had accomplished.
As the NHL trade deadline passed in mid-afternoon on Wednesday, March 1, the Stars general manager played the unexpected road of "seller" by swapping four veterans in separate deals for a promising combination of young, unproven players and draft choices.
"My job with this franchise is to try to get better today, tomorrow and for the future," Nill said after he had completed his fourth and final swap by exchanging veteran forward Lauri Korpikoski to Columbus for 21-year old defenseman Dillon Heatherington, who has not yet to played in the NHL. "These decisions are made (because they will) help us down the road, and that's important."
One year after their Western Conference championship, the Stars entered the trading deadline day a disappointing seven points out of the final playoff spot with 19 games remaining.
"We're disappointed," Nill said. "We're analyzing this. And we know where we have to make some changes. This is a good audition for a lot of these players also. Are they going to be part of this group moving forward? That's what we're going to be watching very closely."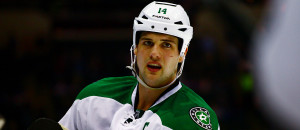 Patrick Eaves was the first to go last Friday in a deal with Anaheim for a conditional draft pick. On Monday, defenseman Jordie Benn was sent to Montreal for younger blueliner Greg Pateryn and another pick.
On Tuesday, defenseman Johnny Oduya, who signed as a free agent in 2015 after winning two Stanley Cups with Chicago, went back to the Blackhawks for prospect Mark McNeill, a forward, and a conditional pick. The Korpikoski trade occurred Wednesday just before the deadline.
"When a piece goes out, it's another player's opportunity," Dallas coach Lindy Ruff said. "He's going to get a little bigger ice time, a little better ice team, maybe special teams ice time. And I think sometimes other players will flourish in the absence of some of the pieces you take out."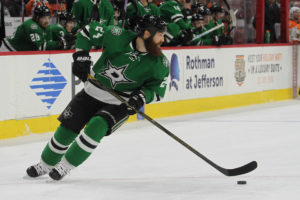 The Stars were a seller at the deadline with their 25-28-10 record keeping them seven points out of the final wild-card Stanley Cup Playoff berth in the Western Conference.
"As crazy as it sounds, we're not out of it yet," Nill said. "Until we're out of it, these guys are digging in and they should be. They're professional. Their job is to play every night. And it's a coach's job to prepare them every night. And that's the way we're taking it."
The trading of the elder Benn brother began when Nill received a call Monday from the Canadiens, who he confirmed have been watching the Stars for some time.
"I sat down with our whole staff, it was a pretty big move, and we talked about (what Montreal offered)," said Nill, who ended up swapping Benn to the Habs for defenseman Greg Pateryn and a fourth round draft pick in the 2017 NHL draft. "(There are) lots of different factors that (will come) into play with expansion (via the new Las Vegas franchise), and this was the best move for our team moving forward. We (wish) the best for Jordie and hope he can go win a Stanley Cup."
The 29-year old Benn was having one of his best seasons defensively. On the offensive end, Benn scored 15 points (two goals, 13 assists) in 58 games with the Stars this season while playing 18:36 per game, fourth among Stars defensemen. According to CapFriendly.com, he's in the first season of a three-year, $3.3 million with an average annual value of $1.1 million.
"It's just an exciting time to be a Montreal Canadien and to put on that jersey," Benn told the Canadiens' website. "It's a new start in an amazing city. We had a bit of a tough start in Dallas (this season), but to get thrown right back in the thick of things, it's kind of nice. I'm excited to do it.
Benn will begin playing on a different team than his brother, Stars captain Jamie Benn, for the first time in his five-year NHL career. The 6-foot-2, 200 pound native of British Columbia signed with Dallas as a free agent in July 2011.
"Obviously, I have personal ties (to the Stars) with my brother being there, but we're big boys now and we know what could happen. If it does, we go our way and play hockey," Benn added. "Hopefully I can help the team win and hopefully I can play 300 or 400 games in Montreal. I'm just a kid living a dream and obviously to play in Montreal is pretty exciting."
Benn fulfills the Canadiens' desire to add a puck-moving defenseman. Benn also will help supply solid defense, shot blocking and reliable penalty killing skills on the penalty kill.  Benn was tied for the Stars' lead in average shorthanded ice time per game at 2:30, and he played 1:12 per game on the power play.
The 26-year old Pateryn, who had six points (one goal, five assists) in 24 games this season, struggled to crack the Canadiens' lineup the past two seasons.
The Stars, however, like the 6-foot-3, 223 pound native of Sterling Heights, Michigan's rugged game as well as his big right-handed shot from the point. Pateryn, originally drafted by Toronto in the fifth round of the 2008 NHL draft, in the fifth round, is in the first season of a two-year, $1.6 million contract with an average annual value of $800,000 according to CapFriendly.com.
"Greg is a solid defender and possesses a physical presence on the back end," said Nill. "He brings size and another right-handed shot into the mix for us."
Nill was able to swap Oduya for a prospect in McNeill. The 35-year old Oduya is in the final season of that two-year, $7.5 million contract (average annual value of $3.75 million), according to CapFriendly.com. The contract had a modified no-trade clause.
"Johnny's an (unrestricted free agent), and with the situation of our team I think it's important for us to get the most assets we can," Nill said. "Johnny's been a great warrior for us the year and a half he's been here. It gives him an opportunity to go to Chicago. They're in the playoffs, and for us, it gave us some assets for down the road."
Oduya has played one game since returning from an ankle injury sustained Jan. 17. "Health was an issue, but we had all the medical records and he's healthy now," Nill said. "He would have played tonight (against Pittsburgh) if he wasn't getting traded, so that wasn't an issue."
In 37 games this season, Oduya has seven points (one goal, six assists). He has 180 points (36 goals, 144 assists) in 783 regular-season games during 11 seasons with the Stars, New Jersey Devils, Atlanta Thrashers/Winnipeg Jets, and Chicago Blackhawks.
McNeill was the No. 18 pick of the 2011 NHL Draft by Chicago. The 24-year-old center has played one NHL game. He has 28 points (six goals, 22 assists) in 58 games with Rockford of the American Hockey League this season and will join Texas of the AHL.
"Sometimes a change of scenery's good for somebody, so he's going to come here," Nill said. "It's a great opportunity for him. He'll add some depth to us and we'll see where it goes."
Just prior to the deadline, Nill acquired Heatherington, a 21-year old defenseman who has scored six points (1-5=6) in his first 38 games for Cleveland of the AHL this year.  Last season was his first full professional campaign and he helped Lake Erie to the Calder Cup championship, appearing in 15 playoff contests and recording three assists. In total, he has appeared in 104 career AHL regular season games and has posted 26 points (4 goals, 22 assists). The 6-foot-4, 215-pound native of Calgary, Alberta, will report to Texas, Dallas' top development affiliate in the AHL.
Heatherington was originally selected by Columbus in the second round (50th overall) of the 2013 NHL Draft.
Korpikoski, 30, recorded 20 points (8 goals, 12 assists in 60 games for the Stars this season. The 6-foot-1, 195-pound native of Turku, Finland was signed as a free agent by Dallas on Oct. 10, 2016.