Symptoms from a concussion suffered in practice kept Sidney Crosby from playing in Thursday's season opener, but they couldn't stop him from doing one of the few things still lacking in his career – hoisting the Stanley Cup on home ice.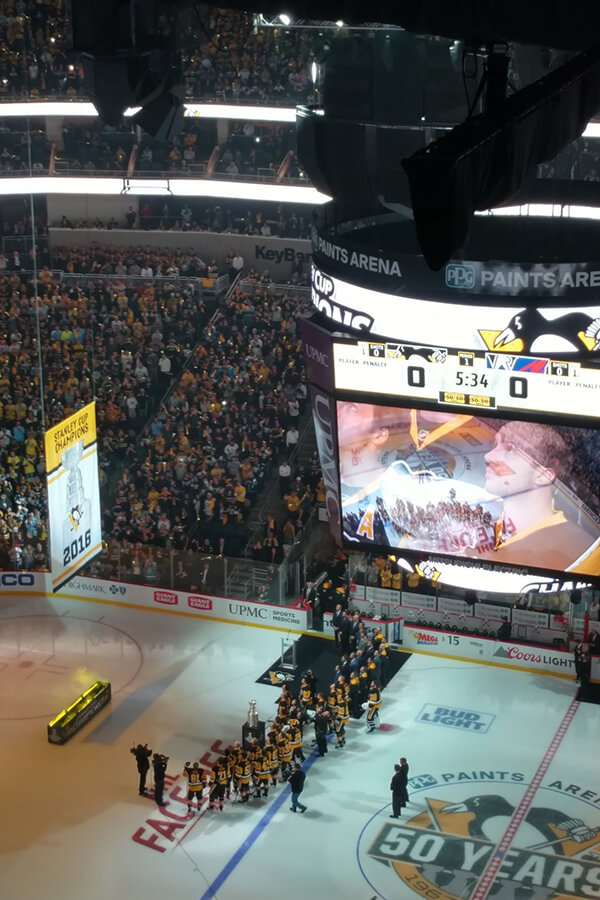 Unlike Cup-winning goaltender Matt Murray, who wore a suit as he waved to the crowd with his thumb-casted hand, Crosby emerged from player introductions in full uniform, carrying perhaps the only thing shiny enough to compete with the 18,630 glow sticks twinkling in the crowd.
Crosby lifted the trophy – which the Penguins won on the road for the fourth time in franchise history – over his head and skated to center ice, where he put it on a pedestal. The captain then joined his team on the blue line as they watched their 2016 championship banner ascend to the rafters of the newly named PPG Paints Arena.
With that last bit of 2015-16 housekeeping taken care of, the Pittsburgh Penguins dropped the puck on the 2016-17 season. Their opponent, in what seemed like a cruel bit of NHL scheduling, was the Washington Capitals – last year's Presidents' Trophy winner and Stanley Cup favorite, ousted by the Penguins in round two.
If you thought that might motivate the Capitals just a little, you'd be right.
Washington's Andre Burakovsky got his team on the board just 59 seconds into the contest. A few minutes after that, Capitals netminder Braden Holtby, playing the puck behind the net, was bowled into by Pittsburgh's Tom Kuhnhackl, and the ensuing scuffle left little doubt that this rivalry had picked up right where it left off in spring.
"Was I surprised with the physicality? No," said Penguins head coach Mike Sullivan of a game that also included a dangerous, wrestling-style takedown of Penguins center Evgeni Malkin by the Capitals' Justin Williams. "I think anytime the Capitals and the Penguins meet, it's going to be a highly intense, emotional game, because it's two of the better teams in the league going at it."
The Penguins' fortunes turned in the second period, with Patric Hornqvist deflecting in Kris Letang's shot to tie the game, then Malkin scoring with a minute left in the frame to give the home team the lead.
"I thought we settled in pretty nicely," said forward Eric Fehr. "Obviously you don't want to get scored on in the first minute, but we settled in and played a little more of a regular season-style game. A little bit more structured [than the preseason]. Still a couple of turnovers, but we're getting there."
"I didn't like our first 10 minutes of the second period," said Capitals head coach Barry Trotz. "We were not thinking as quickly as we needed to until they scored that goal to take the lead. Then we started to play again."
Washington went on to have a very good third period, outshooting the Penguins 15-8 and tying it up on Burakovsky's second of the night. They also spent the majority of the three-on-three overtime period in the Penguins' zone, with a 6-2 shot advantage.
"I thought away from the puck tonight we did not do as good a job as we've done in the past," Sullivan said. "We certainly have to get better in that area."
But Pittsburgh goaltender Marc-Andre Fleury kept his club in the game, including a sprawling save late in regulation and plenty of work in the extra frame. Then he had the opportunity to earn himself a win in the shootout and, with a final stop on Washington captain Alex Ovechkin, did just that.
"It was huge," Letang said of Fleury's play. "We know what to expect from him; he's a great goaltender. His record speaks for itself."
"I thought it was exciting," Fleury said. "Three-on-three is so wide open. The guys get tired and get stuck in the zone a little bit, but we battled it out."
So did Fleury, who finished with 39 saves on 41 shots and earned the game's No. 1 star. Not bad for a guy who wasn't expected to be in Pittsburgh's plans to start the season, and is still likely nearing the end of his time with the organization as Murray takes the reins.
"It's been great," Fleury said of his 11 consecutive starts in Penguins season openers. "They gave me my chance to realize my dream of being in the NHL. It's such a good organization, and it's been home here. I'm glad I got to start that game."
"It's great for Marc," Sullivan said. "We're thrilled for how hard he battled to get back last year. It was a difficult circumstance for him personally, and he's worked extremely hard to get to this point. I thought he made some real good saves for us, especially in the overtime and down the stretch. He was solid, so we're obviously thrilled for him."
Repeating as Stanley Cup champions is hard – so hard that no team has accomplished it since the 1997 and 1998 Detroit Red Wings. Since then, only four teams have even reached the Final in back-to-back years – including the Red Wings and Penguins in 2008 and 2009.
Whether this year's Penguins, who returned a nearly identical team to the one that lifted the Cup in San Jose in June, beat those odds remains to be seen. One trend that did hold, however? Dating all the way back to 1975, the Penguins don't lose (5-0) when they open the season against the Washington Capitals.
"It was a fun night," said Fehr. "I hope the fans enjoyed it. It was a big night for us, obviously, with the banner raising, but it's important to get points early. And to beat our biggest rival is nice as well."