Grand Forks, ND – Series sweeps are hard to come by in the National Collegiate Hockey Conference. I know it sounds cliché, but every game is a war. Especially during the second half of the season. As the season winds down, time and space gets smaller.
This past weekend there was little room to roam. Both games of the series were tight checking, one-goal games.
The University of North Dakota Fighting Hawks and the University of Minnesota-Duluth Bulldogs slugged it out for 123+ minutes and saw a grand total of six goals scored on the weekend.
"It wasn't a pretty game by any means, but that's what you're going to get at this time of year," head coach Brad Berry said.
The series featured to two teams with high-end goaltenders. In the end, this was an ole fashioned knockdown drag out street fight, backed-stopped by two outstanding goaltenders
This is the kind of hockey you're going to see the rest of the season. This weekend's series was a dress rehearsal for the upcoming league and NCAA playoffs.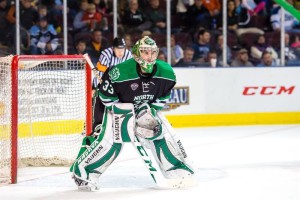 The war of words started earlier in the week: UMD head coach Scott Sandelin said, "their (UND's) goaltending was great here, so we have got to find a way to solve Johnson. Denver did last weekend. We saw a few weaknesses in his game, so hopefully we can exploit some of those."
Those words proved futile as the Bulldogs were only able to dent the twine twice all weekend long. One goal was off a tip in and the other was off attacker's skate.
Looking at the stats from the weekend, Johnson had no weaknesses in his game. The line on Johnson against the Bulldogs was (2-0-0, 0.97 GAA, .967 save percentage).
This weekend, UMD sophomore goalie Kasimir Kaskisuo played very well for the Bulldogs and he gave them a chance to win both games. Kaskisuo's numbers on the weekend were (0-2-0, 1.97 GAA, .923 save percentage).
I asked UND sophomore goalie Cam Johnson if he had read coach Sandelin's comments this past week.
"I think heard something… like that he was trying to find a way to solve me – a way to find the flaws," Johnson said. "I don't that they picked too many of them out this weekend. I thought we played well and the team made my game easy again this weekend. Not, too many flaws this weekend."
In four games against the Bulldogs, Johnson has given up a grand total of two goals and has a (4-0-0, 0.50 GAA, .986 save percentage).
Johnson enjoys playing against the Bulldogs, "They're a lot of fun to play against. I have a couple of buddies on that team. That always makes it a good time. It's one of those team that I love playing against and I play well."
Johnson and the Fighting Hawks played near flawless hockey and swept the Bulldogs (2-1 W, 2-1 W).
UND entered Saturday's game ranked third in the Pairwise Rankings. After the win, they dropped to fourth.
With the win, UND improves to (24-5-3, 15-4-1 NCHC). With the loss, UMD drops to (11-14-5, 7-10-3 NCHC). UMD is tied for fourth with Miami and Nebraska-Omaha.