This weekend the University of North Dakota Fighting Hawks entertain the Colorado College Tigers in an important two-game conference series. Currently, the Fighting Hawks have two games in hand over the first-place St. Cloud State Huskies. The Fighting Hawks desperately need points against the Tigers if they want to make a run at the top spot.
Series History
All-time, the University of North Dakota leads the series against the Colorado College Tigers 151-80-10 (.647) In Grand Forks, the Fighting Hawks lead the series 97-21-6 (.806) In Colorado Springs, the Tigers lead  the series 52-57-4 (.478) At neutral sites, UND leads 8-2-0 (.800) Last 10 games against the Tigers, the Fighting Hawks lead 9-1-0 (.900). Coach Berry is 2-0-0 against the Tigers
Tale of the Tape
Colorado College Tigers (5-17-0, 3-9-0 NCHC) at #2 North Dakota Fighting Hawks (19-3-2, 10-2-0)
Date: January 22-23, 2016
Time: 7:37 p.m. CT Friday and 7:07 p.m. CT Saturday
Location:  Ralph Engelstad Arena, Grand Forks, N.D.
Radio: Home of Economy UND Sports Radio Network
Webcast: NCHC.tv
TV: Midco Sports Network and FOX College Sports Central on Saturday
Fighting Hawks
UND Offense: 11th, 3.46 GPG
UND Defense: 3rd, 1.67 G/GM
UND Scoring Margin: 4th, 1.79
UND Power Play: 18th, (19/92, 20.7%)
UND Penalty Kill: 15th, (80/94, 85.1%)
UND Penalty Minutes: 17th, (12.4 PIM/G)
UND Corsi: 57.0
UND SOS: 17th
UND USCHO Ranking: 2nd
UND Pairwise Ranking: 2nd
UND Record during January: 3-1-0
UND Home Record: 9-2-0 (.818)
UND Away Record: 9-1-2 (.833)
Neutral Ice: 1-0-1 (.750)
UND Last 10 Games: 9-1-0 (.900)
(UND Offical Game Notes)
Tigers
C.C. Offense: 55th, 2.05 GPG
C.C. Defense: 52nd, 3.59 G/GM
C.C. Scoring Margin: 57th, -1.55
C.C. Power Play: 39th, (14/91, 15.4%)
C.C.  Penalty Kill: 19th, (73/90, 81.1%)
C.C.  Penalty Minutes: 34th, (10.6 PIM/G)
C.C. Corsi: 44.4
C.C.  SOS: 19th
C.C.  USCHO Ranking: N/A
C.C. Pairwise Ranking: 52nd
C.C.  Record during January: 1-1-0
C.C. Home Record: 3-9-0 (.250)
C.C.  Away Record: 2-8-0 (.200)
C.C. Neutral Ice: 0-0-0 (.000)
C.C.  Last 10 Games: 5-5-0 (.500)
(C.C. Official Game Notes)
Players of Note
North Dakota Fighting Hawks: Forwards: Brock Boeser (15g-10a—25pts), Bryn Chyzyk (8g-5a—13pts), Austin Poganski (5g-6a—11pts), Luke Johnson (5g-6a—11pts) Johnny Simonson (2g-8a—10pts). Defense: Troy Stecher (5g-14a—19pts), Tucker Poolman (3g-11a—14pts), Keaton Thompson (1g-9a—10pts), Christian Wolanin (3g-6a—9pts), Paul LaDue (2g-6a—8pts)., Goaltenders: Cam Johnson (10-1-1, 1.28 GAA, .949save percentage), Matt Hrynkiw (9-2-1, 2.11 GAA, .911 save percentage). (UND Stats)
Injuries: Drake Caggiula (15g-15a—30pts) is out, Nick Schmaltz (3g-24a—27pts) is questionable.
Colorado College Tigers: Forwards: Hunter Fejes (9g-5a—14pts), Luc Gerdes (4g-9a—13pts), Sam Rothstein (5g-7a—12pts), Trey Bradley (7g-4a—11pts). Defense: Teemu Kivihalme (3g-9a—12pts), Andrew Farny (2g-7a—9pts), Jake Emilio (0g-4a—4pts). Goalies: Jacob Nehama (5-10-0, 3.37 GAA, .905 save percentage) Tyler Marble (0-7-0, 3.70 GAA, .891 save percentage). (C.C. Stats)
Caggiula Likely to Miss Series Against Tigers
This past weekend, UND senior forward Drake Caggiula was hurt early in the second period of Saturday's game when he checked Maverick forward Steven Spinner at center ice.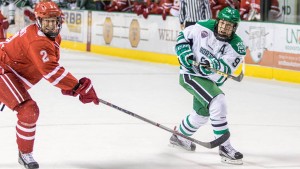 On Wednesday, the question fans want to know; how's Caggiula's health? Is he going to play?
"He's doing okay," head coach Brad Berry said. "Obviously, He got banged up on that one play there on Saturday night. That's the way he plays. He's a 200-foot player and we wouldn't want it any other way. In saying that, we're going to have to get him healthy here and get him back in the lineup."
As of right now, Caggiula's status for next weekend is doubtful.  Just to be clear, he hasn't been ruled out. The safe bet is that Caggiula will be held out this weekend.
"He will be doubtful," coach Berry said. "We still got a couple of days left. I am not ruling him out. Again, we want to make sure that he's going to be close to 100 percent.  In saying that, we don't want to jeopardize…it's a big weekend this weekend don't get me wrong. We want to make sure that we protect his best interests long term."
One thing about coach Berry, his team has a lot of depth this season and he won't jeopardize a player's health. If a player is not 100 percent, that player will be held out of the lineup. A player is also expected to practice the whole week if he wants to play on Friday and Saturday.
Updated: Brad Schlossman is reporting that sophomore forward Nick Schmaltz might not be able to play this weekend. Schmaltz suffered a lower-body injury in practice this weekend and is listed as day-to-day.
Series Prediction
Shorthanded or not, UND should still sweep this series. There's more than enough talent up and down the UND roster to beat the Tigers. The Tigers are near the bottom of all the important NCAA division I categories. Injuries or not, The Hawks should still prevail with a series sweep.