Hamden, CT — Monday marked a historic achievement for the Massachusetts Minutemen. They topped the polls and earned the Number One ranking in the nation for the first time in program's existence. The rise drew increased media attention and painted a target on their back. Greg Carvel knew his team would have a test facing the Quinnipiac Bobcats on Friday night, but nothing could prepare the Minutemen for a trip into the lion's den atop York Hill.
Quinnipiac got the jump on their guests with Wyatt Bongiovanni landing a goal 42 seconds into proceedings. The Bobcats continued peppering UMass goaltender Filip Lindberg, but could not extend the lead ahead of intermission.
UMass tilted the ice mostly in their favor in the second period but still fell on the short side. First, John Leonard was hit with a 10 Minute Misconduct penalty. He was allowed to return to the ice, but UMass missed his offensive talent. They outshot Quinnipiac 11-6 but missed more chances. The ones they got, Bobcat goaltender Andrew Shortridge stopped cold. At the other end, the Bobcat's fourth line found a spark. Zach Metsa took a Joe O'Conner feed and buried a shot for his second goal this year and a 2-0 Bobcat lead.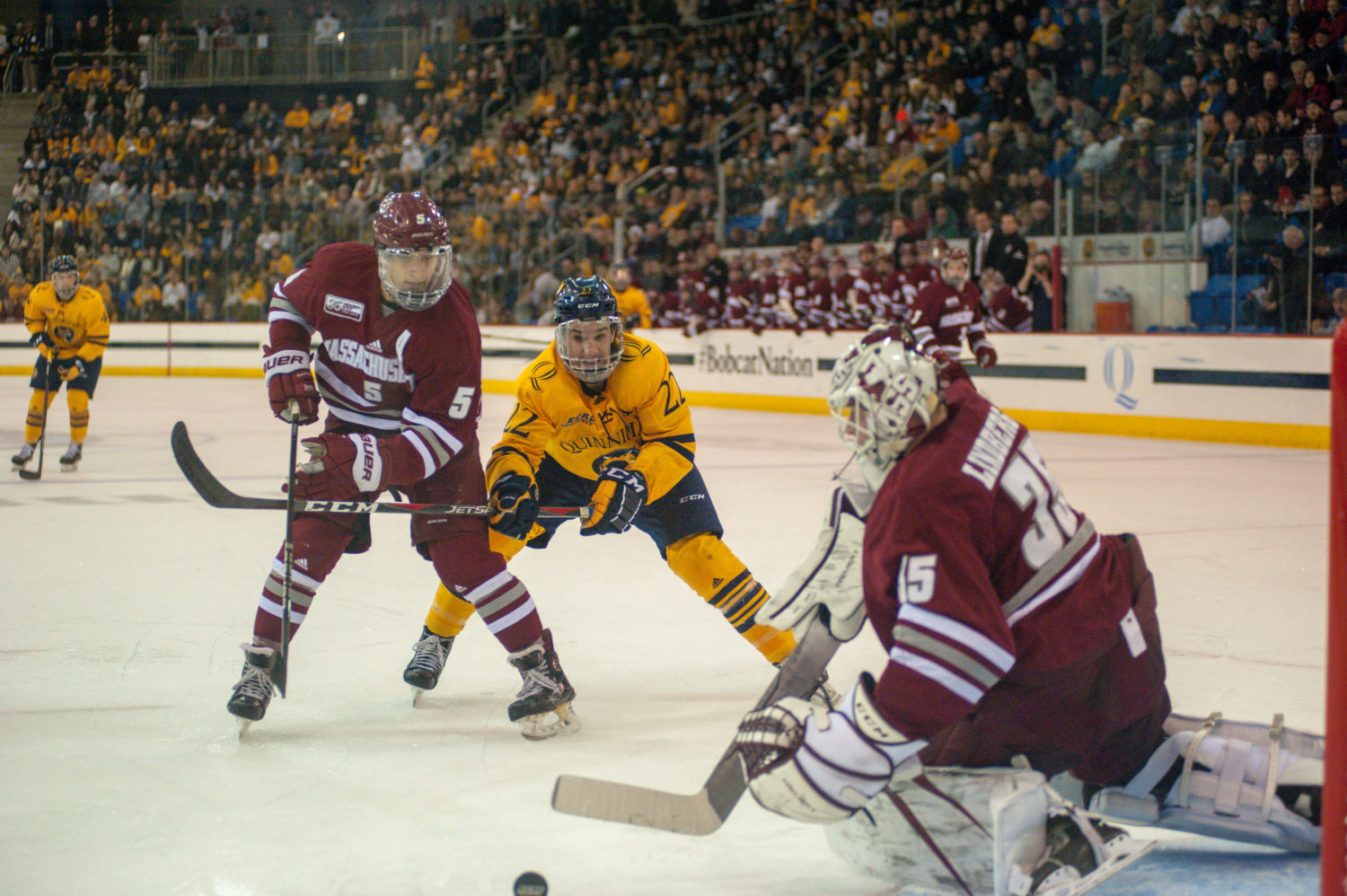 UMass began the third period with a power play and outshot their hosts 15-11. But UMass failed to capitalize and did not get another chance on the power play. And again, Shortridge held firm, posting a 32 save shutout for his third shutter this year and eight career. Quinnipiac got Lindberg two more times. Both came from Craig Martin. First, the senior from Trail,  British Columbia, roofed one off an Alex Whelan goal-line feed. The second was on an empty net rip from his own blue line. That ended the scoring as Quinnipiac upended #1 UMass 4-0.
Greg Carvel was exceedingly complimentary of his opposition while also hopeful for the next night.
"We entered this game highly respectful of our opponent," Carvel said. "I was scared to death about this team. I know how well they're playing, I know how well they're coached. But I think we had a handful of guys who weren't ready to go tonight. I'm actually kinda glad we lost, so we can get beyond this number one thing and just go back to being hockey players. I have to imagine we'll be ready tomorrow."
UMass falls to 12-2-0 and snaps their winning streak at nine games.
Quinnipiac Head Coach Rand Pecknold was elated with the win. "We weren't perfect, but I thought we were really good. I thought Shortridge was the best player on the ice. Right now, we're happy to defeat the number one team in the nation."
Captain Chase Priskie spoke highly of the soldout crowd at the People's United Center.
"This crowd tonight really reminded me of the '15-'16 Season," Priskie said. "Selling out, standing room only, the rally towels came out. It was an unbelievable experience to play in this atmosphere and I hope we can do it again down the road."
Quinnipiac improves to 14-2-0 and runs their winning streak to seven games.
Thee teams will rematch at the Mullins Center in Amherst on Saturday night. Puck drop is scheduled for 7:30 PM.