After years of postseason floundering, the Washington Capitals finally did it. They finally won it all.
That was supposed to be the end-of-the-year lede to the story of how the Caps' brushed off the postseason demons of years past to complete the most successful season in their history, capped off with a Stanley Cup. But as we've learned, a great regular season is no guarantee for anything beyond.
Such was the case again, when the Caps followed up another 100-plus point season with an abbreviated postseason. As fate would have it, Washington will begin its regular season on the road, with a banner raising…in Pittsburgh. There, they'll pay witness to their rival's fourth cup in franchise history, while pondering when will the first in their 42-year history come. It'll also serve as a reminder, of the second round exit that spoiled a season filled with impressive regular season numbers and statistics.
Among those numbers: A franchise-best 56 wins; 120 points, bested only by one in 2009-10 (ended in first round defeat to Montreal); goalie Braden Holtby's 48-9-5 record, tying Martin Brodeur for most wins in a season; Alex Ovechkin's third-straight 50-goal season, 7th in his career and his 500th in the NHL to boot. Those names and numbers are now archived in some office–not on a Stanley Cup.
The good news: the window to contend is nowhere near over in the nation's capital. Ovechkin is 30 and will enter the 9th season of a 13-year, $124 million contract he signed in 2008. His counterpart and centerman, Nicklas Backstrom, two years his junior, has four years remaining on his contract. He is coming off his third-straight 70-point season. The two have missed a combined 15 regular season games in the last three seasons. They make the Caps one of the most potent offenses in the NHL.
For the first time since joining the league, Ovechkin was not the leading point-getter for the Capitals. He was bested by 6 points by fellow-Russian, Evgeny Kuznetsov. Leading the team in assists (57) and points (77), Kuznetsov is one of several young pieces that make the Capitals far-and-away the Eastern Conference's best forward group. Just to name a few: Andre Burakovsky (21), Marcus Johansson (25), Michael Latta (25), Tom Wilson (22). It's also a special blend of skill, size and intelligence.
That, combined with the veteran presence of players like Jay Beagle, T.J. Oshie and Justin Williams makes it hard to bet against the Caps being favorites to runaway with the Metro, again.
Defensively, there's not much to sneer at either. It survived year one without Mike Green, who signed with Detroit last summer, and was bolstered by John Carlson, Matt Niskanen and Dmitri Orlov, who combined for 100 points last season. The offensive component matches the rest of the team, but it's balanced by the rocks of Karl Alzner and Brooks Orpik.
With much of their defense signed for next season, they'll probably let impressive prospect Madison Bowey continue his development in Hershey. Bowey, who was drafted by the organization in 2013, recorded 29 points in 70 AHL games as part of his first season of pro hockey. He's got the capabilities to be a good, offensive defenseman, but may need to clean up his demeanor to play at the highest level.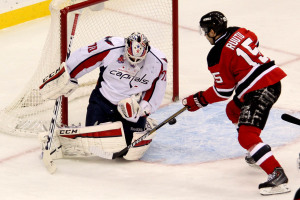 In goal, there's no debate. Holtby, who first burst on the scene in 2010-11, didn't see anything new when he faced Penguin's rookie, Matt Murray. It was during the 2011-12 postseason that Holtby made his mark, replacing veteran netminders Michal Neuvirth and Thomas Vokoun. His run ultimately ended in a game 7 defeat to the New York Rangers, but began his reign as the starter. Flash forward to now, he's a Vezina favorite and will return next season to play his usual 70-plus game workload and try to avoid another long summer.
Philipp Grubauer, who saw 22 games this season, is in the final season of his contract. On most nights he'll be restricted to the bench, like last season. But he's done a reasonably good job as a backup behind a star goalie. The crease may start to get crowded after next season. Ilya Samsonov, the first round pick of the Capitals in 2015, will play his third season of pro hockey in the KHL next season.
The Caps should return with much of the same lineup. Nine of their forwards are under contract for next season; 6 defensemen; and both goaltenders. They'll have to sign RFA's Johansson, Wilson and Orlov, but have over $12 million in projected cap space to do so. In other words, they're in good shape to do that and another depth add up front. It doesn't appear like they'll be bringing back Jason Chimera or Mike Richards, but some interest in re-signing deadline acquisition, Mike Weber.
The next step for the Capitals is easier said than done. With their combination of veteran and up-and-coming talent, the Stanley Cup is the expectation.
The changes won't be as abundant as last summer when the club traded Troy Brouwer for Oshie and let Joel Ward walk in favor of signing Williams, but there are bound to be some.