For much of the season it looked as though the Philadelphia Flyers were going to miss the postseason in consecutive seasons for the first time since 1994. But a willful final stretch, that saw them go 12-5-3 in their final 20, earned them the unenviable final wild card spot in the Eastern Conference.
Unenviable of course because it meant a date with the Washington Capitals. The Caps boasted a league-best 120 points, winning the President's Trophy as the best regular season team. They looked poised to erase their identity as playoff chumps. In the end, they'd falter in 6 games to the eventual cup-champion Penguins. But before then, they got a decent scare from the Flyers, who despite being outshot a combined 76-36 in games 4 and 5, twice extended their playoff lives. They rode an emotional ride in their 6-game series defeat, including the death of team owner and founder, Ed Snider.
While their run to the playoffs was invigorating, the Flyers shouldn't be in that same position next season. With their collection of forwards, arriving defensemen and head coach Dave Hakstol with his first year in the pro's under his belt, the Flyers appear back in the fold as a regular playoff contender.
It begins of course with Claude Giroux. The captain, who led the team in assists (45) and points (67), headlines one of the Flyers greatest strengths in a 1-2-3 punch down the middle, rounded out by Sean Couturier and Nick Cousins. Brayden Schenn, drafted as a center, played at wing this season and scored 59 points in 80 games. He could be used down the middle if needed, but for now he joins Wayne Simmonds and Jakub Voracek as the team's explosive wingers. Simmonds scored a career-high 32 goals last season, while Voracek shrugged off early-season struggles to contribute 55–still a downgrade from his 81 a year ago.
Surprisingly, the Flyers finished 22nd in league scoring, averaging 2.57 goals-per-game, their lowest since 2002-03. General manager Ron Hextall has already begun some early offseason maneuvering to combat that, buying out R.J. Umberger's final season under contract. Umberger scored 26 points in 106 games in his second tour of duty with the Flyers after being acquired for Scott Hartnell in 2014. While Hartnell is rumored to be on the move again, the Flyers will use their estimated-$10.5 million in cap space elsewhere. They presently have 9 forwards under contract. Schenn, a restricted free agent, will take a chunk of that. As will Cousins, who is due modest raise. That should leave some leftover space for a low-key free agent signing.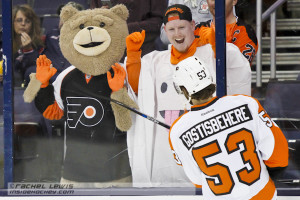 Another reason to believe the Flyers' offense will be potent again lies in their defense. Shayne Gotisbehere's 46-point rookie campaign, that earned him a nod as a Calder finalist, doesn't appear to be a fluke. It might also be just the surface of a mobile, offensively-talented blueline. Last season's 7th overall pick, Ivan Provorov looks as though he might challenge for a roster spot next season after scoring 73 points in the WHL last season. He also posted an impressive World Junior tournament, scoring 8 points in 7 games en route to a silver medal. Travis Sanheim, the Flyers 2014 first round selection, tallied 68 points in Calgary and got a taste of the AHL last season. He too will look to earn a job in camp. The list goes on: Mark Alt, Robert Hagg, Samuel Morin. The Flyers defense is among the biggest reason for their return to contention status.
They will have to deal with one more season of Mark Streit's $5.2 million cap hit, but he's been productive enough to tolerate. Not like Andrew MacDonald, who has four years remaining at $5 million. MacDonald, who was assigned to the AHL last season for 43 games, has become one of the more regrettable contracts in the league. He's probably nearing buyout status, but not quite yet. They'll hope someone takes a run at him in the anticipated expansion draft next summer, but that seems highly unlikely. For now, they'll have to hope he can play a veteran leadership role for the expected newcomers.
In net, the Flyers are at their weakest. Steve Mason finished the season with a 23-19-10 in the regular season, posting 2.51 GAA and a .918 save percentage. Then came the playoffs, Mason was shelled in games 1-3, allowing 12 goals and losing the net to backup keeper, Michal Neuvirth.
Neuvirth, who went 18-8-4 in the regular season, helped extend the Flyers season with two playoff victories, including a 44-save shutout in game 5 on the road in D.C. Both him and Mason are entering their final year under contract. The tandem should be able to weather the storm, but neither appear to be long-term solutions.