Another year, another summer without a parade on Broadway.
At least this time it wasn't nearly as devastating. Not like the 2014 cup finals, falling in 5 games to the Kings. Not like a year ago, when they faltered in a game 7 at home in the Eastern Conference finals versus Tampa.
In fact, if you watched the final stretch of the regular season, the Rangers looked poised for a short postseason. After opening the season with an impressive 16-3-2 stretch, that included a 9-game win streak, they dragged into the postseason. While they managed to lock up a divisional spot, they lost home advantage and drew a surging Pittsburgh Penguins for the quarterfinals. How hot were the Penguins prior to meeting the Rangers? As New York ended the final two months of the regular season going 9-7-3, the re-invigorated Pens, ex-Ranger coach Mike Sullivan, went 16-5-0.
Outshot, outscored and outmatched, the Rangers saw their quickest postseason exit since falling in 5 games to Bruins in 2013. That ended the Tortorella era in New York. But after a disappointing series, also falling in 5 to Pittsburgh, there appears to be no change coming for bench boss Alain Vigneault.
Even if the Vigneault era isn't over, the cup window might be. Henrik Lundqvist, who turns 35 next season, recorded his third-straight 30-win season and 10th in his career, but suffered his worst GAA in his career (2.48). It escalated up to 4.39 in the postseason. The season also saw 'The King' pulled 11 times throughout the year, including back-to-back playoff games for the first time in his career.
Still, the postseason failure doesn't all belong to Hank. He kept a sometimes pedestrian-looking team competitive and as long as he's in the fold, the Rangers will be competitive. But that might not be enough to contend.
Among the most glaring issues on New York is their back end. Keith Yandle, the team's leading point-getter on defense, won't be back–his rights were dealt to Florida on Monday. Neither will Dan Boyle, who had a disappointing two years with the Rangers. His career might have ended. Returning though is a defense with plenty of questions.
Captain Ryan McDonagh, who led the Rangers in ice time, is a legitimate top-pairing defenseman. After that, it's a collection of inexperience and of wear-and-tear. Among them, Dan Girardi and Marc Staal, both of whom have the bulk of their contracts remaining, which may be frustrating when the NHL expansion draft rules come into play. Both will likely have to be protected by virtue of their No-Move clauses. That would mean a player like Brady Skjei or Kevin Klein would go unprotected. That's not good a defense lacking mobility.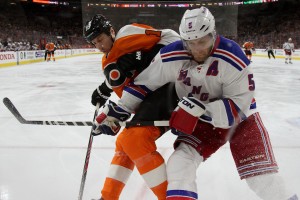 Ultimately, they may need to buyout one of the two blueliners, but that'll prove costly. Girardi's current buyout would cost New York a cap hit over 8 years, including a hefty $2.75 million in the second year of the buyout and $3.75 million hit in third and fourth year. Staal's would be spread over a 10-year duration with a $5.8 million hit coming in the fifth year of the buyout. Far too much dead space for a team that is a consistent cap team.
At the moment, the Rangers have some holes to fill up front. They have 7 forwards under contract for next season. Top prospect, Pavel Buchnevich will compete for one of those openings and could add lots of offense to a team that needed some of it last year, especially in the playoffs.
With over $15 million in projected cap space, the Rangers will also need to work on contract extensions for Kevin Hayes, Chris Kreider and J.T. Miller. Miller is coming off a strong first full season in the NHL, where he scored 22 goals and 43 points.
As is the norm for the Rangers and free agency, the club is reported to have some interest in pending UFA, Steven Stamkos. That would require lots of salary maneuvering, but would be an obvious bolster to their offense. Speaking of which, one other question worth noting is what happens with Rick Nash. The 42-goal scorer from a year ago was limited to 60 games this season and dropped his production by 27 goals. An obvious source of offense, the Blueshirts may be having internal debate about trading the winger, acquired from Columbus in 2013.
If that happens, they'll likely have to retain part of Nash's $7.8 million hit on a contract with two years remaining. The move doesn't necessarily mean rebuild. It would be comparable to the Marian Gaborik deal from 2013 that helped fetch Derrick Brassard, Derek Dorsett and John Moore. That kind of arrangement would allow for a team aching for younger talent to get some without significantly hurting the now, though finding matches for those types of deals are never easy.
The Rangers might be among one of the harder teams in the Metro to read. One thing we do have figured out is that the Rangers will sit out of Friday night's first round, barring a trade of course. It'll be the fourth time in the last five entry drafts that New York is without a first round pick, a trend that cannot continue. Their prospect cupboard is lacking, to say the least. Even if the win-now mentality exists, they have to find other ways to accumulate talent. Because they know no other way, the Rangers will do everything to be competitive and stretch their cup window, but expectations like that may prove to be lofty.