Celebrations don't get much more subdued than the New York Islanders did this postseason. John Tavares' double-overtime game winner to defeat the Panthers in 6 games and advance the  team to the second round for the first time since 1993 was dulled just two weeks later, when they fell in 5 games to the cross-state Lightning.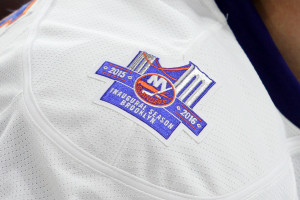 The quick second round exit might have spoiled the triumph of a first round victory, including three OT-winners. Two of those winners came at the Islanders new home arena, which for all the glaring, sometimes frustrating problems with the change in location, the team didn't show it. They amassed 100 points for the second-straight season and nearly took a division spot away from the Rangers on the final day of the season. And while the season saw great steps forward for the organization, it's worth wondering if they'll suffer a decent regression next year as they prepare for some important pieces to depart.
Kyle Okposo, Frans Nielsen and Matt Martin highlight the 7 pending UFA's for the Isles. It's likely all three will be playing for other teams next season. Okposo, 28, is coming off a year in which he scored 64 points in 79 games. It was the second time in the last three seasons he eclipsed the 60-point mark. Nielsen, 32, is also in need of a new contract after leading (tie) the team in games played (81), scoring 52 points. Meanwhile, fan-favorite, Martin, recorded a career-high in goals (10) and points (19). Each will be looking for substantial bumps in salary to go along with term.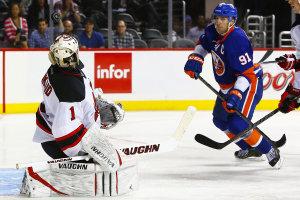 They will still have Tavares come October and must be encouraged by what they saw out of Brock Nelson and Anders Lee last season. They'll also hope Ryan Strome can re-find his game and the five-year deal they gave to Casey Cizikas was worth it. They also have a decent body of young forwards who might be ready to step in. Of note, 2014-drafted Michael Dal Colle and Josh Ho-Sang.
Dal Colle, who is coming off an 80 point season in 60 games split between Oshawa and Kingston of the OHL, should challenge for a roster spot next season. Ho-Sang on the other hand, will have to prove his flash can work at the NHL and more importantly, his attitude. A 'wild card' in his draft year, Ho-Sang was cut on opening day of New York's training camp last season after showing up late, causing Islanders' general manager, Garth Snow to say the following: "Enough with the bull—-. It's time to grow up." Can he? All part of the murk that is the Islanders next season. One thing is for sure, the grass has never been greener for he and the young hopefuls.
Defensively, the Islanders should return much of its core. Only Brian Strait and Marek Zidlicky are unrestricted free agents. Lone RFA D-man Scott Mayfield saw action in 6 games last season. Ryan Pulock and Adam Pelech got some looks and will compete for a roster spot in 2016-17. Johnny Boychuk and Nick Leddy haven't yet begun to hamper the Isles' future, but they do carry big tickets until 2022, so let's wait and see. Luckily for New York, 25-year-old Travis Hamonic rescinded his trade request. Hamonic's trade request became public in November, citing a family, health-related reason. The situation has improved, according to Hamonic and he's ready to return for next season. That's good news all around and not too shabby if you're general manager seeing a top-four defenseman make under $4 million for the next four seasons.
Perhaps the biggest question concerning the Isles is in net where the playoff performance of Thomas Greiss, stepping in for the injured-Jaroslav Halak, has invited a goaltending debate.
Greiss, who started 41 games this season going 23-11-3 before going 5-6-0 in the postseason with .923 save percentage, will enter his last season under contract. Halak has two more seasons left on his deal, but that hardly seems like enough of a reason to hand him the keys. It may come down to training camp to see who will run away with the starting gig. Going forward, the organization does boast some real talented goaltenders in Ilya Sorkin (KHL) and Linus Soderstrom (SHL). One of them may even push for a spot in the not too distant future.
Hard to ever know what Snow will do in the offseason. The Islanders have five picks heading into Buffalo. If history is an indicator of anything, there may be some action at the draft table. Last year they managed to trade for two first round picks after entering the evening with none.
If the Isles want to avoid regression, they'll need their young core to step up. They might even want to consider some venturing on July 1. A veteran point-producer like David Backes would be a name that interests them, but a much more realistic option might be former-Islander, P.A. Parenteau.