People have debated if there is a place for fighting in hockey since the sport was created. Wayne Gretzky, arguably the greatest hockey player of all time (there's a group of New Englanders who would lobby for Bobby Orr) has gone on record as saying that pugilists should be removed from the sport. However, the fighting that took place as the Boston Bruins took on the Minnesota Wild, was one that everyone could get behind. On Tuesday night, the Bruins hosted Hockey Fights Cancer Night at the TD Garden.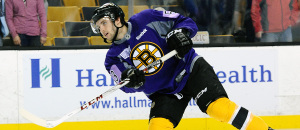 Before the game, Bruins players donned purple warm up jerseys, which were later auctioned off online, with the proceeds going to The Boston Bruins Foundation. The audience, who was partially made up of pediatric and adult cancer patients, survivors, and supporters, were in attendance thanks in part to season ticket holders who donated tickets. The game began with a beautiful rendition of the National Anthem sung by Franklin, MA resident and cancer survivor, Jennifer Tefft. Will Lacey from Braintree, MA and Maddie Santosuosso from Topsfield, MA, both pediatric cancer patients, dropped pucks during the ceremonial face-off between Patrice Bergeron and Mikko Koivu.
When asked about what partaking in Hockey Fights Cancer meant to him and his teammates, Bruins forward Milan Lucic replied, "It's obviously a big deal. It's something that's become something the league is passionate about. It's a great thing to raise awareness for Hockey Fights Cancer."
Throughout the night the Bruins organization helped raise awareness and money for cancer research. The players wrapped lavender (the official color of cancer research) tape around their sticks and wore special decals on their helmets. The management and coaching staff also partook in the event by wearing lavender ties. During the first intermission a check for $181,000 was presented to the Boston Bruins Pan-Mass Challenge Bike team. The Pan-Mass Challenge is an annual bike-a-thon that raises money for cancer research and treatment at the Dana-Farber Cancer Institute.
"Everyone is affected by it [cancer] in some sort of way," said Lucic. "It's a great cause and just, you know, I'm happy I can be a part of it and hope to do whatever we can as individuals and as a team to keep fighting for a cure."
Fans were also able to purchase "I Fight For" Cards, with the proceeds going to charity. These cards, which had the names of cancer patients and survivors that the fans wrote on them, were raised and shown on the big screen during a moment of recognition. Even the money raised during the 50/50 raffle was donated to the Cam Neely Foundation for Cancer Care.
"It's great to be involved in something like that," said Bruins goaltender Tuukka Rask when asked about Hockey Fights Cancer night. "We've had a lot of chances to do good here in Boston and The Boston Bruins Foundation has helped us with that so it's pretty easy for us to get involved and you know, we're happy to be a part of it."
Unfortunately, the Bruins could not come away with a win, as they fell to the Wild 4 to 3, but they should still hold their heads up high knowing they helped raise money and awareness for a great cause.
If you would like to make a donation and help Hockey Fight Cancer please visit www.hockeyfightscancer.com .