With the days of June narrowing, the end of the 2015-16 season draws near. Come July 1, the NHL will be officially in the 2016-17 season. Among the highlights to the first day of the season is the opening of free agency at 12 p.m. EST. There, a host of unrestricted free agents, some more than others, will be able to sign with any one of the 30 NHL clubs.
The Metro Division has long been a location of choice for free agents to sign. The division usually boats competitive teams, nice places to live and the luxury of the Eastern Conference travel schedule which is Night/Day compared to the West, in particular the Metro where much of the conference is less than 500 miles away.
With one of the better UFA classes in recent memory, there should be lots of suitors trying to wow free agents–even if their name isn't Steven Stamkos. Here are four free agents who could choose teams in the Metro to sign with.
1. C/LW, Darren Helm
Helm, 29, scored 26 points in 77 games last season with the Red Wings. He looks to be on the back half of his career and played mostly all of the year at wing. Even if his numbers didn't show it, he played a majority of the season alongside Pavel Datyuk in the Wings' top-six. He won't (nor should he) be paid like a top-six winger though, which makes him a good add for some teams in the Metro looking for a top-9 forward who can slot up and down your lineup.
If the term can stay under three and the salary under $3.5 million, it should make him a respectable option for some of the cap-strapped teams in the Metro.
Among those who should be interested are the New York Rangers. With over $15 million to spend and seven forwards signed for next season (not including Pavel Buchnevich), there are some holes left to fill in their lineup. They'll spend some of that on restricted free agents Kevin Hayes, Chris Kreider and J.T. Miller, but should have enough to make an addition. Helm might be one of the few free agents with top-six capabilities at a bottom-six rate. He does appear to be in decline, but at 29 going on 30, the risk would be partially mitigated if on just a three-year deal. He's an upgrade on Viktor Stalberg, who played almost entirely in the bottom-six.
2. LW/RW, Loui Eriksson
If the NHL draft last Friday had a top two followed by the rest, free agency probably has the same kind bracketed-talent. Among the top-tier include Stamkos and Milan Lucic. Those two are expected to fetch long-term deals at large chunks of change. After them, there is expected to be a second wave of free agents signing. At the top of that list is Bruins' winger, Loui Eriksson.
Teams have already reportedly shown interest in the winger involved in the 2013 Tyler Seguin trade between the Bruins and Dallas. Last season he netted 30 goals and 64 points in 82 games. He'll be 31 next month and has an injury history with concussions, but he's one of the top offensive free agents available in this summer's class.
Coming off a season in which he was a finalist for the Selke, Eriksson also reached the 60-point plateau for the first time since being a Star. He should be able to help a team that can offer him the second-tier rate of between 5-6 years and somewhere in the neighborhood of $6.7 to $7 million per. He also needs the fit and by that, he means a team with a vacant top-six position and in need of some goals.
Hello, New Jersey Devils. The Devils were the lowest-scoring team in the NHL last season and despite having some good pieces including Adam Henrique and Kyle Palmieri, their offense is still lacking. They have over $29 million in cap space and even after signing some of their restricted free agents, including Palmieri, they're going to have a lot of space. Eriksson would be an excellent add. The question will be whether he fits into the plans of Ray Shero and company, who are trying to build properly. There's pieces coming up through N.J.'s pipeline, but this may be a good time to add, especially with the health of Mike Cammalleri coming into play as of late. As the top of the second wave, he may become too pricey for an up-and-coming team like New Jersey to commit.
3. LW, Jamie McGinn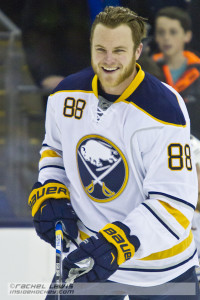 McGinn began the year with Buffalo before being sent to Anaheim in a deadline day trade for a third round pick. McGinn though managed to set career-high's in goals (22) and points (39). At just 27-going-on-28, he's one of the younger guys to be had on Friday. Still, he's part of the later portion of the second wave of free agents.
Like Helm, he can slot up and down a lineup though he might have shown enough production to be paid north of $3.5 million. The term though should still be decently low (2-3 years). That should interest a team like the New York Islanders. The Isles, who appear as though they'll lose Kyle Okposo, Matt Martin and Frans Nielsen, will be sure to have some openings up front.
Even if they could have the infusion of Michael Dal Colle, Mat Barzal and even Joshua Ho-Sang into their lineup next season, McGinn would be a resourceful winger with capabilities of playing both sides and could be an important veteran forward to a group that is losing quite a few. They have some RFA's to be taken care, but shouldn't eat too much at their $14 million in cap space. With all of the turnover in Brooklyn, McGinn could prove to be an intelligent bargain buy.
4. C/LW, Shawn Matthias
If the theme of the day is getting versatile guys at bargain dollars, what about Shawn Matthias? The forward traded by the Maple Leafs to Colorado to help keep their playoff hopes alive, saw time down the middle and on the wing. Like others mentioned he showed versatility in slotting all over the place. He's got a defensive conscious and some scoring.
Teams probably aren't lining up to sign a guy of Matthias' ilk, and he may be destined for a one-year deal, but the dollars could be worth it. A once key piece in the Roberto Luongo trade to Florida, he'll likely command a slight raise from his $2.3 million from this season. That's reasonable, especially if you buy what Colorado did in adding him for a potential playoff run. The Avs faltered down the stretch and Matthias didn't reach the postseason.
One team that should make the postseason next year and have some degree of interest in Matthias could be the Washington Capitals. The Caps, who won the President's Trophy last season before falling in six games in the semifinals to the Pittsburgh Penguins, are looking to use last season as another building block to the ultimate goal. Could Matthias fit that plan? At a below-$3 million hit on a one-year deal, it may save the Caps from having to lose a pick at the deadline to acquire such a player. He doesn't have the same kind of wheels as Jason Chimera, but could offer a better blend of size and skating than Chimera brought to the Caps' forward depth.