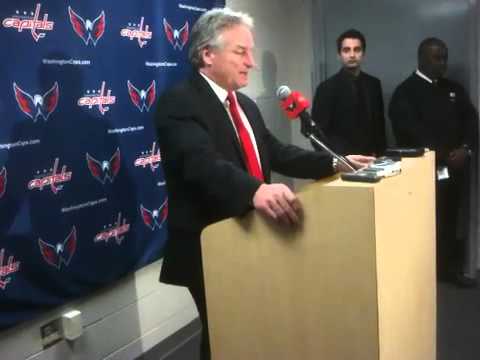 Nicklas Backstrom Post-Game 11/9 (mp3)
WASHINGTON – Dennis Wideman recorded two goals and two assists – all on the power play – against the Toronto Maple Leafs Friday night to lead Washington to a 4-2 victory before an announced 18,506 fans at Verizon Center.
"Dennis is a smart player. He knows when to pass, when to shoot," Capitals head coach Dale Hunter said of Wideman on the power play. "And he was bang-on tonight with it. It's all decisions to make for the power play, where you gotta read the defense just like a quarterback does. He's back there up top, so he's going to read it – what are they defending, what are they giving me? He shot some and he passed some, so great decisions by him."
Washington (15-12-1, 31 points) has struggled on the power play this year, coming into the game against Toronto clicking at just a 15.2 percent clip, ranked 22nd in the NHL. The Capitals' four goals on the power play came in part as a result of sharper puck movement within the offensive zone, which led to more scoring chances than had been seen in the recent past on the man advantage.
"I think we moved the puck pretty good tonight," said Capitals center Nicklas Backstrom, who scored his 11th goal of the year and added his 20th assist. "Everybody worked hard on the five on four. I think that's what you gotta do on the power play, you gotta work even harder."
"We haven't been doing good with puck movement. I think tonight, we were on the top of our game and that's what we gotta do every night."
The Capitals' transition game also took a step forward against Toronto (15-11-3, 33 points). Towards the end of Bruce Boudreau's tenure as coach, and in the first handful of games in the Hunter era, Washington struggled to break out of their own zone and flow into the offensive zone with time and space. The result was a lack of scoring chances in transition.
Against the Maple Leafs, the Capitals were able to create time and space for their highly skilled forwards on the rush. Though the Capitals never scored directly via a rush during five-on-five play, improvements were evident.
"We were pretty good tonight, I think, with that," said Backstrom of the Capitals' transition game. "I think in the second period there was a little back and forth there between both of us. Obviously, you want to come out on the rushes and get chances to score goals. And that's what we did good."
Alex Ovechkin in particular had a number of chances on the rush but was denied by Reimer repeatedly. Ovechkin was alongside Backstrom and Alexander Semin, and that line was buzzing for most of the night.
"I thought the line played very well again," Hunter said. "It's one of those things – [Toronto goalie James] Reimer played well and made some good saves. As long as you get your opportunities like that line did tonight, it'll eventually come if you work hard at it."
Capitals goaltender Tomas Vokoun had a solid game, turning away 26 of 28 shots. Vokoun had struggled recently, recording a save percentage of .881 in November — a month in which Washington went 5-7-1. Vokoun said consistent success is vital the rest of the season for the Capitals, who have now won three of their past four games.
"We got on a slide and things can turn very quickly on you, no matter how good you are," Vokoun said. "It's a tough league to win. You lose a couple games and you lose your confidence and all of the sudden, teams come here, they feel good about their chances to win here."