Ever since he ruled the NHL in the 1980's, hockey people have been trying to articulate what it was about Wayne Gretzky that made him so special.
Mark Messier said no one could say exactly what set him apart.
Phil Esposito called him the "smartest player that ever played the game" and Brendan Shanahan declared him "a genius on the ice."
My own favorite is from Justin Bourne, who said, "All hockey skills are secondary to whatever-it-was that Gretzky had."
But perhaps the most prescient is from his biographer Jim Taylor:
"The thing that's going to set [Gretzky] apart forever is that from the time he was ten years old, he has always understood the responsibilities that go with being Wayne Gretzky."
Over the last five games, Texas Stars fans have watched goaltending prospect Jack Campbell go 3-2 while facing over 35 shots per game. They've watched him put up a 2.19 GAA, .938 SAV%, and most recently, a sparkling 30-save shutout last night in front of near capacity crowd at the Cedar Park Center. Campbell-Chaos is underway, even though any decent goalie could put together better numbers in just five games.
Yet more impressive than this modest sample size is that Jack Campbell seems to be fully aware of what it means to be Jack Campbell.
Before joining the  United States National Development Team, Campbell played for the Honeybaked Hockey Club in Oak Park, Michigan, which has produced the likes of Ryan Kesler, Ben Bishop, Bobby Ryan, Justin Abdelkader, Nathan Gerbe, Aaron Palushai, Cam Fowler and David Booth, to name a few. He went on to become one of the most decorated goalies in the history of the US Junior National Team.  From place to place he carries on his shoulders enormous expectations without complaint.
Here he is following a loss to 14th place Hamilton in his home debut for Texas, a game which Texas led 2-0 only to lose 4-2.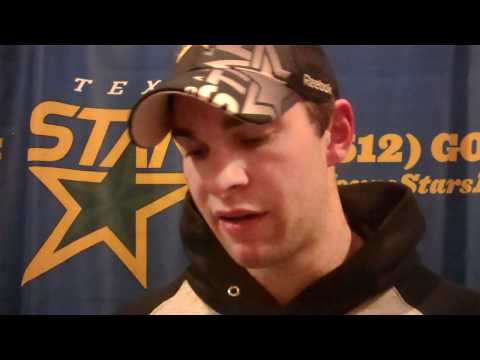 Of Campbell's stumble at the :24 mark, Stephen Meserve writes, "In the body language and voice inflection of that thirty second answer, Texas fans should have learned all they need to know about Campbell for the next 15 days. This kid is hungry to win and will not settle for finishing this (or any) season with a whimper."
Here he is following last night's shutout: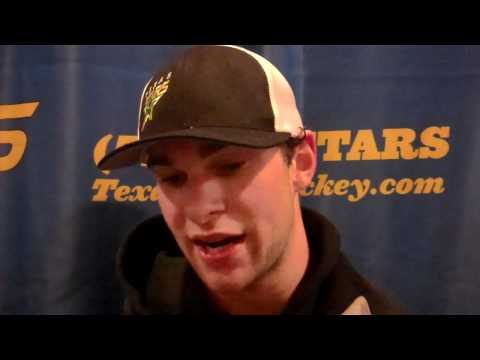 As Meserve finds illumination in Campbell's 'heart-on-his-sleeve' reaction to losing, I find it in his simple, gracious response to the compliment, "Good game."
He gets it. No unsolicited explanations, no elaborating, no needless nit-picking. His answer is a fantastic, unselfish display of etiquette.
"Thank you."
I don't know what it means to be Jack Campbell, but he does, and I can tell because on-ice and off, he is a breath of fresh air.