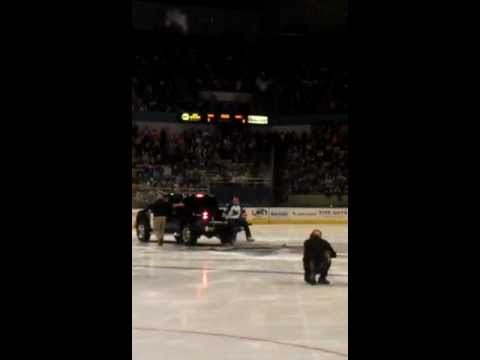 A hockey puck is hard, but not hard enough to resist being shattered into four pieces. No, it didn't shatter from a slap shot; but a spike by New England Patriots tight end Rob Gronkowski.
"I guess only footballs can handle my spikes" commented Gronkowski with a laugh.
It was Gronkowski's spiking abilities back in November that brought him to the ice last night. In a game against the New York Jets on November 13th, Gronkowski was fined $7,500 for an unsportsmanlike spike after his second touchdown grab. A few months later, the Worcester Sharks organization offered to pay the fine if Gronkowski would spike the puck. In addition to his ceremonial puck spike; before the game Gronkowski held an autograph signing for 500 fans who had pre-purchased tickets. The proceeds were to benefit March of Dimes.
Patriots nation has been on Gronkowski watch since the injury to his ankle sustained during the AFC championship game against the Baltimore Ravens. An injury that cost him the ability to play 100% in the now infamous Super Bowl loss to the New York Giants. On February 10th, Gronkowski underwent arthroscopic surgery on his left ankle.
"Obviously it's not 100%, everyday it's getting better and that's all you can ask for," Gronkowski told the media after spiking the puck.
Facing a 10-week recovery period hasn't slowed the tight end down. Making the best of the off season, Gronkowski has been giving back to the communities that have supported him with visits to local children's hospitals, autograph signings and possibly much much more.
"I'm just proud to be here, to get around the community. Everyone does so much for us, the New England Patriots. It's great to go back, give back" commented Gronkowski.
In good spirits despite his foot being in a cast and visibly eager to keep conversation on the event at hand; Gronkowski was chauffeured onto the ice in a black pickup truck. Spiking the puck at center ice in front of a packed crowd which included fans, and players from the Worcester Sharks and Providence Bruins, was an easy feat. For the 6'6″, 265 lb Gronkowski; losing his balance albeit for a brief second didn't faze him. A laughing Gronkowski commented,
"The carpet was a little unstable, it's a good thing I didn't fall. It might have been pretty funny."
It's not everyday that you see someone spike a puck; but for Gronkowski, who's career has spiked in recent months, anything is possible. What can't he spike? Opening day at Fenway Park is just around the corner; perhaps Gronkowski will be spiking that first pitch. Only time will tell, but soon enough the player that everyone has grown to love, will be back to the sport that brought on this "Gronk Spike" madness. Football, football, football.