SAN JOSE- With NHL training camps still two weeks away (meaning little news to report), we continue our offseason rankings of the top San Jose Sharks highlights since the 2004-05 lockout. Previously there was the top 25 goals, top 10 hits, top 10 saves and today we have probably the most anticipated list (outside of goals), the top 10 fights. The criteria for this fights list is pretty simple, the quality of punches landed and the significance of the fight (stature of players/defending a teammate etc.)
Enjoy.
10. Former Shark favorite Douglas Murray came to the aid of another former Shark favorite Torrey Mitchell on opening night a few years ago when current Shark favorite Raffi Torres (then with Edmonton) stuck out his leg and nearly injured Mitchell.


9. One has to wonder if fighting has finally started to take a toll on Ryane Clowe's productivity. From 08-09 through 10-11, Clowe's point totals increased year to year (52, 57, 62) but in 11-12 he managed only 45 points and in last years shortened season he registered a mere 19 between the Sharks and Rangers. There's a good chance Clowe's best years are behind him and fighting may be part of the reason why. However, fighting is at times necessary, and taking Jarome Iginla off the ice for five minutes? Kudos, Mr. Clowe.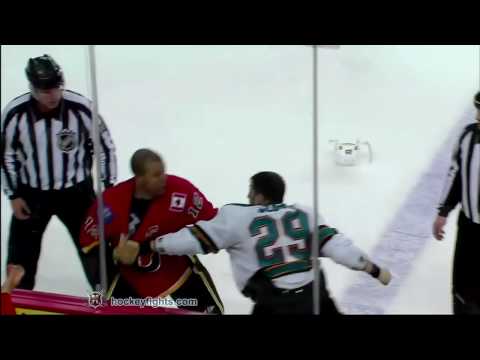 8. As demonstrated above, Douglas Murray is the epitome of a great teammate, he sticks up for his teammates all the time. A couple seasons ago "The Crankshaft" had had enough of Canucks forward Aaron Volpatti running around.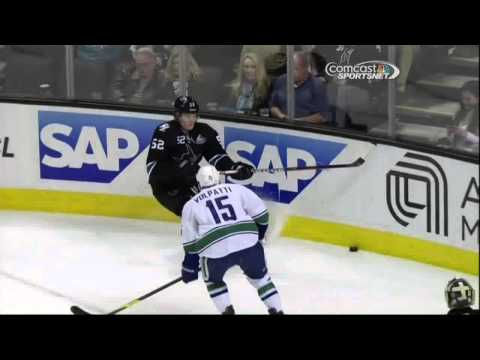 7. Clowe has always been a good fighter, and it is valuable to have guys who can drop the gloves and actually play more than 5 minutes a night. The current New Jersey Devil really connected on a couple of blows in this duel with the Kings' Kyle Clifford.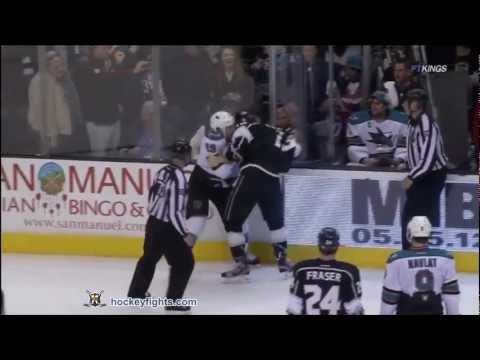 6. Joe Thornton doesn't take no crap off of nobody! Once again! (Cool Runnings joke). But in all seriousness, Thornton is a captain for many reasons and one of those is putting pests like Steve Ott in their place.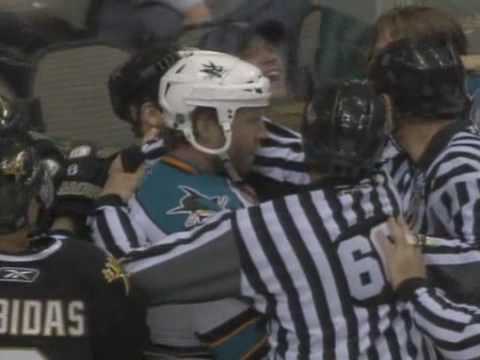 5. Some Sharks fans may have been expecting this Joe Thornton and Ryan Getzlaf fight in Game 6 to be ranked closer to the No. 1 spot. However, looking back on it, it was more of a wrestling match than anything, Thornton looks like he gets one solid punch in but that's about it.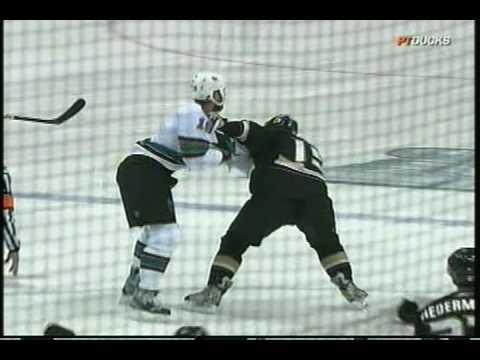 4. Joe Pavelski….that's right, Joe Pavelski comes in at No. 4 on this list because his fight with Ryan Whitney in Game 6 was actually a better dance than what Thornton and Getzlaf produced. "Lil Joe" scored a handful of solid punches to the chops of the much bigger Whitney.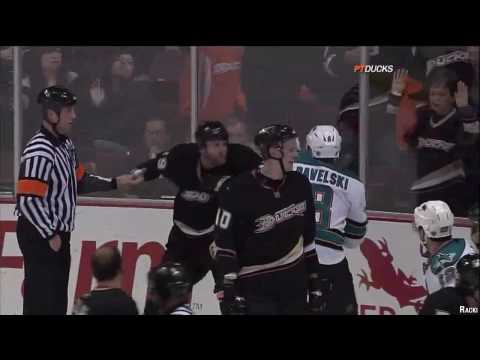 3. Normally I don't like the slow developing fights (usually because they are between two players who average 4:40 TOI on a given night) but to me this fight with Jamie Benn is the most memorable Thornton fight. Two superstars going at it and allowing the fans to savor the moment by "sizing each other up"? Just awesome! The Dallas commentator put it perfectly, "Oh my! This is a dance!"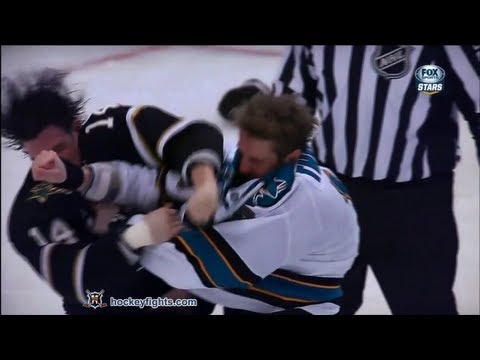 2. From an outside perspective NHL fighting can seem unnecessary but it's an important part of the game and fans for the majority love to see them. As for players trying to avoid fights to stay away from injury? Well, sometimes players just get so fed up with losing that they want nothing but to pummel one of their opponents. In Game 2 of the 2007 quarterfinals, the Sharks were losing 5-2 late in the third period when all hell broke loose including Ryane Clowe whaling away on Jordin Tootoo.
1. Jordin Tootoo sure has taken a beating in his career, especially at the fists of Sharks players. The No. 1 fight on this list was a slam dunk. Brad Staubitz earns the the top spot with this absolutely ridiculous rearranging of Tootoo's face.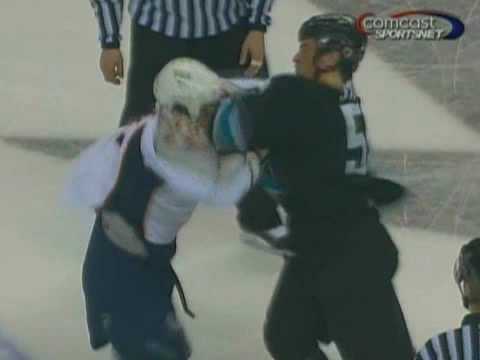 Think I missed a fight that deserved to be on this list? Let us know in the comments!
For more on the Sharks follow Andrew on twitter: @ViewFromBensch