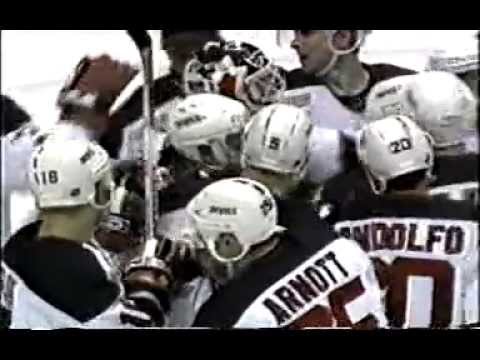 This week's Throwback Thursday features one of Patrik Elias' favorite moments in his career. His favorite moment? The 2000 Stanley Cup win.
"For me, it's winning the first Stanley Cup by far and the whole journey," Elias said with a smile in his eyes as he revisited this fond memory. "That feeling at the end…you're excited and then relieved that it's over. It's not just the excitement that we won, it's just the really oh my god…it's over.
"I know what I expected before the celebrations…it was going nuts. It was the best time. After the game, we went back to the hotel after the game and we were sitting there until 4 or 5 o'clock in the morning and just kind of talked. That's it. Talked with the guys. Larry [Robinson] was there with us at the table.
"Just talking…what it meant and what we just accomplished. That's the one thing that kind of sticks out in my mind."
With what seems like the Devils taking pages out of the 1995 Cup year and the 2000 Cup year to build the 2013 team, did Elias see any similarities going into this season from what he saw at the start of the 1999-00 season?
"You can't," he said of seeing the similarities. "You have no idea at the beginning."
Ken Daneyko said that he knew the Devils would win the Cup that year, because the team was all about skill…skill up the wazoo.
"2000-2001," Elias replied of which season the Devils had the most skill. "Especially [because] we already won the year before in 1999-2000. We knew we could have a good team, but you don't know how it's going to play out. It's the same thing here. We have some skilled guys, a good team, but you never know how it's going to play out. Then, throughout that season, you build up that camaraderie, that feeling that you can count on each other in different situations during the game and guys pulling for each other…just unity."
For the 1999-00 Devils, "UNITY" was their motto that season.
"[It was] for that [season] and the year after that when we didn't win" he said of the "UNITY" motto. "That was even better. We found out we played better hockey that time. We were a better team, because we just accomplished something and we knew how to do it, and obviously we lost in Game 7 the year after. But that was the same feeling.
"If we played the best play we could have, there wasn't a team that could beat us."
For Elias, it's not necessarily winning the Cup and being at the top that was most important to him. It was the climb to get there.
"I think it's the climb," he said. "I think that's what it does. From every team, every player goes through ups and downs. It's how you handle it as a team, as an individual. When it gets to the grind, it gets to the point when it breaks…it's how you handle it. Sometimes you need a little bit of…a lot of luck…not a little bit, but a lot of luck. Most situations can turn the game series around. All those little things…it's unbelievable what can play a role in the journey."