Eric Gelinas, the young Devils rookie defenseman, has been proving to be an incredible addition to the team with his wicked slapshot from the blueline.  Gelinas' road to the NHL would seem like any other Canadian child growing up, but for him, his path was marked with choices between two sports.  Choosing hockey over the family's choice sport was a decidedly easy choice for him.
"The first time I skated," Gelinas said. "I was two. The first time I played hockey, I was three."
This time frame is uncharacteristic of most professional hockey players.  Gelinas started a whole year earlier.  Even earlier than legendary players like his teammate Jaromir Jagr who was skating for the first time at the age of three. But for Gelinas, he comes from a family of athletes…baseball players, that is.  His drive to hit the ice early on had more to do with wanting to be just like his hero.
"I think I was arguing with my parents to skate because my brother was playing hockey, so I just wanted to do the same thing as my older brother. They got me on skates and that's how it started."
"He's 30 now," he said of his brother.  "He's like 10.5 years older."
"The first time I watched hockey was when my parents brought me to my brother's game. I guess when I was a young kid, everything my brother did, I just wanted to do the same thing, because he was kind of my idol or something.  Whatever he did, I just wanted to do the same thing.  My parents got me to skate when I was two…then I first started playing hockey when I was three. So I guess it was pretty early."
It's very unusual for a child to start off playing hockey at such a young age.  Gelinas started off playing in mites.
"I was the youngest of all the other kids.  I don't know how my parents got me in so early."
"My dad when he was younger was a professional baseball player.  He played for the Pittsburgh organization for quite a few years.  He got hurt and that pretty much stopped his career.  He couldn't throw anymore. He went back to school and he got a master's degree in bio-mechanics. Now, he still works in sports in Montreal.  He's really involved in whatever that goes on in sports in Montreal.  He's pretty busy.
"My mom, she did some sports when she was in school…in college and stuff, nothing professionally."
With a family background in professional baseball, how did Gelinas end up in hockey?
"Me and my brother were playing baseball and hockey when we were growing up. By the age of 10 or so, my brother played a little further.  He played [hockey] until he was 15 or something. He stopped because of a concussion in hockey.  He just stuck with baseball and had a career in baseball. He got drafted by the Anaheim Angels and played six years in the minors.
"He plays in the CANAM league.  It's professional, but independent.  It's not affiliated.  He just got an invite to go to the Phillies training camp this year coming up.  He's working out right now.  He's getting ready for that.
"I think by the age of 10, my father just couldn't do baseball and hockey in the summer so he told me to pick one or the other so I guess I stuck with hockey."
Considering both his father and brother chose a career in baseball, why did he choose hockey?
He laughed.
"Honestly my dad and my brother won't like that answer, but I thought [baseball] was boring. When you are young and you play baseball, there's not much going on, because they don't hit the ball far. I just thought there was more action to hockey and I guess I loved it. I picked hockey."
Most players model themselves or are inspired by famous hockey players. For Gelinas, that wasn't the case.
"My brother, I would say," he said of who inspired him. "I wanted to do whatever he did. My brother was my idol."
Growing up, Gelinas had a couple of favorite teams depending on where he lived.
"When I was younger [Ottawa], but when I moved to Montreal, I guess I switched to Montreal. Everyone does when you're around Montreal.
"I was eight when I moved [to Montreal].  My parents are still pretty much in the same area right now."
Growing up to one day play in the NHL, many players in the past spoke of the hard work they put into playing the game. For Gelinas, he was able to see the difference in how he approached making it into the NHL versus other players he's come across over the years.
"I've known some parents and some kids that I guess their parents are 'pushy,' I would say kind of…that they really want their kids to have success and put them in camps.  My parents were…you do what you want.  I loved the game so I was always playing outside, playing with my brother and stuff.  I don't think my parents were real pushy.  Really, I just loved the game.  I pretty much did it by myself."
"If I would have played soccer, I guess my parents would have supported me too to play soccer.  I think that was good.  They were always there to support me throughout my childhood and I ended up a NHL player."
The Devils drafted Gelinas 54th overall in the 2009 NHL Draft.
"It was pretty special," he said of being drafted by the Devils. "I got lucky that my draft year was in Montreal.  It was 20 minutes from my house, so I got a lot of friends and family that came.  It was pretty special to have it in my hometown.  Just getting drafted is the dream of every kid that plays hockey.  It was pretty nice."
Now he's made the team.
"That was even more nice," he said laughing. "There [are] a lot of people that get drafted and don't make it.  I'm fortunate I made it.  I'm really thankful for that."
Scoring from the blueline is part of Gelinas' game.  A diamond in the rough for any team is finding a scoring defenseman.  In the minors, the Albany Devils saw a few goals from Gelinas last season.
"I guess my first year I had a decent amount of goals," he said after scoring his fourth goal for the Devils.  "I think I finished with 16. For a 'D', I guess that's a lot of goals.  It's just a matter of opportunities really."
Gelinas scored his first NHL goal on October 24, 2013 against Roberto Luongo.
"My first goal was a power play goal. I got the puck in the high slot and I just shot it. It was actually a deflection by their defenseman and it ended up in net.  I guess it can't be the prettiest goal, I'd say.  First goal is a first goal and it will always be special for me."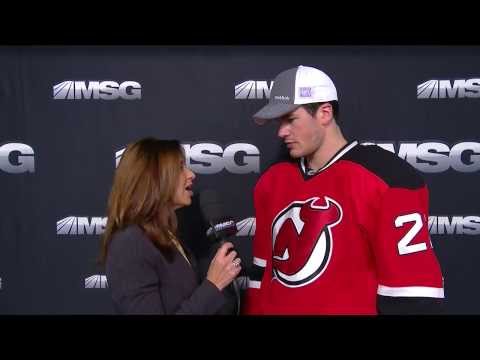 As of this interview, he hasn't received the puck from his first goal. The Devils do something special with the puck before presenting it to the players.
Gelinas wanted to add some words of wisdom to end his first Growing Up Hockey piece.
"The only thing is really…you do what you love in life. If it's hockey or if it's anything else, you just have to stick to your dreams. That's what I did. I'm fortunate it worked out for me."