For Adam Henrique's Throwback Thursday story, he decided to share a story he hasn't shared before. His tale goes back to his rookie year after he was recalled.  This time was an important period for him.  He tells the story of how he was able to come into his own and make the team that year.  From the guys that helped him to his first goal…these are the moments that helped him become a NHL player.
"I practiced for a couple of days with different lines," he said when he was recalled from Albany. "It was a morning skate. It may have been my fourth game for me that year. I came in for the morning skate and Pete [DeBoer] put me on a line with [Ilya "Kovy" Kovalchuk] and Zach [Parise] playing center, something we didn't practice together all week.
"It was…well, I got a little nervous pretty quick. We were on the ice doing a three man passing drill or whatever it was. I made a couple of passes and then I was just kind of skating to the corner expecting Kovy or Zach to go down and shoot. They tried to zip it back to me and I wasn't ready for it.
"Kovy came over, looked at me and he's like, 'Always be ready.' It was kind of a thing with Kovalchuk. You just go, 'OK.'"
Learning that he was going to be on the first line with Parise and Kovalchuk was exciting and a little nerve wracking.  They helped him out that first year in adjusting to the NHL.  They also became his mentors.  What happened at the rink helped, but it was also what happened away from the rink that stood out to him as being just as important.
"Just going to the game and talking to Zach," he said of what was important in helping him out in his first few games with the Devils.  "And just play[ing]. I was still trying to get back in the lineup and stay here and play. It just kind of went from there. We started playing well together and it progressed throughout the year.
"I still remember that because I was a little nervous going in. They kind of just helped me out along the way. It's funny little things like that.
"[Zach] was a guy that would talk to me a lot about plays on the ice, making me feel more comfortable in the locker room as a young guy. It just kind of went from there. Hanging out away from the rink you kind of get to know a guy and a guy's family and stuff like that. You really feel a part of the team. It's important when you get young guys coming in, the first years. Guys can be a little nervous, a little tight, [and] a little quiet around the room.
"Once you go on the road with the guys, you feel more comfortable. They kind of did a good job of bringing me along and made me feel more and more a part of the team."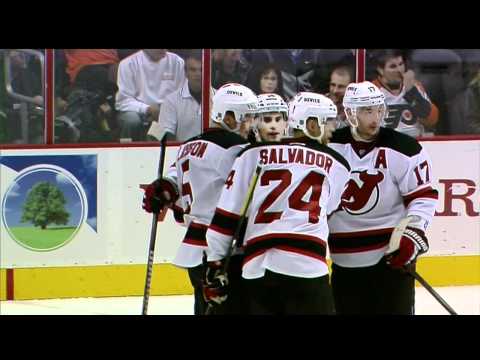 What does he remember about his first goal?
"I got called back up for Pittsburgh and then we were going on a week long road trip right away," he said. "I remember I hit the post a couple of times that trip. I was playing well. It just seems I couldn't buy the first one. Then in Philadelphia, Kovy got a nice turnover on the blueline and we did a quick little 2-on-1. He made a good pass over.
"I think I was gripping my stick a little heavy," he laughed. "But I one-touched it and I remember…I think it was Bobrovsky…there was a couple of inches between his pad and the post.  He got over there pretty quick.  Hindsight, I probably should have just held onto it and put it up top, but it's not getting there anywhere else.
"It was awesome.  It was a great feeling to get the first one and just get things going from there."
Henrique caught up with Parise the last time the team was in Minnesota.  As for Kovalchuk, he hasn't heard from him since the announcement of his NHL retirement.