Recently, Melissa Bauer-Herzog publicly called out Alex Ovechkin for not caring enough to be the best player in the NHL.
Here are five reasons why I don't agree with her five reasons.
1. First, the article calls out his "partying" habits. I'll cut Melissa a little slack cause it's the off-season but, as always we'll look at the facts first.
A Google images search of Alex Ovechkin partying and Alex Ovechkin drunk yields roughly 35-40 images of extracurricular activities.  Andrei Markov ?
It's the offseason! Alexander Ovechkin lives with his parents. Not the Playboy Mansion! If he wants to get drunk sometimes, who are we to judge?
Superior physical conditioning has not been one of The Great 8's weaknesses. That's all too much partying in the off-season would indicate. Click here to see someone make fun of Sidney Crosby's partying habits.
2.  Lack of Playoff success. Melissa calls out Ovechkin for the Capitals lack of success. As their highest paid player and Captain, the truth is that he does have  to take some heat for this. But her use of the phrase, " he steps down" is what I'm contesting.
In 37 games O V has scored 50 points. 25 goals and 25 assists. 18 Penalty Minutes. Those PIMS should be lower but otherwise, how is he "stepping down" his game?  Alex has scored numerous clutch goals in a variety of ways. I know Caps fans hate to watch this video because of what eventually happened since then but, all it really proves when you consider " what happened since then"  is that Ovechkin needs another great player to play with. In the last 5 years these are the tandems that have hoisted the Cup.
Pavel Datsyuk & Henrik Zetterberg
Sidney Crosby & Evgeni Malkin
Patrick Kane & Jonathon Toews
Tim Thomas & Zdeno Chara
Ryan Getzlaf &  Chris Pronger
We can argue about some of the best players on the Ducks and Bruins teams. That only further proves the point. The Caps need one of the many uber talented players to "step up" their game. Here is said video.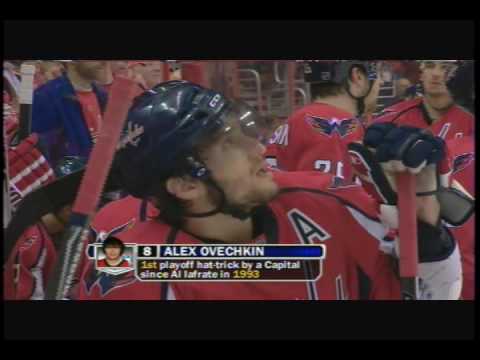 3. She says he hits too much. He should puck move more so he can "farther" his stats. Perhaps we can forgive the grammar mistake, but not the idea of less hitting. The only reason, if at all, he should lower his checking is to stay in better position and not risk injury. Maybe a little bit more stick lifts and poke checks? Not to "farther his stats and his legacy."
4. Leadership. Leadership is a bit overrated and also tough to judge from outside the locker room. Alex has never shown any outward signs of poor leadership. Occasionally he is a little undisciplined with his line changes due to his exuberance but, he is not really a poor leader. He leads by example and encouragement. He just turned 25 years old. The veterans on a team shoulder most of the leadership. Alex never plays lazy. Jeff Halpern will help out a lot this year.
5. She says he needs the biggest trophies in the game. Stanley Cup and Gold Medal. The Washington Capitals are a dangerous team every year and with one of the best fan bases and best owners they are well on their way to contending every year. It's only a matter of time.
As far as the Gold Medal. He lost to Team Canada. Do I need to name the insane lines that they roll out?
The fact that Ovechkin likes playing for Russia should come as no surprise. They are a proud people. He loves his country. He also received the key to Washington D.C. He wants to win the Stanley Cup to prove everyone wrong.
Ovechkin has a lot to prove, but his passion for the game should not be questioned. Will he be the greatest ever? Well I usually side with Gretzky's 200+ point seasons on that one.  But you never know…