For some San Jose Sharks, playing in Boston is like a second homecoming, with many of San Jose's current roster originally getting their professional careers going with the AHL affiliate Worcester Sharks.The Sharks current roster has players such as Jamie McGinn, Thomas Greiss, Torrey Mitchell, Jason Demers, Andrew Desjardins and Benn Ferriero all doing stints with the Sharks' affiliate within the past few seasons. The Sharks have quite the following in the area thanks to the team in Worcester, and it came as no surprise that the game was a sellout crowd speckled with teal amongst the usual sea of black and gold.
One player in particular with a significant Boston following is Benn Ferriero. An Essex, MA native who played for Boston College before becoming a Shark in 2009. Having played many a collegiate game at the Garden "It's a big difference between playing BU (Boston University) and playing the Bruins" commented Ferriero. Certainly not disappointing any of his hometown fans in attendance; Ferriero scored the game winning goal for San Jose during the 3rd period. Obviously a memorable game to put in the books; another milestone that he can perhaps someday achieve would be 1,000 games. "I grew up watching Joe Thornton and now I get to play with him" said Ferriero.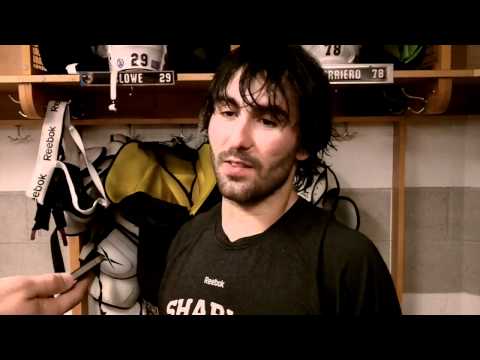 Joe Thornton skated in his 1,001th game, and a good chunk of those games were played in a black and gold jersey.
"This is where it all started, they gave me my chance and I love coming back here," said Thornton post-game.
For those of us who can remember, Thornton was always the hometown hero until the trade to San Jose during the 2005-06 season. The fans at the Garden didn't forget that during the game when a quick tribute video was played on the jumbo-tron congratulating the Sharks captain for his 1,000th game played last night against the New Jersey Devils. Thornton didn't forget the fans of his first NHL team; with a gloved wave and a nod to the fans that stood to cheer the original #19.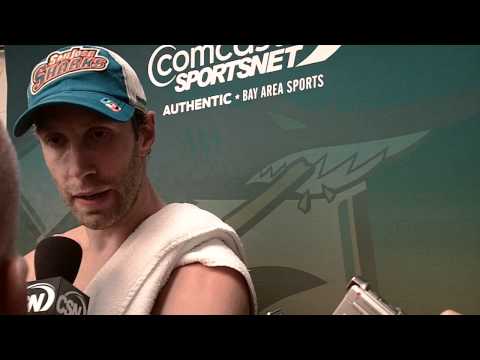 While the comparison has been made from the start; the Bruins current #19 Tyler Seguin is certainly beginning to follow in Thornton's skate strides. Seguin had continued to show consistency as of late. Despite faltering with a few plays during the beginning of the game, Seguin recorded his 3rd goal of the season and not only lit the lamp but also a fire albeit temporary for his teammates. Along with a scoring a goal, Seguin also prevented one with a nice save at the Bruins net. If being a center doesn't work out…