Grand Forks, ND – What a difference a week makes, for the University of North Dakota.
Last Saturday night, during a game against the U-18 team UND sophomore forward Drake Caggiula tried to jump over a U-18 player, the sophomore forward fell and landed on his head.  Caggiula was taken off of the ice on a stretcher and transported to Altru Hospital. At first, it didn't look good and it appeared that the talented forward might be seriously injured and miss some time.
Fortunately, that ended up not being the case.
Fast forward to this weekend, Caggiula was in the lineup and laid out a Huskie forward with a huge check, on his first shift. He also scored a highlight-reel goal at 3:10 of the opening period.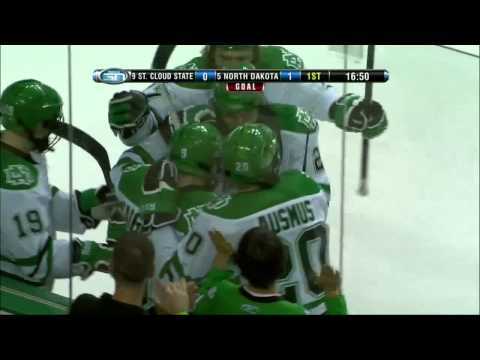 UND would give up three goals in the third period to Kevin Gravel, Kalle Kossila and Andrew Prochno. UND never could get any closer than one goal back and ended up losing the game 3-2, in their first ever  NCHC home conference game to the Saint Cloud State University Huskies.
Even though UND lost the game, Caggiula seemed relieved that he was able to get back out on ice after last week's game.
"Nice to be back," Caggiula said.  "Missed the first day of practice this week, I really told trainers that I want to go aggressive with the rehab. To get me back out there in the best condition that I could be in, I felt pretty good being out there.  It's pretty exciting; I was pretty scared last week. It was just a good feeling, to get out on the ice."
One person that didn't seem "real" happy with the results of the game was head coach Dave Hakstol. This is what the head coach had to say about the game.
"I thought it was a good hockey game, back-and-forth with a few momentum swings," UND coach Dave Hakstol said. "I thought we were back on our heels for five minutes. Credit them for that little push, but we look for that push to come out of our locker room at the start of the third period."
After five games this season there is one area of concern, the power play. UND is 4/24 on the power play (.167). On the flip side of the equation, UND has gone 1/27 on the penalty kill. Actually, UND has killed 26 opponent power plays in a row.
With the win SCSU is 4-0-1 and 1-0 in NCHC play, with the loss, UND dropped to 2-2-1 overall and 1-2 in the NCHC. The same two teams play again tomorrow night at 7:07 p.m. central.