This is the story every sports writer loves to write: a story about the human side of the game that bonds an entire team and forces them to want to win. It's the stuff that turns a sports movie into a tearfest. At least, for the Rangers this is perhaps the beginning of their story.
Last Thursday, New York Rangers' Martin St. Louis unexpectedly lost his mother. His family decided that he should go on to play in Game 5 against the Pittsburgh Penguins on Friday night because it was what his mother would have wanted him to do. The Rangers pulled together in what could have been their elimination game, defeating the Pittsburgh Penguins, 5-1.
This win was for Marty.
St. Louis has been with the Rangers for only a couple of months now, but his personal loss was what brought this team together. The loss of a mother affects every single individual in that locker room.  Why?  Because they are human beings.  What if they were in his shoes? For those who have lost their mothers, they understood the emotional pain and grief of the loss. For those who have not suffered this kind of loss, they can only imagine and sympathize with the pain.
As the Rangers returned to New York to play Game 6 on Mother's Day the fans rallied to let St. Louis know that they were beside him. They chanted "Mar-Ty" so loud it shook the roof of Madison Square Garden.
There was no goal celebrated louder on Sunday than the first goal of the night. At 3:34, St. Louis lit up New York with the first goal of the game. The impact this goal would have on Marty's first Mother's Day without his mother was the most important goal of the game. It was what brought the team to life.
After St. Louis scored this goal, he didn't look up to his family sitting in the stands.
"I didn't look up," St. Louis said. "I'm trying to focus on the game. I looked up to them after the game. They deserve a lot of credit for where I've been, where I've gone today. I couldn't be happier for them to be here on a special day."
"I think the boys were happy for me, no doubt," he said of the team when he scored his goal. "We just kept going through the first period. We were playing with a lot of emotion. Things were going good. We knew they were going to get their push. I thought we did pretty well. Obviously, we got a big third goal there in the second."
"I think we played a great game," Henrik Lundqvist said. "We set the tone right away. Marty scored that goal…it was such a beautiful moment. I got really emotional to watch that. To see him and what he's been through, I think the entire team was feeding from that moment…and the entire building. It was such a great energy in here.
"I've got no idea what he's gone through these last few days," Marc Staal said of St. Louis. "But I'm assuming that felt great for him and his family, his mom. [It was] absolutely a huge boost for the bench. It was a great start to the game."
A few minutes after St. Louis' goal, Carl Hagelin backhanded the puck in for the Rangers second goal at 6:25. The Penguins got a lucky break at 16:56 when Brandon Sutter's shot was blocked by Lundqvist. The puck then bounced off of Rangers' defenseman Kevin Klein and into the net, giving Pittsburgh their lone goal of the game.
In the second period, Derick Brassard gave the Rangers their third goal of the game at 15:30, tallying his fourth goal in the post-season.
"It's up to us to give [the fans] something to be happy about and we did right away," Lundqvist said. "We played a really strong game. At critical moments, we made some great plays. It's a fun, exciting feeling. Obviously, when you play at home, you must win. As a team, we go out and play that well together, it's a great feeling."
Although this game was a promising game for the Rangers, edging them further along in their comeback from a 3-1 series, it also produced a lot of nastiness coming from the side of the Pittsburgh Penguins.
Lundqvist was fined $5,000 for squirting Sidney Crosby with his water bottle.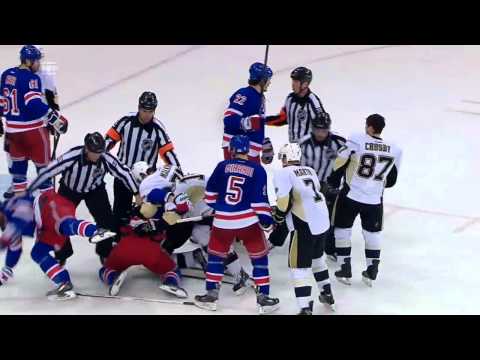 What you see in the video above is Sidney Crosby with his hockey stick between the legs of Rangers Dominic Moore followed by a spear into the crotch. During the altercation between both teams, Crosby goes down and then Lundqvist skates by squirting him with his water bottle. That move cost Lundqvist $5,000.
What did Crosby get? Two minutes in the penalty box for cross-checking.
But that's not all Crosby did. He came up behind Rangers Dan Girardi with a slew foot. He wasn't called for "tripping" there.
This is not the first time Crosby has speared an opponent in the groin. It is not the first time he was caught with an apparent slew foot move. The reason why he keeps on doing it is because he gets away with it. When the opposing team tries to go after him, the referees protect him. When the league should stop these dirty plays from reoccurring, they go silent…which means it is perfectly acceptable to spear a player in the groin, and slew foot a member of the opposing team…just so long as your name is Sidney Crosby.
Yet, Lundqvist tries to get retribution for his teammate and is fined $5,000 for getting Crosby a little wet. While Crosby, who attempted to hurt and injure another player by going for a low-ball move (no pun intended), gets away scot-free.
There are more and more incidents like this happening across the league. If this is acceptable hockey, parents need to avert their children's eyes.
As for the Game 6 victory, St. Louis decided to award the Broadway Hat to the team for their outstanding effort.
"I think as a team, the last couple of games, we've come together here and realized what we need to do to have success against this team. They're so skilled that if you give them something, then they're going to try and take it. You just have to respect that. At the same time, we have to believe in what we're doing. The last two games, I think our mindset has been really good."
Game 7 is on Tuesday night at 7 p.m.