With the NHL lockout upon us, many fans are turning their attention to other leagues and teams. The Providence Bruins, Boston's AHL affiliate, should see a rise in attendance this season, as many members of black and gold nation will make the trip south to enjoy the exciting sport of hockey.
Providence, who opened their season on Friday against the Manchester Monarchs, has a roster full of intriguing prospects. Ryan Spooner and Jared Knight, two guys who had tremendous careers playing the Ontario Hockey League, looked to get off to a good start on Friday, as they each entered their first full AHL season.
Spooner had success in his two previous stints with the Bruins, netting three goals and tallying four assists in just eight games played. Knight, who had only previously played three games for Providence, looked to net his first career AHL goal in the season opener.
Only 1:40 into the first period Knight impacted the game. The speedy winger chipped the puck past a Monarchs defensemen creating a 2-on-1 rush, and sent a wrist shot just wide of the net.  Shortly after, Spooner had a similar chance of his own, but his wrist shot was turned aside.
Strong play finally paid off, as 15:38 into the first period the Bruins got on the board first. Using crafty hands, Spooner corralled the puck at the blue line, drove towards the net and ripped a wrist shot towards Monarchs goalie Martin Jones. The rebound deflected directly to Bruins winger Jamie Tardif, who slammed the puck home for the goal. The assist was Spooner's first of the season.
Five minutes into the second period Knight showed tremendous courage with a gutsy shot block. What was even more impressive was how he stayed on the ice and battled through the pain to help his teammates clear the puck, a fantastic effort by Knight.
With a chance to get a huge insurance goal late in the second period, the Bruins power-play opportunity took a turn for the worst. An errant pass in the offensive zone led to a semi breakaway for Monarchs forward Andrei Loktionov, who used incredible patience to deke Providence goalie Michael Hutchinson and roof the puck. The score was tied 1-1 after two periods of play.
1:43 into the third period the Monarchs claimed their first lead of the game. Chris Bourque took a necessary hooking call to kill a breakaway chance, but the Bruins PK unit struggled to clear the puck, resulting in a rebound-chance goal by Andy Andreoff.
The Monarchs added another goal late, and defeated Providence 3-1 in the season opener.
From The Room:
Michael Hutchinson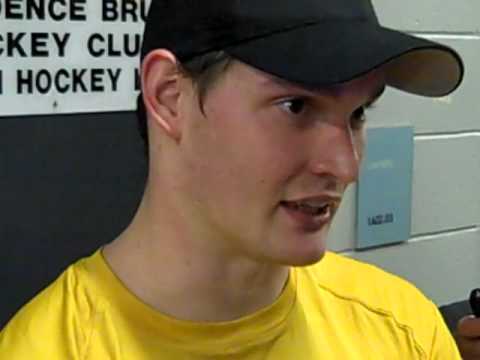 Ryan Spooner