Ryan Potulny almost played hero in Hershey's shootout loss to the Norfolk Admirals on February 10th. He potted two goals in that game, as the Bears tallied three third period goals to force overtime. Saturday night at Giant Center, Potulny scored the game winner.
The Hershey Bears (27-21-3-5) reached .500 at home (13-13-3-2) in their 3-2 win over the Norfolk Admirals (25-26-3-1), as two late third period goals in the final three minutes earned the Chocolate and White a monumental East Division win. Philipp Grubauer (7-4-1, 2.09 GAA) played phenomenal in goal once again for Hershey, recording 19 saves on 21 shots on goal by the Admirals.
"I thought it was a pretty good hockey game," Bears coach Mark French said. "Both teams played hard, there wasn't much offense. I thought we steadily got better as the game went on; obviously we faced some adversity when they got their second goal. [We were] unable to capitalize on the power play, but real good resiliency to come back not only to tie it, but to get the win."
The Norfolk Admirals grabbed an early 1-0 lead 3:20 into the first period, following a video review. Forward Josh Brittain netted his eighth goal of the season, as he waited out Grubauer. Played carried on following the injury no goal, but after the review, time was added back on the clock.
Norfolk outshot the Hershey Bears 10-6 in the first period, and neither team registered a penalty. Hershey has struggled this season when behind, but earned their first win when trailing after the first period (1-11-0-2).
The Bears knotted the score at one 1:53 into the second stanza, as forward Garrett Mitchell netted his 11th goal on the season on his backhand during a two-on-one rush. The play was setup by Ryan Stoa's pass to Mitchell through the neutral zone; following defenseman Cameron Schilling's clear of the puck in the Bears' defensive zone.
"We've had lots of chances," Mitchell said of playing on a line with center Peter LeBlanc and lanky forward Ryan Stoa. "It's just the matter of bearing down on those, tonight was a good night. It all comes from hard work, hard work brings chances."
Hershey earned a power play 4:54 into the second frame, as their 11th ranked man advantage unit in the AHL went to work. The Bears' power play featured Steve Oleksy and Garrett Stafford on defense, a new fix on special teams.
Following the unsuccessful power play, the pace of the game picked up rapidly. Norfolk earned two two-on-ones over a span of a few minutes, but Grubauer denied the first chance and defenseman Patrick McNeill laid out to stop the other offensive rush.
The Bears received the majority of the scoring opportunities in the second frame, outshooting Norfolk 12-5. Both teams went 0/1 on the power play during the period, but couldn't beat the respective goalies. Hershey entered the third period tied at one with the Admirals, as they now hold a 7-4-1-1 when tied through two periods.
Norfolk took a 2-1 advantage 2:23 into the third period, striking on a scramble in front of the net. Forward Troy Bodie potted his third goal on the season, as Hershey goaltender Philipp Grubauer fell down following being hit by a Bears' defenseman in his crease. A few Bears' players begged for a goalie interference call, but no mercy was granted to the Chocolate and White.
Bears' forward Ryan Stoa came up huge for Hershey late in the game, tying the score at two with 2:33 remaining in the third period. But, the Bears offered more fortitude just minutes later.
"There's no die and no quit in us," Hershey forward Ryan Potulny said of the comeback. "I think our style of play allows that too. We're not really too high or too low throughout the game, we don't change our style of play and we've resilient and that's what's given us a chance to stay in games and win games at the end."
"We're a team here, we pick each other up if a guy's down somebody else steps up and picks each other up. I think playing as a team and being there for each other has allowed us to not get down when the chips are down and not get too high either. Teams that do that seem to be successful."
Ryan Potulny played hero in the final minute, netting his second game winning goal in a row. With his game winning goal, Potulny tied defenseman Cameron Schilling for the team lead of three.
"He's been excellent all year," said French. "When we're struggling to score you often look at Ryan and we needed his production. As you would say he's a second half player, that's coming true. I think we saw last year that he's got that flair for the dramatic, he's a special player. We say it all the time, special players seem to rise at the right occasions and Ryan's doing that so that's really nice to see."
"When we've been able to win here we always had that belief we could come back," French said. "I think we've showed a little bit of that if you start with the game that we last played against Norfolk here. Down 3-0 we had very uninspired efforts in the past where we've not played well for sixty minutes, that game we didn't play well for forty, but we found a  way to fight back and eventually get a point out of that."
"We've shown some comeback even the loss to Albany in Atlantic City, we were down 3-0 and then we found a way to claw our way back. It wasn't good enough, but we've shown some belief in our ability to comeback. I think that's a good thing and probably furthered fostered that tonight."
Hershey returns home for a Sunday night game against the Syracuse Crunch.
"We've got a nice task in front of us tomorrow with Syracuse," added French. "We haven't' been able to measure ourselves in a while against Syracuse, it will be a good opportunity to see what they're all about."
Game Notes
1. Attendance: 10,502
2. Bears Injuries: Defenseman Dmitry Orlov and forward Danick Paquette
3. Hershey Healthy Scratches: Defenseman Patrick Wellar and forwards Evan Barlow, Matt Clackson
3. Although T.J. Syner was not listed on the Bears' roster for Saturday night's game, he is with the team.
4. The Bears improved to 14-11-3-5 in one goal games.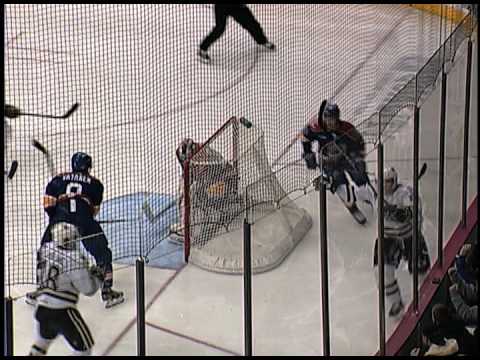 Three Stars
1. Garrett Mitchell (one goal, one assist, plus one, three shots on goal)
2. Ryan Stoa (one goal, one assist, one shot on goal, two penalty minutes)
3. Ryan Potulny (game winning goal, plus one, five shots on goal)
You can follow Matthew on twitter @m_speck and email him at mspeck21@yahoo.com with any questions or comments.