The NHL has a lot of problems. They are inconsistent on suspensions, there are too many teams in the south, and the salary cap/floor system has proven to be absolutely disastrous for the league's small-market teams. Criminal investigations? That should be the least of their worries.
But that is the worry of Zdeno Chara and the Boston Bruins right now, thanks to a March 8th hit Chara delivered to the Montreal Canadiens' Max Pacioretty. The questionable hit by Chara left the Canadiens forward with a broken neck bone and a severe concussion.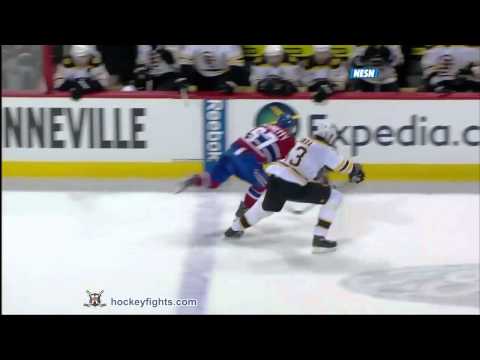 The NHL did not suspend or fine Chara, causing a few raised eyebrows around the league and a huge controversy in the city of Montreal.
It's hard to believe that the Montreal police are actually investigating this. They are investigating a play that happened in an NHL game that the league ruled didn't even warrant a suspension. I oftentimes do not agree with the league's discipline policy, but they handled it and it should be over now. Instead, the Montreal police have gotten involved in this now and want to speak with Chara.
It's arguable that some plays do deserve criminal investigation, like the Todd Bertuzzi and Marty McSorley incidents. Both cases were actual assault and would have been highly illegal in the real world; there was no complicit participation in either altercation. Not only that, the NHL handled the issue their way and they got it exactly right. You can argue they got the Chara non-suspension wrong, and that is fine, maybe it was. But if it was borderline enough to have a reasonable debate, how can it possibly be considered a criminal act?
Imagine if it was the Canadiens' own Hal Gill delivering that hit to Nathan Gerbe of the Sabres. Do you think that Montreal police departments would be investigating the hit in this fashion, particularly if it had also been the Habs who won the Cup?  Fans of the Canadiens actually clogged up 911 lines complaining about the Chara hit. Did Bruins fans call 911 about the Matt Cooke hit on Marc Savard? No. This issue is pretty ridiculous at this point, and the fact the police take it seriously doesn't reflect well upon their priority hierarchy.
I did not think the Chara hit was terrible. I thought the Daniel Paille hit on Dallas was worse…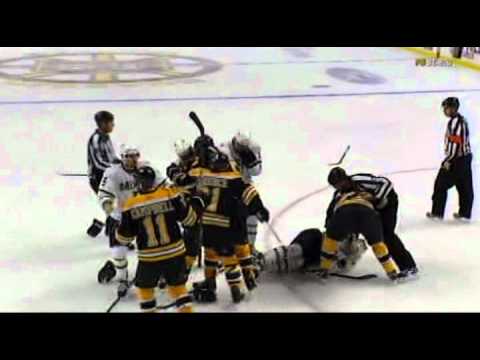 …as well as many other hits in this league. None of them were criminally investigated. Maybe Chara's hit was worth a suspension. In fact, it actually would have helped the cause of eliminating concussions. I would not have complained either way.
The point is, this is still an issue because Montreal is making it an issue. It is time to move on, and for this to go away.