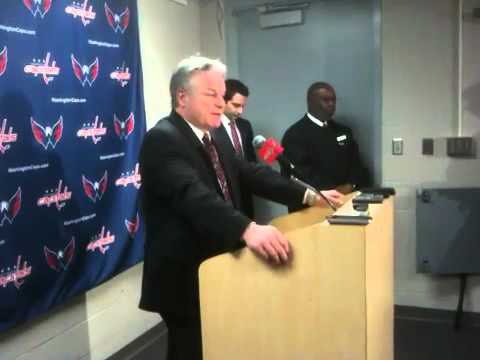 Karl Alzner Post-Game 11/24/12 (mp3)
Marcus Johansson Post-Game 11/24/12 (mp3)
Mathieu Perreault Post-Game 11/24/12 (mp3)
Dennis Wideman Post-Game 1/24/12 (mp3)
WASHINGTON – With Alex Ovechkin, Nicklas Backstrom and Mike Green all out of the starting lineup for the Washington Capitals against the defending Stanley Cup champion Boston Bruins, the Capitals featured a lineup with fewer big games than any Capitals lineup had in a number of years. But with one look at Washington head coach Dale Hunter's lineup, there was likely going to be one line in particular that could shoulder the burden of the goal-scoring.
That line had Alexander Semin and Marcus Johansson on the wings and Mathieu Perreault taking most of the draws. The trio did exactly what they had to do, producing three goals – all from Perreault (his first career hat trick) – in leading the Capitals to a 5-3 victory over Boston in front of an announced 18,506 fans at Verizon Center Tuesday night.
"It's awesome. You can't describe that feeling," Perreault said of his first career hat trick. "This is what you dream of. You dream to play in the NHL, but you get a hat trick, it's even better. It was just a great feeling."
Said Johansson of the quality of his line's play: "I think we played pretty good. We got in their zone for quite a bit and we worked hard, I think. It was very fun seeing Matty get the hat trick."
Each of the Capitals' three goals in the second period – the latter two coming from Perreault – was scored on an odd-man rush. The first goal came via a shot by Cody Eakin from the left wing that trickled past Boston netminder Tuukka Rask; assists came from Joel Ward and Jay Beagle.
The second goal resulted from a rush up-ice that ended with Alexander Semin feeding Perreault, who finished it off; and the third, the result of Perreault picking off a Johnny Boychuk pass and beating Rask on a breakaway. The game was tied at three after two periods, with Boston (31-14-2, 64 points) leading in shots, 25-18, at that time.
With the Capitals (26-19-3, 55 points) consistently getting beaten by their opponents in terms of shots on goal, scoring chances and zone time, it's vital for Washington to create opportunities in transition and on odd-man rushes and to capitalize on those chances. The Capitals were out-shot by the Bruins, 32-22, but Washington was able to convert on its odd-man rushes to off-set the difference in the shots on net.
"It's very important; it's a big part of the game," said Johansson of converting on odd-man rushes. "I think … with the skill we have on our team, I think that can be a big part of our game. So it's important and it's very nice to get those goals when we're maybe not shooting as much as we used to."
The third period featured Perreault's final goal and an empty netter to seal the win by Dennis Wideman (his ninth goal of the year). Wideman will be the lone Capital heading to the All-Star game in Ottawa since teammate Alex Ovechkin decided to not attend the festivities due to his ongoing three-game suspension. Tuesday night's game was Washington's last game before the all-star break; the Capitals' next game is Tuesday, Jan. 31 in Tampa Bay.
Boston goals were scored by Rich Peverley (his eighth), Tyler Seguin (19) and Brad Marchand (17).
The game began with Washington getting down, 1-0, late in the first period. Particularly in the first period, the Capitals were often faced with the Bruins' 1-2-2 neutral zone trap as they tried to transition from the defensive zone to the offensive zone. Karl Alzner said that the only way to beat the trap is to for a defenseman to dump the puck into the offensive zone and for the forwards to chase it down.
"You can't really carry it through the neutral zone or pass it through the neutral zone," said Alzner. "It's just impossible – it's why they call it the trap. It was just from one side to the other, try to get a one-on-one, and chip the puck in and go for it. That's all you can do."
Hunter was impressed with his team's ability to match up physically with Boston, a team that is noted for its constant physical play. "We all contributed as a team here. Like, guys were blocking shots and playing the right way, finishing their hits. And they're a physical team, and they're big. And we didn't back down … actually, we went after them."