SAN JOSE-  There is no denying that Sharks forward Patrick Marleau is an amazing talent who has had an amazing career. We touched on that just a few days ago here at Inside Hockey. However, he'll never be amongst my favorite players. Too frequently do I see a player who fails to max out on a given shift and shies away from contact.
Now sure, hockey followers are going to claim that I'm negatively biased, but as a Sharks fan I have no more reason to dislike Marleau than any other Shark. I don't know him personally, not like his brother bullied my brother in grade school or anything like that.
In fact, my criticism of Joe Thornton used to be equal to that of Marleau. As a much less mature high school student a few years ago, I was equally disappointed and perturbed by Marleau and Thornton's efforts after the 2008-09 President's Trophy winning Sharks were eliminated in the first round.
In the years since however, I've seen Thornton become a much better two-way player, whereas I still see many of the same frustrating plays from No. 12 that pre-dated the loss of his captaincy.
Let's go back to 2007 for a moment. Remember this tying goal by Robert Lang? (2:17 of the video)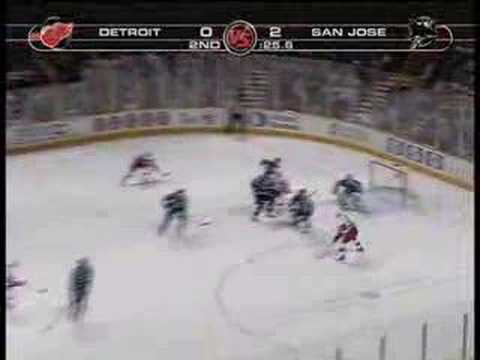 If Marleau stays put on the defensive side of the puck along the boards instead of half-assing a stick check and then floating towards the red line, the Sharks go up 3-1 in that series. Instead, the Red Wings tie the series and go onto win it in six games.
Flash forward to 2011 where we see another poor postseason effort against the Red Wings.
In this scenario (1:31 of the video) Marleau is in prime position to knock Kronwall back to second grade with a huge open ice hit. Or, at the very least, skate into his body and make some kind of contact to protect the center of the ice. Instead Marleau gives a feeble attempt at a stick check that takes him into no-man's land and gives up the prime scoring ice to Kronwall. Now after this mistake does Marleau skate his tail off back into the play to tie up a Red Wings stick? Nope. Rather than chase down Dan Cleary (the eventual goal scorer) behind the net, Marleau barely touches Todd Bertuzzi and stops to have a cup of coffee with then teammate Niclas Wallin.
Or how about this back-check in 2012?  (2:28 of the video)
http://video.sharks.nhl.com/videocenter/console?hlg=20112012,2,1006
Marleau has the speed and angle to drive Jamie Benn into the boards and knock him off the puck. For whatever reason though he pulls up on the hit and then throws on the breaks. Seconds later Benn goes onto score when the play should have been cancelled out in the neutral zone.
And finally, what about that mind boggling lack of effort last night against the Kings? (2:43 of the video)
On the third Kings goal just moments into the third period Marleau doesn't even try to catch up to Jeff Carter. Even though Dwight King is slowing up to avoid Marc-Edouard Vlasic and Carter is standing still, Marleau is gliding back into the play.  He looks more like a camera man trying to get a good view of the goal, than a back-checker trying to break it up. Marleau has elite speed, he could have easily caught up to Carter before the pass arrives but instead he's nowhere close to him by the time the puck goes in.
Perhaps, if one really tried to dig through their memory bank, they could find just as many poor efforts from Thornton, Joe Pavelski or Logan Couture, but my guess is it would be a much more difficult task.
Maybe I am just simply biased, or, maybe Marleau is in fact lazier than the other three? What do you think? Let me know in the comments section!
And as always, for more on the Sharks follow Andrew on twitter: @ViewFromBensch