The Bruins seventh player award is given to whoever exceeds expectations the most; this season, Daniel Paille has without a doubt been that player. From the season's start on January 19, Paille has delivered a consistent effort on both ends of the ice.  Whether skating five-on-five or playing the PK, Paille has given it his all and then some each and every night.
Recently, the former first round pick of the Buffalo Sabres has developed an offensive rhythm. Amidst a lull in which the team has scored only six goals in the past four games, coach Claude Julien made some needed changes-which included bumping Paille up to the second line, where he'd skate with Bruins forwards Patrice Bergeron and Tyler Seguin.
Paille's effective play this season earned the trust of Julien, who spoke of the move before Monday night's game. "We've always asked guys to play the same way. What he does on that line is he forechecks well, he skates well, he scores goals, he's a straight-line kind of player. Defensively he kills penalties and everything else. We don't expect him to change that because I think that line can use that right now."
With the trade deadline right around the corner, now was the time for Julien to mix things up and see if this problem could be fixed internally, or if outside help was needed. The first test would be a Monday night matchup against the division rival Toronto Maple Leafs.
The first period consisted of minimal chances for each team. Paille looked comfortable skating on the second line, as his speed opened up space and strong forecheck provided extended offensive-zone time for Bergeron and Seguin.
This line had the best chance of the first period for either team when Paille flew down the left side of the ice and put a shot on net, producing a juicy rebound for Bergeron; Bergeron was denied on a nifty save by Leafs goaltender James Reimer.
The Leafs scored the game's first goal on the man-advantage early in the second period. Joffrey Lupul made it 1-0 Toronto when Boston gave up on a play, claiming the puck had gone offside. The mental error proved costly when Lupul slammed the puck into an open net.
Toronto quickly added another goal when the impressive Nazem Kadri sprung Nikolai Kulemin past the Boston defense; Kulemin's wrist shot beat Bruins goaltender Tuukka Rask glove-side high extending Toronto's lead to two goals.
Milan Lucic added a goal of his own on an incredible straight-line rush, making it 2-1 Toronto after two periods of play.
Paille did everything asked of him in the second period, providing a strong net-front presence for Bergeron and Seguin to work with, tipping numerous shots from the point and creating a number of chances. His speed makes up for the loss of Brad Marchand on that line, and he showed it handful of times in Monday night's game.
Julien went back to the usual Bruins lines for the third period, perhaps insinuating enough of a spark was already produced.
The juggling worked once again, as Bergeron scored midway through the third period to tie the game at two. Rookie defensemen Dougie Hamilton showed incredible patience behind the Toronto goal, as he waited for Bergeron to get open and fed him the puck.
In the shootout, Seguin and Bergeron each scored for the Bruins who beat Toronto 3-2 on home ice.
After the game, Julien discussed the play of Paille, who had a bigger role than the normal fourth-line responsibility he's accustomed to. "He was very good. I think he had five shots on net. He didn't score, but certainly was a good player for us. Absolutely, I didn't mind his game tonight; he came up big for us. It's nice to see those kind of players step up and play those kind of games, because we have some players right now that are fighting to find there games."
FROM THE ROOM:
Daniel Paille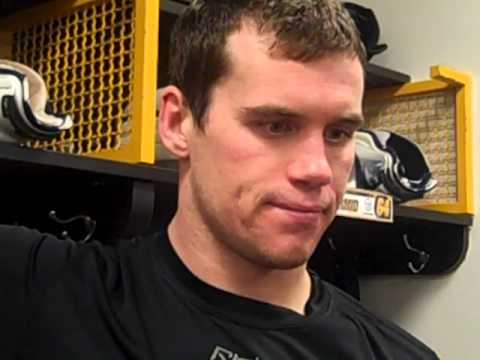 Patrice Bergeron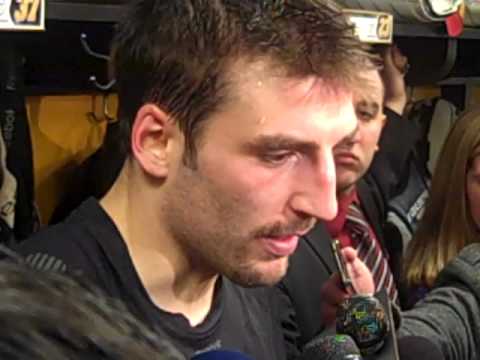 Interested in some college hockey? find great deals on frozen four tickets here!