The 2012-2013 Texas Stars will not only look different, they will sound different. The Josh Fisher era ended in April and on 29 June 2012 the Texas Stars announced they had found the team's newest voice: Owen Newkirk.
I wanted to learn more about him, and Newkirk was kind enough to take my call. He was surprised that anyone would want to profile him, a bit of modesty I found refreshing. Broadcasters have an understandable love affair with the sounds of their own voices, but I didn't get that from Newkirk. He's clearly very serious about his work (and very good at it, as the critical praise for him is from far and wide) and he has a small-town charm about him that, taken together, will appeal to Texans.
In sports broadcasting, especially in minor leagues, you don't have the luxury of saying 'That's not my job.' — Newkirk
Instead of using a traditional profile or interview format, I've bullet-pointed some facts about Newkirk and surrounded them with a pair of anecdotes, in his words, because the man can spin a pretty good yarn.
Texas could very well be his kind of state; in conversation he moves easily between hockey, baseball and especially football.
For the Pucks N Paws faithful, he has two miniature dachshunds.
Raised in Blue Hill, Maine, population a couple thousand.
Attended Haverford College, student body about one thousand.
Major … Astronomy.
My first job out of college was a broadcasting internship with the Berkshire Black Bears. I'd get to call an inning or two at home games and do the scoreboard on the road. My first day, it's an exhibition game against a Russian team. I'm not sure what to wear. I didn't have a suit so I went with a coat and tie.
The GM looks at me and says, "Sorry you got all dressed up. The grandstand's covered in pollen. I need you to grab a rag and wipe it all down."
So I did. Next day, the GM tells me their broadcaster left for another job.  "I heard your demo. It's not bad," he says. "Season starts in a couple days. We're in a bind. You want the job?"
"Does it pay any more than I'm getting now?"
"Nope."
"I'll take it."
He knew sports broadcasting was for him when he was calling a women's basketball game at Haverford; even though they were getting destroyed, he realized he loved what he was doing.
While with the Albany River Rats, Newkirk escaped injury when the team bus crashed, as recounted in this video by some of the players: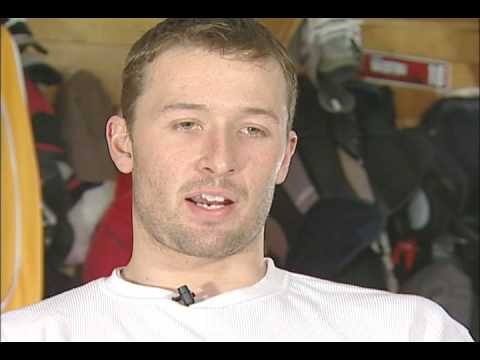 Newkirk also called game 5 of the 2008 Semi-Final Division series between the Albany River Rats and the visiting Philadelphia Phantoms. At 5 hours and 38 minutes, it is the longest game in the history of the AHL. Unfortunately for Newkirk and Albany, just minutes into the fifth overtime, the Phantoms scored–on their 101st shot of the game. This clip shows Leighton making his 100th save, and the jumbotron turning over to '00', for the first time in modern hockey history: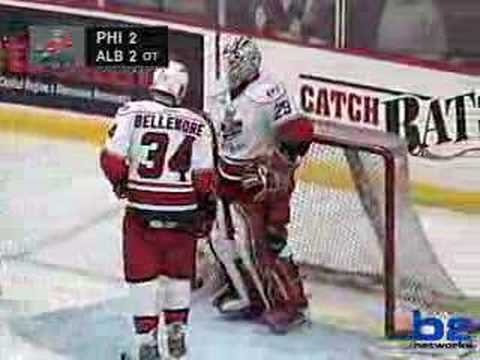 He spent one season calling arena football, specifically the af2 league, "kind of the minor league of arena football" as he put it. Who knew it even had one? At any rate, the guy loves watching and calling football. He's definitely in the right state.
After making some inquiries [into jobs in the ECHL, CHL and UHL] I decided to go up to Maine to see my family. The day I get there, Adirondack [Icehawks of the UHL] calls. The woman says "We want to bring you in, how soon can you make it?"
I casually said, "Well, I just got up here, I could probably get down there … next week some time?"
"Ummm let me look at my calendar," she says. "I'll get back to you."
Never heard from her again.
Fortunately, Elmira [Jackals] called. "I can be there tomorrow," I told them.

Following the interview they hired me on the spot. On my first day, someone says to me "You know you weren't their first choice."
"Excuse me?"
"They hired somebody else," they told me. "Half way through his first day he still hadn't shown up so someone called him and he said, 'Oh yeah, I took another job sorry about that.'"
For the last two years, Newkirk held down a full-time job and did color commentary for the Binghamton Senators alongside one of the most respected broadcasters in the game, Grady Whittenberg. The position was unpaid; Newkirk did it in part because he enjoyed it and in part to stay visible within the broadcasting and sports worlds. It proved to be an enjoyable yet tough couple of years, but it paid off in his being named the Director of Broadcasting for the Texas Stars.
Fans can add Newkirk to the growing list of reasons why the upcoming season could be the best one yet.