For years Buffalo sports fans have been given empty promises. However, it appears that Terry Pegula meant every word he said on the fateful day of February 22, 2011.
With free agency quickly approaching, the Sabres brass may now have their sights set on Brad Richards, thanks to the billionaire owner.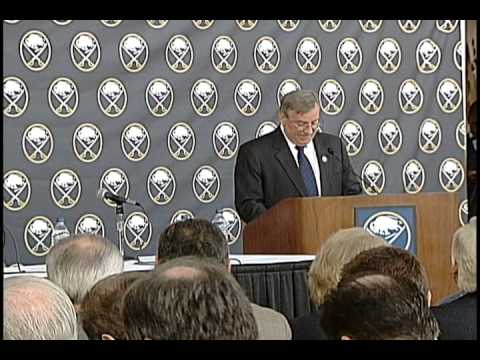 Pegula Reels in Regehr
The influence of Pegula was epitomized by the Robyn Regehr trade. The deal had been completed between the Calgary Flames and the  Sabres to send Robyn Regehr to Buffalo. The only hold up was Regehr had to waive his no movement clause. As Sabres fans anxiously waited for Regehr's decision, things took a turn for the worse. Rumors began to circulate that Regehr wouldn't waive his clause to come to Buffalo.
Then came Terry Pegula, once again, on his white horse to save the day. According to reports from TSN's Darren Drager, Pegula was very influential in persuading Regehr to come to Buffalo. Pegula even flew to Saskatchawean, along with his wife and head coach Lindy Ruff, to meet with Regehr.
Is Richards A Real Possibility?
Having an owner who, not only spends the money, but also truly cares about the franchise makes all of the difference. Just ask Dallas Mavericks fans how they feel about Mark Cuban or New York Yankees fans about the Steinbrenners. Now that the Sabres have Pegula it looks like things will finally be different, but can they now make a serious move at Richards?
Richards' agent, Pat Morris, talked with WGR 550 Wednesday morning saying,
"[Richards] would like to first and foremost, when you've won a Stanley Cup, you want to win another one.  He'd like to win again and have an opportunity to be with a team that has younger players coming in to fill and in a market where hockey matters every game, game in and game out with full buildings.  A hockey market with an opportunity to win are the top two criteria."
Sounds a lot like Buffalo, doesn't it?
Expect Pegula to again be in the mix. Stable ownership may be another important factor in Richards' decision after being forced out of Tampa Bay and seeing Dallas fall apart. One things is certain, Pegula will go through any means necessary to get this year's top free agent.
The Sabres appear to have everything Richards is looking for. Most of all they have an ace in the hole, Terry Pegula. He has to sign somewhere, why not Buffalo?
Something just feels exciting about this offseason.Whether or not Richards comes to Buffalo, things will certainly be different in Buffalo with Pegula at the helm.