Last week, I had the pleasure of interviewing Sean Ramjagsingh, lead producer of NHL 13. This year's edition of EA Sports' fantastic hockey videogame promises to take a huge leap forward, and I got to go over some of the biggest advancements with Mr. Ramjagsingh. Some of the improvements relate specifically to gameplay, while others impact the game's presentation. In all, Ramjagsingh considers NHL 13 to represent the property's "biggest leap on this generation of consoles," and considering the level of excellence that has been attained in recent years, that's no small claim to make.
Inside Hockey: Have there been any significant changes to the gameplay?
Sean Ramjagsingh: We've completely overhauled the gameplay, implementing a brand-new skating engine. True Performance Skating really captures the explosiveness of players' top-end speed, so the fast guys feel fast. And real physics, if you want top-end speed you're going to feel the controller rumbling and rapid movements will be more difficult. Because there's over 1,000 animations, we want to add more creativity. Just like Skill Stick in 2007, we're trying to do the same thing with the lower body. Creativity lets you use the left stick to put the player into a back-skate. We've really given gamers the full tool sets of NHL players.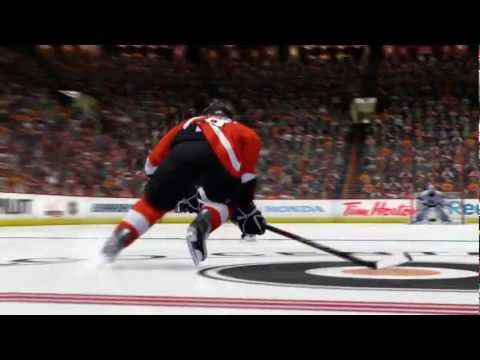 Has the AI (artificial intelligence) been modified for NHL 13?
True Performance Skating required an AI overhaul, and EA Sports IQ literally changes the way the game is played. The NHL game changes every year, and there are general trends every 3-5 years. We can perfectly replicate the way teams/players are playing all around the world. Players more aware with and without the puck, understanding their responsibilities/assignments in all different situations. The goalies are now able to anticipate, recognizing the primary scoring threat. This year, the goalie has individual control over every whim, even able to lean in one direction but then reach in another.
Is it possible for gamers to divert from reality to create a more stereotypical videogame experience, with more goals and less defense?
First and foremost, we try to be authentic. In video games, people like offense, but we make sure that gamers have the ability to modify strategy if they want something more fast-paced, high-risk than what happens on the NHL ice. We do take some liberties to make a better game experience. For example, sometimes you see sticks go through players' legs rather than around. Although it isn't accurate from a physics perspective, it makes the gameplay far better.
We also make it very easy to customize the game experience. Unique to NHL 13 is the ability to tweak both the game difficulty and game style. The difficulty ranges from rookie to pro to all-star to superstar, while the game style ranges from casual/arcade to hardcore (everything extremely authentic).
Back in the late 1980s and early 1990s, Konami's "Blades of Steel" for the NES (Nintendo Entertainment System) was the hockey videogame standard, with a side-scrolling presentation. Then EA completely revolutionized hockey videogame presentation with NHL Hockey for the Sega Genesis, providing an up-down camera that gave a much better sense of being on the ice. For over 20 years, that has been the standard presentation for hockey videogames. For NHL 13, a Broadcast Camera option has been added. How did that come about?
Our fans have been asking for the game to look like it does on TV. The up-down camera we felt gives a better gameplay experience, but we want to be authentic. We're not sure which option users will gravitate towards.
What changes have been made to the online experience?
GM Connected is the largest multiuser online dynasty ever seen in a sports game. Up to 750 people anywhere in the world can compete in a single league. We wanted to make the mode accessible for everybody. You can manage your team, use your coach control, then change lines/strategies. If you're the guy who likes to yell "shoot" at the game, you've got a button for that. I can play the game with 5 of my friends, each of us using a controller, against other teams. This opens up the game to everyone, regardless of skill level.
Is EA able to track what users do with the game in order to make future improvements?
Yes. Data analysis lets EA understand how the game is being used. If more users use the True Broadcast camera, more time will be invested in improving it. On the flip side, if people aren't playing certain modes or using certain features, we try to learn why not. And we try to see where people drop off (for example, GM mode)… is it because there's flawed logic, or some other problem?
Many thanks to Sean and the EA team for setting up the interview. By all measures, it appears that NHL 13 represents a very impressive leap forward, and we can't wait to hit the (virtual) ice. The NHL 13 demo is now available for both the Xbox 360 and the PS3. The game is scheduled to be released between September 11th-13th (depending upon region).