The Boston Bruins and New York Rangers took to the ice on a snowy afternoon in Boston.. With the NHL All Star skills competition commencing a week from today, both teams are equally matched with three players each heading to Ottawa at the end of this coming week.
Bruins players Zdeno Chara and Tyler Seguin matched up against fellow All Star players Dan Girardi and Marian Gaborik. While Lundqvist was in goal for the Rangers, the Bruins opted to place Tuukka Rask between the pipes instead of the nominated Tim Thomas.
Henrik Lundqvist showed why he will be an All-Star participant, making save after incredible save. While Dan Girardi had his 100th career assist on fellow all star Marian Gaborik's first goal of the game. It was also Gaborik who broke the hearts of Bruins faithful by scoring a goal with about three seconds left in overtime to give New York a 3-2 win over Boston. Gaborik was rightfully nominated by his teammates as player of the game and was seen sporting the team hat during post game locker room access.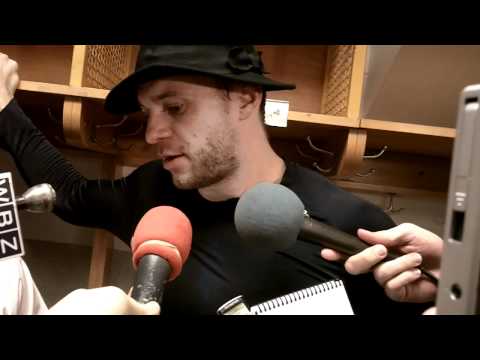 Despite the Bruins being on the losing end of the final score, it was two unusual suspects that placed them on the board at all. Adam McQuaid scored his first goal in 28 games, while fellow defensemen Andrew Ference scored for the second time this week. While it would be nice to have Ference's game participation be limited to the positives of goal scoring; it can't be overlooked that he made a questionable play on Rangers Ryan McDonagh. The play resulted in a game misconduct and forced Boston to be shorthanded for the majority of the overtime period. The consequences are unclear but it's not unlikely that he may be receiving a call from an all too familiar number as of late for the Bruins organization. Lucic and most recently Marchand have undergone the Shanahan treatment and we'll have to wait and see if Ference does as well.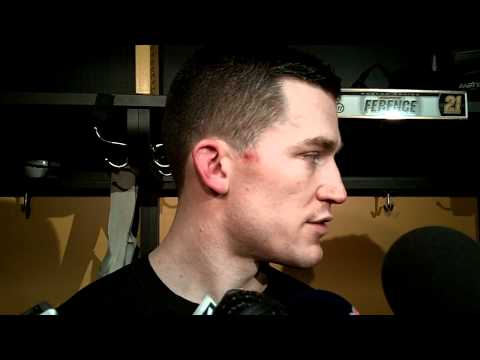 The Bruins will not only be facing off against the Flyers tomorrow at 3 pm, but they'll be vying for viewership, as the Patriots game is set to kickoff at the same time. The team and Lord Stanley will then make a pit stop at the White House in Washington, D.C. on Monday to meet with President Obama. Rounding out the week will be a game against the Capitals on Tuesday before the NHL All Star break commences on Wednesday.
More post game videos from Rangers players Brad Richards and Henrik Lundqvist and Bruins Adam McQuaid: