Like many natives from Nova Scotia, Nathan MacKinnon wanted to play in the NHL and possibly become one of the greatest players of all time.  In the past decade, Nova Scotia has furnished two top tier players in MacKinnon and Sidney Crosby.  MacKinnon has already achieved production in the NHL and is already setting the tone for the rest of his career.
"Every game he wants more and more," Avalanche head coach Patrick Roy told NHL.com.   "It's amazing to look at him. He's been really sharp lately and performing really well. He deserves his ice time and he's fun to watch. The speed that he has is just great to watch. For our fans it's entertaining. For us even as coaches, it's fun to see when he explodes on the outside.
The leading Calder Trophy candidate is a graceful presence on the ice.  His ability to move the puck with great speed is like watching a Thoroughbred gallop to the finish line at the Kentucky Derby.
Among NHL rookies, MacKinnon has the most goals (23), assists (30) and points (53).  Turning just 18 in September, the rookie had a 13-game scoring streak to break Wayne Gretzky's record for an 18-year-old.
He has also contributed to the success of his team in Colorado.  The Avalanche have missed out on the playoffs for four consecutive seasons but are certainly in a comfortable spot with 93 points in the standings as of now.
MacKinnon has proven that with time, he only gets better.  "I think the only regret I have is not being more comfortable at the beginning of the year," MacKinnon said.  Glancing back at the beginning of the season you would think he's lying.  His first point came off of a beautiful assist from below the goal line, between Saku Koivu's feet, on to the stick of Jamie McGinn and into the back of the net.
His presence on the power play has also been a significant asset for the Avalanche. With eight power play goals this season, his contribution has helped propel the team to sixth best in the league in power play conversions with 20.7 percent.
MacKinnon has perfect showmanship with the ability to convert in clutch situations as he has been credited with five game winning goals this season.
Patience in a game of hockey is important when necessary.  Given a scenario where a breakaway is given or one can't find where to place the puck and time is on your side it is crucial to use it when the advantage is there.  We've seen players like Sidney Crosby and Patrick Kane use it eloquently, but MacKinnon's ability to hold the puck and elevate it top shelf on Josh Harding might be the most perfect example.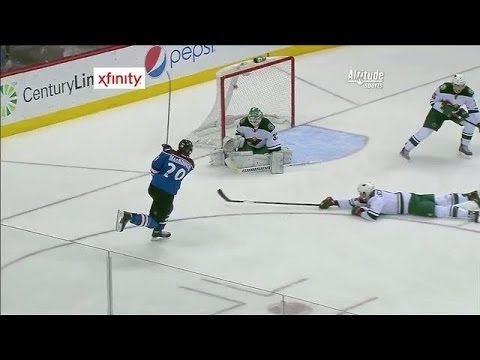 What makes MacKinnon so special is he is a complete package.  He's about average height for a typical NHLer at 6ft 183 pounds.  His speed is almost unmatched and he has an extraordinary ability to make plays happen.  He's a goal scorer, a playmaker, and he will explode right past you with the blink of an eye.