Bears forward Garrett Mitchell has been an integral part of the Hershey Bears (29-24-3-5) success this season. With diligent work on the penalty kill along with spare time on the power play, Mitchell has had a flare for the dramatics this year. He continued that Saturday night at Giant Center, netting the game winning goal in overtime in Hershey's 1-0 shutout win over the Bridgeport Sound Tigers (25-25-6-4).
"Certainly he's one of those guys coming to the forefront in those moments," Hershey coach Mark French said. "That was a pretty big one, nice play by Jeff Taffe to get him the puck as well."
"He's obviously demonstrating more offensive confidence this year, which is probably reasonable to assume with his development. He's going to play in the NHL; I've got no doubt about it. If he continues to blossom, a pretty important player for the organization."
"Those are the points that you need," said Mitchell of Hershey's big win. "If you look back on a season those are the games, a 0-0 game that goes into overtime, those are the ones that you need. It was a great pass by Taffer and I was on the receiving end of it."
Hershey Bears goalie Philipp Grubauer earned the win in net for the Chocolate and White, notching his second career AHL shutout with his 27 save performance. Hershey improved to 3-3 in overtime, picking up two huge points to move up in the Eastern Conference standings.
"I certainly thought Philipp was on his game," said French. "Credit to him I thought he made some big stops."
"He's been great for us all year," said Mitchell of Grubauer's second career shutout. "We've been able to rely on our goalies this year, whether it's been Holtsy [Braden Holtby], [Sabourin], [Grubauer] when he came up; all three guys have been unbelievable for us."
Hershey dominated the first half of the first period, holding possession in the offensive zone that generated quality scoring chances. However, the second half of the first stanza was a different story. The Sound Tigers had multiple breakaways in the first period, all of which Hershey goaltender Philipp Grubauer stopped. The Bears outshot Bridgeport 10-5 in the first frame, and each side was unsuccessful on their single power play attempt. Hershey forwards Casey Wellman, Jeff Taffe, Ryan Stoa and defenseman Dmitry Orlov all registered two shots on goal in the frame.
"In the first period I thought we came out well," said French. "Out chanced them certainly would have been nice to build up a lead, but we were unfortunately able to do that."
The second period featured special teams' futility, with neither team registering a goal in a combined six power plays. Both teams recorded 11 shots apiece in the second frame, including some high quality chances by the Bears on Bridgeport net minder Kenny Reiter.
The Bears' fourth line of Jonathon Kalinski, Mike Carman and Matt Pope produced numerous chances throughout the game, as the fourth line trio combined for a total of five shots on goal in Hershey's 15th home win of the season (15-14-3-2).
"Second game in a row that line has [generated offense]," said French. "That's why we kind of stuck with them; I thought they did well tonight. At the end of the day, for the ice time they got they might have created the most offensive chances. I thought Mike Carman was very good."
Both teams went scoreless until Mitchell's goal 2:49 into the extra frame, bringing the Giant Center crowd to their feet.
"I completely blacked out there. I don't know what I was doing. Trying to heat the ice up," said Mitchell of his goal celebration."
Hershey returns to action Sunday night at Giant Center, taking on an improving Adirondack Phantoms club.
"The first message we give to our team is that they're a bit of a different team than what we saw when we played them a few weeks ago," French stated. "We watched them play against Springfield the other night; they're a hungry team that's got some talent. It doesn't matter what we did tonight unless we follow it up tomorrow with a real good effort. I think that will be the message."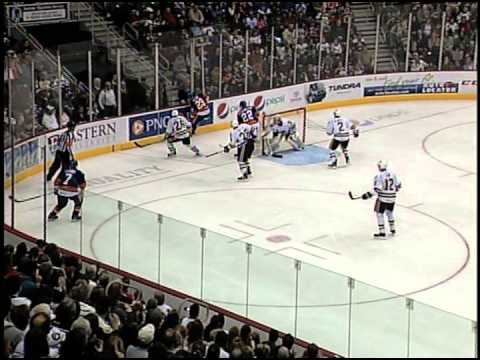 Game Notes:
1. Attendance: 10,825
2. Hershey Scratches: Danick Paquette, Matt Clackson, T.J. Syner, Barry Almeida, Brett Flemming, Patrick Wellar
3. Islanders goalie, Rick DiPietro sat on the bench for Brigdeport, following his demotion from the New York Islanders of the NHL
4. Hershey improved to 7-12-0-2 on Saturday games
5. With the win, the Bears grabbed a hold of the seventh seed in the Eastern Conference playoff race
Three Stars:
1. Garrett Mitchell (game winning goal, plus one, three shots on goal)
2. Philipp Grubauer (27 saves on 27 shots)
3. Kenny Reiter (31 saves on 32 shots)
You can follow Matthew on twitter @m_speck and email him at mspeck21@yahoo.com with any questions or comments.